Celebrating the Class of 2023 – Rowan's biggest ever!
Celebrating the Class of 2023 – Rowan's biggest ever!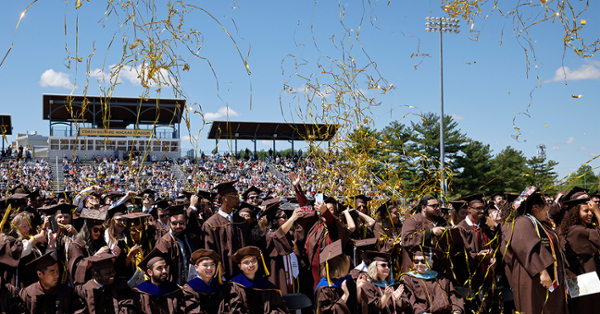 Rowan University celebrated its largest graduating class ever Saturday, May 6, on a glorious, picture-perfect spring day.
[See photos from Rowan's main Commencement ceremony and festivities on Facebook, Twitter and Instagram.]
In all, nearly 6,000 students make up the Class of 2023, a cohort sharing not just Rowan degrees but the experience of earning them, at least in part, during the pandemic, and by necessity learning to study, prep and test for classes remotely.
Rowan's main Commencement ceremony in Coach Richard Wackar Stadium will be followed this week by 13 college-level ceremonies Monday through Thursday on University Green before iconic Bunce Hall.
The main ceremony featured a keynote address by pioneering physician Dr. Lucy Rorke-Adams and words of encouragement by 2023 Distinguished Alumnus of the Year Dr. William J. Spurlin. The program also included a bestowing of honorary doctoral degrees on Rorke-Adams and philanthropist Gerald B. Shreiber, founder of J&J Snack Foods of Pennsauken, who this year donated $30 million to establish the Shreiber School of Veterinary Medicine at Rowan, the first in the state.
A trailblazing pediatric neuropathologist and international expert on pediatric brain tumors and shaken baby syndrome, Rorke-Adams spent five decades at The Children's Hospital of Philadelphia, where she served as acting chair of pathology.
Addressing the Class of '23, Rorke-Adams encouraged students to make good choices, comparing the lives of such 20th Century figures as Dr. Martin Luther King, Jr., Mother Teresa, Dr. Albert Schweitzer, Hitler and Stalin to illustrate how one individual can impact many, for good or for evil.
"The choices you make going forward will determine not only your success and happiness but will affect those close to you, your community, and, in some cases, the world at large," Rorke-Adams said. "Consequences of these choices may be either positive or negative."
Spurlin, a celebrated career educator, graduated from then-Glassboro State College in 1976, served with the Peace Corps in Malaysia and taught at Brunel University London, where he retired as a professor of English and vice-dean in the College of Business, Arts & Social Sciences. During his career, Spurlin authored eight books and more than 60 articles in peer-reviewed, international journals or book chapters.
He noted that, early in his career, he'd taught students in New York City whose families has fled some of the worst atrocities of the 20th Century, including the Cambodian genocide and the war in Vietnam.
Still, he said, today's graduates face challenges of their own, including extreme American politics, prejudice against the LGBTQ and trans communities, and rising anti-Semitism.
"You are entering a world very different from the one I entered," Spurlin said. "I hope you use your degree not only to earn a living but to improve the world."
Rowan President Ali Houshmand commented on both the challenges students faced during their college career and on the upward trajectory of their university including, this year, a celebration of its 100th anniversary.
"As if earning your degrees was not hard enough, the global pandemic tested you," he said.
That experience will fortify them as they pursue careers and, with the ever-increasing prestige of a Rowan education, the value of their degrees will appreciate too, Houshmand said.
"As we celebrate our Centennial year, we are the third fastest growing public research university in America," he said.
Many graduates felt that the experience of attending college during the pandemic did, in fact, make them more resilient and agile as they start their careers.
Political Science major Destiny Frizino of Manchester said she's been accepted to two law schools, Elon University School of Law in North Carolina, and Charleston School of Law in South Carolina, but acknowledged that getting to this point was trying because of the pandemic.
"Going from fully online to coming back was tough," she said. "For me, coming back and speaking to people again in person was the biggest challenge."
Rowan's Class of '23 includes some 4,500 undergraduates, 950 graduate students and 300 medical school students who completed their degrees this spring.
Please visit Rowan's main Commencement website for full details on program information for college level ceremonies Monday to Thursday. Learn about parking, ceremony schedules, livestreaming and more.