Trailblazing pediatric neuropathologist Dr. Lucy Rorke-Adams to deliver Rowan's Commencement address
Trailblazing pediatric neuropathologist Dr. Lucy Rorke-Adams to deliver Rowan's Commencement address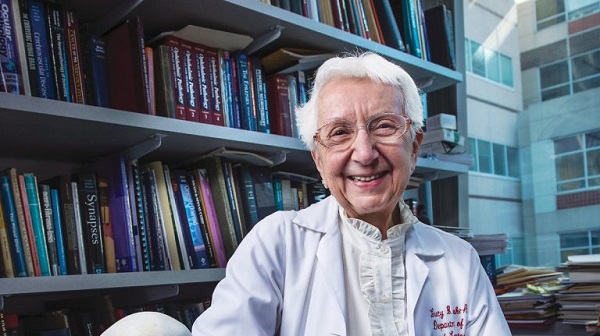 In an extraordinary, 58-year career, Dr. Lucy Rorke-Adams focused on the study of diseases of the brain, spinal cord and nerves in children. The internationally recognized expert will deliver Rowan University's Commencement address on Saturday, May 6.
Dr. Lucy Rorke-Adams, who dedicated her remarkable, 58-year medical career to advancing science to improve the lives of children, will be the speaker at Rowan University's 98th Commencement ceremony on Saturday, May 6, at 10 a.m. at Richard Wackar Stadium on the Main Campus in Glassboro.
A trailblazing pediatric neuropathologist who is an international expert on pediatric brain tumors and shaken baby syndrome, Rorke-Adams spent five decades at The Children's Hospital of Philadelphia, where she served as acting chair of pathology.
Recognized internationally for her research on the study of diseases of the brain, spinal cord and nerves in children, Rorke-Adams was a clinical professor of pathology, pediatrics and neurology at the Perelman School of Medicine at the University of Pennsylvania. In 2010, CHOP established a faculty chair in pediatric neuropathology in her honor.
The first and only female president of Philadelphia General Hospital in the hospital's 188-year history, Rorke-Adams also was president of the medical staff at CHOP in 1986 while the hospital searched for a new president.
In 2021, Rorke-Adams donated samples of Albert Einstein's brain to The Mutter Museum of The College of Physicians of Philadelphia. She was one of a select few to become a trusted keeper of the brain tissue, which was acquired by the medical examiner conducting Einstein's autopsy.
The daughter of Armenian immigrants, Rorke-Adams earned her bachelor's, master's and medical degrees from the University of Minnesota.
About Commencement
The University-wide Commencement celebration, which brings together graduates at degree levels across all schools and colleges, will include the conferral of degrees, as well as messages from Rorke-Adams and Rowan President Ali A. Houshmand.
The ceremony kicks off Commencement Week, during which the University will host 13 ceremonies for its schools and colleges over four days, Monday, May 8, to Thursday, May 11. During those ceremonies, which will be held on the University Green, graduates will process across the stage to accept their diploma covers.
The University expects to host 30,000 guests on campus througout Commencement Week.
Altogether, over 5,800 students—including more than 4,500 undergraduates, 950 graduate students and 300 medical school students—will complete their degrees at Rowan this spring.