Commencement Week 2023: Schedules, livestream links and important information
Commencement Week 2023: Schedules, livestream links and important information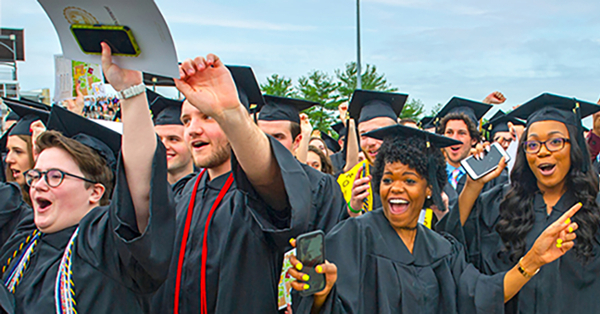 During Commencement Week May 6 to 11, access to parking and some campus buildings and resources may change. The main University ceremony will be held Saturday, May 6, in Coach Richard Wackar Stadium, with a rain date on Sunday if needed. College-level ceremonies will take place on University Green, Monday to Thursday, May 8-11. In the event of severe weather, they will be moved to Esbjornson (Esby) Gymnasium.
All ceremonies to be livestreamed. If you can't make it to campus, livestreaming our ceremonies is the next best thing. Find links to all livestreamed ceremonies.
Information for visitors
Parking & Shuttles
During Rowan's main, university-wide Commencement ceremony, parking lot C (off Carpenter Street) will be reserved for visitors with special needs. A parking pass will be required to use that lot. 
Other visitors may park in lots A, B, O, D and in the Edgewood Park Apartments and Chestnut Hall lots. Free shuttles will loop through these lots to Wackar Stadium. Additional shuttles will loop from Rowan Boulevard/Courtyard by Marriot to the stadium.
During the college-level ceremonies, recommended parking is in the Townhouse Garage, lots B, D, O and the Edgewood Park Apartments and Chestnut Hall lots. Shuttles will loop through these lots to Lot R, University Green at Bunce Hall. Additional shuttles will loop from Rowan Boulevard/Courtyard by Marriot to Lot R.
Need help navigating campus? View the campus map.
Information for employees and students
During Commencement Week, all University offices will be open during regular work hours.
Employees should avoid designated visitor parking lots. Alternate parking locations include the Townhouse garage, Rowan Boulevard or Mick Drive garages or open lots on the north side of campus.
Wellness and fitness center hours
The Rowan University Wellness Center will be open but on summer hours, 8 a.m. to 4:30 p.m.
The Rec Center will be open 6 a.m. – 9 p.m., Monday, May 8 to Friday, May 12.
The Fitness Center on Victoria St. will be closed Monday, May 8 – Sunday, May 14.
Note: should Commencement activities move indoors due to inclement weather, the Rec Center will be closed during ceremonies.
Food service
Though many campus dining facilities will be closed during Commencement week, the Owl's Nest restaurant (1st Floor Chamberlain Student Center) will be open Monday to Friday, May 8-12, from 11 a.m. to 2 p.m.
For more information, including hours and times for all ceremonies, please visit the main Commencement 2023 site.