Introducing the Shreiber School of Veterinary Medicine
Introducing the Shreiber School of Veterinary Medicine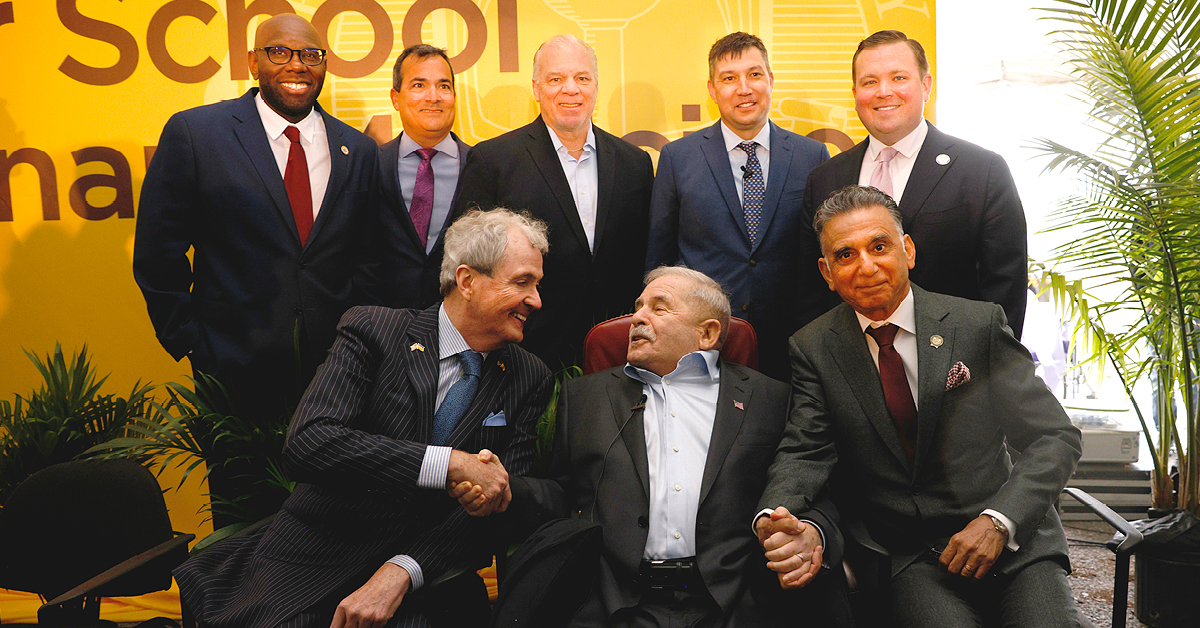 South Jersey business leader and philanthropist Gerald B. Shreiber (seated, center) is congratulated by University and state officials, who joined together to celebrate his $30 million gift to New Jersey's first veterinary school at Rowan University. The school is now the Shreiber School of Veterinary Medicine. Seated with Shreiber are (from left) New Jersey Gov. Phil Murphy and Rowan President Ali A. Houshmand. Standing, from left, are Sen. Troy Singleton, Provost Tony Lowman, former State Senate President Steve Sweeney, Shreiber School of Veterinary Medicine Founding Dean Matthew Edson, and Assemblyman Bill Moen.
In what was a landmark day for veterinary medicine nationally—and for New Jersey—Gov. Phil Murphy and other state officials and veterinary medicine leaders joined the Rowan community on April 28 to celebrate a $30 million gift for the state's first veterinary school.
The gift from South Jersey businessman and staunch animal welfare advocate Gerald B. Shreiber was announced during a groundbreaking ceremony on Rowan's West Campus in Harrison Township, N.J.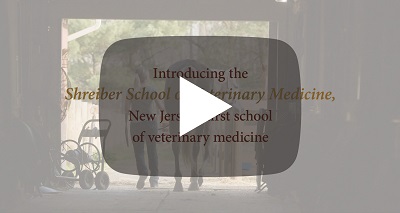 The school will be named the Shreiber School of Veterinary Medicine, a fitting tribute to the successful business leader and entrepreneur from South Jersey who has generously supported education and animal health and wellness for decades.
"Just think about it…there's going to be a very good chance that not too far in the future, graduates of Rowan University will be providing medical care to every member of a family living in New Jersey," Murphy said to the capacity crowd at the future home of the veterinary school adjacent to the South Jersey Tech Park of Rowan University.
"When the Shreiber School of Veterinary Medicine is added to all else that Rowan University does so well, this institution is truly living up to its motto, 'Education, hope of the world.'"
Three medical degrees
With the addition of the veterinary school, expected to welcome its first class in 2025, Rowan will be one of only two universities in the nation to offer three medical degrees: D.V.M., D.O., and M.D. Currently, there are just 33 veterinary schools in the United States and only five on the east coast.
Shreiber's gift, announced by Rowan President Ali A. Houshmand to thundering applause and a prolonged standing ovation, is the third-largest gift to the University (and the second-largest gift from an individual).
A generous supporter of the University for more than two decades, Shreiber in 2019 pledged $3 million to establish the Shreiber Family Pet Therapy Program. Since then, the program has provided group and individualized therapy animal visits for more than 8,000 Rowan students and employees.
'His confidence in us is both humbling and inspirational'
With Shreiber's gift to the veterinary school, the University will have the means to offer scholarships to veterinary students, Houshmand said. The school will address an increase in demand for veterinary professionals in New Jersey and across the nation. It will help keep state residents seeking veterinary careers in New Jersey and also attract out-of-state students.
The American Association of Veterinary Medical Colleges has predicted a shortage of 15,000 veterinarians in the nation within two decades.
"Gerry Shreiber's generosity has literally changed the lives of students at Rowan University. His confidence in us over the years is both humbling and inspirational," Houshmand said.
"Thank you, Mr. Shreiber, for your investment in Rowan, in New Jersey, in education, and in the health and welfare of animals for years to come. Your gift will be used to support scholarships, making attaining a veterinary degree more accessible and affordable. And that will happen in perpetuity."
Addressing affordability
Affordability is an important issue for veterinary students, Shreiber School of Veterinary Medicine Founding Dean Matthew Edson said. The gift and its support of scholarships will distinguish the Shreiber School as it works to keep veterinary students in New Jersey, said Edson, who earned his D.V.M. degree from Kansas State University.
"I'm a Jersey guy. I grew up here and I knew what it was like to have to leave our state to obtain a veterinary education," he said. "The ability to fix that for future generations is really incredibly important to me.
"Affordability of veterinary education is one of the big problems that we have in our industry," he added. "Folks come out with a large amount of debt and that's a struggle. We don't want to be that program. Donations like what Mr. Shreiber has provided for us are really going to allow us to fill that gap and our students can pursue that career that they want after they graduate–and not just pursue a paycheck."
Health care for animals impacts all of us, Edson added. Veterinary care includes caring for livestock and addressing zoonotic diseases—infections that are spread between people and animals.
"Veterinary medicine isn't just about pets," Edson said.
Lifelong animal lover
Chairman of J&J Snack Foods Corp., Shreiber said he is pleased—and proud—to support the veterinary school.
In 1971, Shreiber, who grew up outside Atlantic City, purchased a bankrupt soft pretzel company and transformed it into a multi-billion-dollar snack food and beverage industry that has been listed on the FORBES list of "200 Best Small Companies' seven times. The company's brands include SUPERPRETZEL, ICEE, LUIGI'S and Minute Maid.
A lifelong animal lover, Shreiber has used his business success to generously support education and animal welfare. He created SAFE (Shreiber Animal Foundation Enterprise), which made a transformational gift to establish a pet therapy program at Children's Hospital of Philadelphia.
"I've been very fortunate in business over the years," he said. "I'm honored to give this gift. Animals are my passion, so I couldn't think of a better way to give something back to make a positive impact on their lives," Shreiber said.
"I'm excited to see the development of the veterinary school and to know I have a role in that. I believe New Jersey needs better veterinary care and if I can do my small part to help that, I'm happy to."
Support from the state
In 2022, Murphy approved $75 million in funding to help support the construction of the veterinary school's primary academic and clinical facilities. The 108,000-square-foot building will include classrooms, educational and diagnostic laboratories, a teaching hospital and offices.
The ceremony also included remarks from former State Senate President Steve Sweeney, as well as State Senator Troy Singleton and Assemblyman Bill Moen, both of whom are Rowan alumni.
In his remarks thanking state officials for their support, Houshmand said Murphy was a staunch advocate of the veterinary school from Day 1, while Sweeney has been a champion for South Jersey and Rowan University for years.
Singleton and Moen also have been strong Rowan advocates in Trenton, Houshmand said.
"This is really, really a huge day for the State of New Jersey and the region," Sweeney said. "For South Jersey, this is a game changer."
Shreiber said he knows his gift will be impactful.
"I'm very sure that there are young people growing up in New Jersey right now that could eventually apply to the veterinary school and pursue their dreams of treating animals with assistance from the gift. That's very satisfying to me. I'm looking forward to that first class walking down the aisle."
Ethan Buzinkai, currently a senior at County Prep High School in Jersey City, looks forward to that as well.
Buzinkai was accepted into Rowan's Accelerated BS/DVM Pathway Program, a collaboration between the Shreiber School and the College of Science & Mathematics. This fall, he'll pursue his bachelor's degree in biological sciences. Upon successful completion of the program, which is by invitation only, he will have a reserved seat in the inaugural class of the Shreiber School of Veterinary Medicine.
"I can't even begin to put into words how exciting that is, honestly. Rowan has always been my first choice," said Buzinkai, who has wanted to be a veterinarian since he was three.
At the ceremony, Rowan Provost Tony Lowman recognized eight students admitted to the program, saying simply, powerfully, "You are the first veterinary students in New Jersey. Congratulations."
-------------------------------
Support from friends of Rowan University's Shreiber School of Veterinary Medicine
Congressman Donald Norcross:
"Rowan University drives innovation, research and development in South Jersey that spurs economic growth and provides opportunities for our communities. With this $30 million gift for New Jersey's first veterinary school, Rowan will have the tools and resources needed to continue developing the leaders of tomorrow for South Jersey and our nation."
N.J. Senator Troy Singleton: 
"I often joke with my friend, Dr. Houshmand, that every time he does this, my degree just grows in prestige, exponentially grows. So I am so thrilled to be here today. 
On behalf of all of us Rowan alums, and to the Shreiber family, thank you for believing in this University—believing in what it can be."
N.J. Assemblyman Bill Moen:
"This project could not have come at a more critical time, as we are faced with a growing demand for veterinary professionals both in New Jersey and across the United States. The sector is poised to grow significantly over the course of the next decade. One statistic says it will grow by 19 percent between now and 2030.
"There will be a serious need for veterinarians, animal specialists and veterinary technicians to care for those animals throughout the state. By providing state-of-the-art instructional, laboratory and clinical space for students, Rowan is furthering the field of veterinary medicine and creating a new avenue for employment for New Jerseyans interested in these careers."