The Rohrer College of Business at 50: Business for the greater good
The Rohrer College of Business at 50: Business for the greater good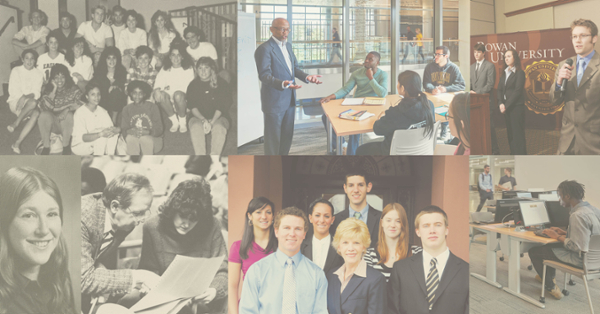 Photos from the RCB's first 50 years
Rowan University's William G. Rohrer College of Business (RCB) follows a model of industry for the greater good, just like its namesake did.
Founded in 1972 and celebrating its 50th anniversary throughout the 2022-23 school year, the Department of Administrative Studies became the School of Business in 1986 and was renamed in 2005 for Rohrer, a community banker and philanthropist dedicated to helping South Jersey businesses grow.
Like many of the businesses that Rohrer helped finance, the college named for him grew tremendously while never losing a focus on service, community and the entrepreneurial spirit.
"Entrepreneurship and entrepreneurial thinking are key to our mission," said Dr. Sue Lehrman, dean of the RCB since 2015, who noted that the University's entrepreneurial, get-it-done attitude attracts thousands of students each year.
The Princeton Review and Entrepreneur magazine in 2021 named the college's undergraduate entrepreneurship program a Top 50 in the U.S., recognition of an ideal fostered by University President Ali A. Houshmand and encouraged across all of Rowan's schools and colleges.
Lehrman believes that recognition affirmed that entrepreneurship, as taught in the RCB and encouraged across campus, means following a passion to do great things.
"It's about thinking and acting in a bold, innovative way," she said. "Following a model set by Mr. Rohrer and very much encouraged by Dr. Houshmand, we support students and community members to pursue big ideas, and often that means starting a business."
RCB at a glance
Helping to define the college at 50 are four Centers of Excellence and a wide range of academic degrees, from certificate and baccalaureate programs through an innovative and customizable MBA.
The college features:
Centers of Excellence in Experiential Learning, Innovation and Entrepreneurship, Professional Development, and Responsible Leadership;
12 advisory councils of regional leaders who help shape curricula and provide mentorship, internships and, often, job opportunities for graduates;
Roughly 2,000 undergraduates and nearly 300 graduate students;
More than 60 full-time faculty and a dedicated corps of adjunct instructors;
AACSB and ABET accreditation, one of just a few American business schools to hold both.
Business for the greater good
While business schools by definition train students to turn a profit, Lehrman said the RCB also places a great emphasis on ways that business can benefit humanity. For example, high school students in this summer's Think Like an Entrepreneur academy applied an entrepreneurial lens to addressing United Nations global sustainability goals like eliminating poverty and ensuring clean drinking water.
"We talk about people, planet, profit," Lehrman said. "Historically, business schools were focused on profit alone but we look at the triple bottom line, which we refer to as 'the three Ps.'"
The purpose-driven theme carries from the dean's office to the four college centers to its classrooms and affiliations.
From an MBA concentration in sustainable business practices to "Accelerate South Jersey," a program launching this year to support inner-city entrepreneurs, to a long-running initiative in which business students help community residents prepare their taxes for free, Lehrman said societal impact is always part of the lesson.
"We're training business people committed to a higher purpose," she said.
Holy Grounds
Stephen Kozachyn, executive director of External Affairs for the RCB who heads its Center for Experiential Learning, said a project this past spring with St. John of God Community Services in Westville exemplifies the college's commitment to business for the greater good.
In that project, 68 RCB students developed a marketing plan, studied supply chain and logistics, and provided human resources guidance for Holy Grounds, a line of coffee that St. John of God clients with special needs hope to soon sell in retail outlets.
"The Holy Grounds coffee project is a perfect example of business for the common good," Kozachyn said. "St. John of God clients roast, package and distribute coffee at yard sales, online and at some events. It's not yet in supermarkets but we hope to help get it there soon."
A legacy of responsible leaders
Rowan University's 2022 Distinguished Alumnus of the Year, RCB graduate Joseph Cosgrove '00, said lessons from his undergraduate studies helped set a tone for the way he conducts business and has pursued his career.
As CEO of Pentec Health, a Glen Mills, Pa., company, Cosgrove heads an organization that's become a leader in patient-specific medications at dialysis centers and in-home settings.
In addition to his designation as Rowan's Distinguished Alumnus of the Year, Cosgrove was named the Marcum Innovator of the Year in 2016, is a Philly 100 CEO Hall of Fame Society inductee, and received the National Kidney Foundation Leadership in Business award and the Ernst & Young Entrepreneur of the Year award.
All of which, he said, would not have been possible had he not learned to put customers – in his case patients – first.
"There's no greater joy than knowing that the products we make and the services we provide are contributing to a greater quality of care," he said.
One of the college's longest serving faculty members, Professor of Management and former dean Dr. Robert Fleming, said the concept of community service, sometimes referred to in business as "servant leadership," has been a core teaching principle within the RCB for decades.
Fleming, who is also a nationally known expert on fire safety and emergency management, said his own experience, including service with a volunteer fire company starting in 1972, always informs his lessons.
"We have people teaching our classes who don't simply read a script about servant leadership," Fleming said. "They've lived it. And when you have people who have actually done it, and who share those experiences with students, it enhances the reputation of not just the College of Business but of Rowan University."
Part of Mr. Rohrer's legacy
The William G. Rohrer Charitable Foundation has given nearly $20 million to the University since 1995, including more than $17 million to the College of Business.
Of that, the Foundation donated $10 million to support RCB students in 2005, then the largest gift to the University since Henry Rowan's $100 million. In 1999, the Foundation awarded Rowan $1 million to fund business scholarships and, in 1995, an additional $1 million to establish the William G. Rohrer Professorial Chair within the RCB. (In 2000, the Campbell family of Salem also donated $1 million to fund the John B. Campbell Professorial Chair in the College of Business, which was named for the late president and chairman of the board of directors of Mannington Mills.) The Foundation in 2017 pledged $5 million to establish the William G. Rohrer College of Business Honors scholarship program.
Mr. Rohrer, the first mayor of Haddon Township (a position he held, in all, for 36 years), posthumously left millions of dollars to organizations around South Jersey including funding for the William G. Rohrer Memorial Library in Haddon Township, the Bancroft School in Haddonfield, the Camden County Leukemia Society, the American Diabetes Association and the Arthritis Foundation.
Building on success
The RCB literally built on its decades-long record of success with the opening in 2017 of Business Hall, a gleaming glass and brick edifice on the northern side of Rowan's Glassboro campus designed to enable the college to double enrollment.
Fostering relationships from within Business Hall and across the region, the college offers a wide range of professional affiliations including, within the last year, a program with Saxbys Coffee to launch a student-run coffeehouse in Business Hall; a speaking engagement with Wawa CEO Chris Gheysens; and the partnership with St. John of God Community Services.
As part of the college's 50th anniversary celebration, the RCB will outfit 50 first-year students with a business wardrobe to attend special events, job fairs and interviews, and it will host a series of special events to build on its first half-century of success. They include:
In support of the RCB's 50th, the college is also conducting a fundraising drive in which donors may make a $50 or other gift to help the college remain strong and vibrant for the next 50 years.
"We wanted to make the 50th Anniversary meaningful to our students, faculty, alumni, donors and the community," Dean Lehrman said. "As part of that, we're hosting events that speak to our mission."