Coffee for—and by—Profs
Coffee for—and by—Profs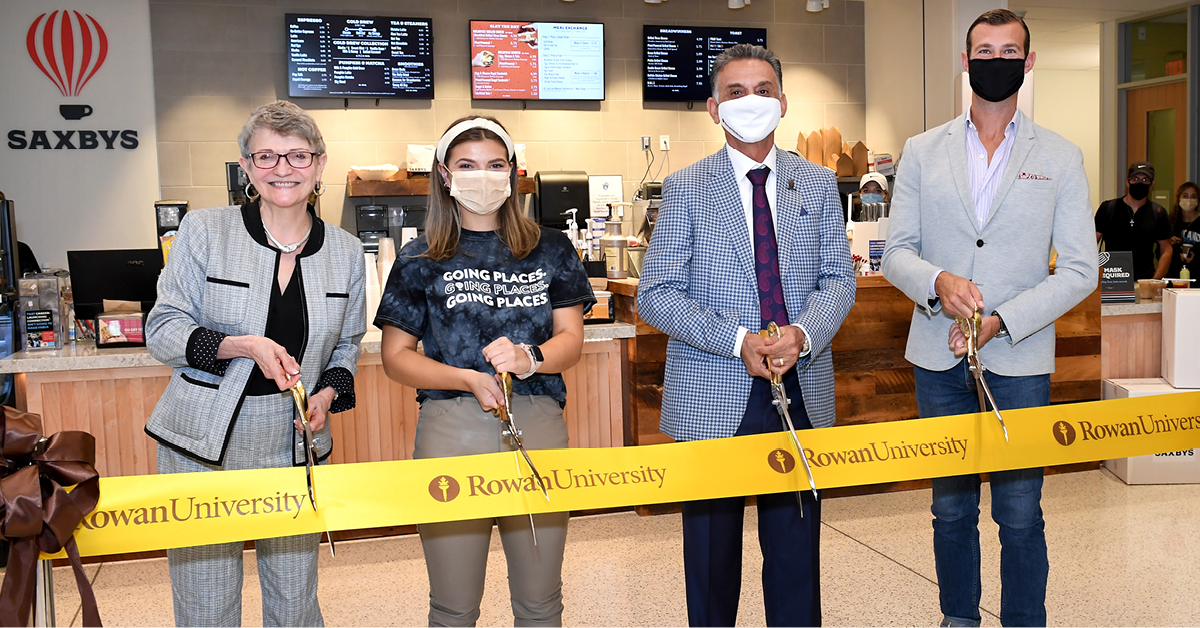 Cutting the ribbon on the new Saxbys Cafe in Business Hall are (from left) Rohrer College of Business Dean Sue Lehrman, inaugural Student Cafe Executive Officer Melody Wozunk, Rowan President Ali A. Houshmand, and Saxbys Founder and CEO Nick Bayer.
Melody Wozunk always wanted her own coffee shop.
That didn't take long.
A senior management major, Wozunk is the inaugural Student Café Executive Officer of Saxbys Café in Rowan University's Business Hall.
Run entirely by students, the café, which held its grand opening on Tuesday, Sept. 21, is the first Saxbys Experiential Learning Platform (E.L.P.) Café in New Jersey.
Under the E.L.P., the café employs 35 Rowan students, providing them with in-depth entrepreneurial opportunities that supplement their classroom learning. Wozunk, a devotee of Saxbys' cold brew with oat milk and ice, is in charge of every aspect of the business…from team development and community leadership to managing the entire profit and loss statement.
As SCEO, she is earning a competitive wage, bonus opportunities and a semester of college credit. One undergraduate student each semester will take the SCEO role. Wozunk is excited to be the first.
"I've had a dream in the back of my mind that it would be so cool to open a coffee shop. I knew this is what I wanted to do," said Wozunk, who joined with Saxbys founder and CEO Nick Bayer, Rowan President Ali A. Houshmand, and William G. Rohrer College of Business Dean Sue Lehrman for a ribbon cutting ceremony and an espresso tasting at the grand opening.
"It's certainly a lot of responsibility," Wozunk continued. "I want to set a good precedent. I want all of my team to be happy and for every guest to be happy. There's a lot that goes into that.
"Serving coffee is a lifeline…a highlight of people's days. We want Saxbys Café to be the spot on campus."
'Vanilla cold brew for Emily!'
As Saxbys and Rowan officials came together to open the café, a line of Rowan community members—the majority of them thirsty and hungry students—formed in the lobby of Business Hall.
Meanwhile, energetic Rowan "celebrity" guest baristas—Dean of Students Kevin Koett, Associate Vice President of Student Life Drew Tinnin, Rowan Radio Station Manager Derek Jones, and Student Government Association officers Matthew Beck (president) and Emily Lowe (AVP of student affairs)—assisted staff members with distribution.
"Vanilla cold brew for Emily!" Jones, in his signature Rowan Radio voice, exclaimed. Junior nutrition major Emily Nicholson reached out to claim her first-ever Saxbys at Rowan beverage. She said she's familiar with the company's Haddonfield location.
"I know their Haddonfield location is really good," said Nicholson as she took a sip. "It's good. It's sweet."
In celebrating the café's opening, Bayer said Rowan was a natural fit to be the first Saxbys Experiential Learning Platform Café in New Jersey. He quoted University benefactor Henry Rowan in his remarks, praising him for his entrepreneurial spirit and his dedication to helping others. That's a spirit Saxbys shares, Bayer said.
"I've long been a huge fan of Rowan University. This university is humble, yet hungry," said Bayer, who also called Houshmand a visionary leader dedicated to making a difference in the lives of students.
Saxbys is a certified B Corporation founded by Bayer in 2005. In 2015, Saxbys launched the E.L.P. to introduce exclusively student-run cafes to university campuses, complementing classroom learning with tangible, real-life experiences. The company's mission? "Make Life Better."
Developing leaders, making a difference
As SCEO, Wozunk is working to do just that. She applied for the position after attending a University virtual career fair in February. Four Saxbys interviews later, she was offered the job. Her training included a training "boot camp" of sorts where she learned every role in the café. She learned to conduct hiring interviews and to build her team of students, all of whom take part-time shifts built around their class schedules.
"I love working with people and developing people," Wozunk said. "Team development and managing people is a big part of my job. The Experiential Learning Platform prepares students really well. The whole point of the E.L.P. is to develop leaders…to develop managerial skills in students."
A defining pillar of the E.L.P. is to help students become community leaders, according to Bayer.
"Saxbys has a well-developed training and talent development program, one that emphasizes to student team members the benefit of positive social impact while fostering emotional intelligence, critical thinking and creativity to innovate and inspire."
'We're on a roll at Rowan'
Houshmand said he's proud of the Rowan-Saxbys partnership, which demonstrates that Rowan is a place where students have great opportunities to succeed.
"I'm particularly pleased because it is run by students," Houshmand said. "This is an amazing idea. It's brilliant."
Houshmand has noted that Saxbys' model of experiential learning and leadership "blends perfectly with the University's emphasis on providing students hands-on, practical experience."
While the café is based in Business Hall, students working at Saxbys have a variety of majors across the University. Additionally, two teams of public relations students in the Ric Edelman College of Communication & Creative Arts developed two PR plans for the Saxbys launch for their senior capstone courses.
One team researched and developed branding, media relations and student relations for the launch. Another team developed a plan focusing on working with media to promote Saxbys as a national leader in experiential learning.
The teams presented their plans to Saxbys executives in May.
Saxbys falls under the umbrella of Gourmet Dining Services LLC, which offers a variety of food choices across the University.
An hour before the grand opening, junior music industry major Daniel Cha ordered a cold brew with half and half as he headed off to his entrepreneurship class.
"I started my day with a really bad cup of coffee from home," Cha said, adding that his Saxbys drink was delicious. "I got my order 90 seconds after I placed it. It's very, very fitting to have this in Business Hall."
Lehrman agreed, noting that the Rohrer College of Business is proud—and excited—to be home to Saxbys. The café's grand opening came just a week after the official opening of Discovery Hall, Rowan's newest academic building.
"We're on a roll at Rowan," Lehrman said.