Dedication for new Rohrer College of Business building set for Jan. 18
Dedication for new Rohrer College of Business building set for Jan. 18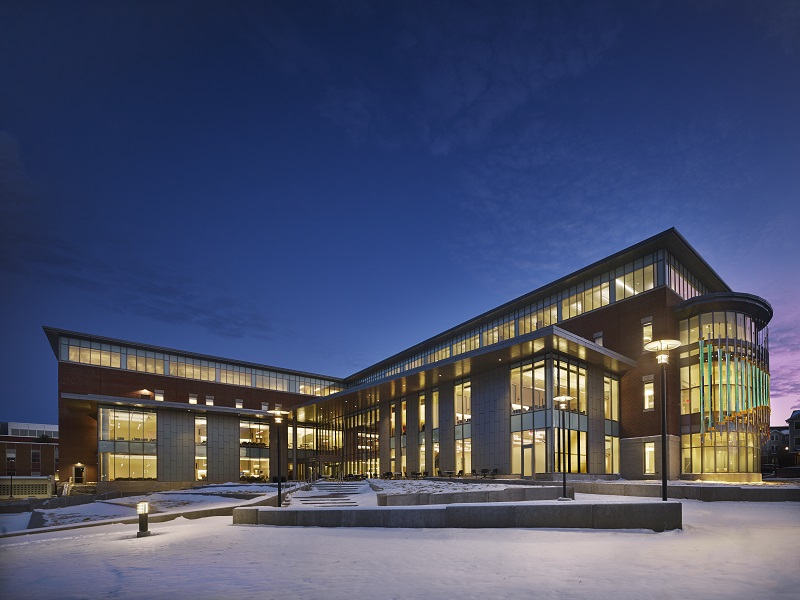 Rowan University's $63.2 million Business Hall is the first academic building solely dedicated to business education in Glassboro.
A new era in business education at Rowan University will be ushered in on Wednesday, Jan. 18, when the new $63.2 million home of the William G. Rohrer College of Business (RCB) is officially dedicated.
Rowan President Ali A. Houshmand will join with State Senate President Steve Sweeney, RCB Dean Sue Lehrman and Rowan Board of Trustees Chairman Linda Rohrer to cut the ribbon on Business Hall at 11 a.m. in the lobby of the building on Route 322.
The 98,300-square-foot building next to Westby Hall is the first academic building dedicated solely to business education on Rowan's Glassboro campus.
The building will allow RCB to double enrollment to 2,000 students and to expand programming. Moreover, it will serve as a space for regional business owner to work side by side with Rowan students and faculty to provide ideas and solutions to assist the business community, according to Houshmand.
The facility includes 14 classrooms, seven conference rooms, 10 specialty spaces, 15 administrative offices and 70 faculty offices.
"The timing couldn't be better for this opening. We have more students applying to our business programs than ever before and there is great demand for our graduates," says Houshmand. "This building itself is magnificent, but I am more proud of the fact that we are now able to educate more students and better serve the business community." 
Designed with RCB's unique approach to business education in mind--one that is built upon collaboration, small class sizes, project-based learning, problem solving, teamwork and entrepreneurship--the building has common areas to encourage collaboration among students and business leaders. It also includes a trading room, lounge areas, and breakout rooms.
The building serves as the home for the Center for Professional Development, a valuable resource for students dedicated to providing career preparation skills designed to make them stand out in the job market, and for Hatch House, a business accelerator dedicated to supporting student entrepreneurism in all majors across campus.
In the fall, the new Center for Responsible Leadership will be housed in Business Hall. According to Lehrman, the center will be focused on supporting "research and teaching that emphasizes the importance of the triple bottom line—people, planet and profit—with a focus on corporate social responsibility."
Designed by KSS Architects of Princeton in partnership with Goody Clancy Architects of Boston, the L-shaped building's west end includes a public art installation. Created by Oregon-based artist Ed Carpenter, the sculpture is made from dichroic glass and refers abstractly to gate imagery since the building serves as a gateway onto campus. In the evening, the sculpture glows like a lantern, serving as a welcoming beacon both to the University and to the Rohrer College of Business.
The building was funded in part by $117 million awarded to the University through New Jersey's Building Our Future Bond Act. Passed by voters in 2012, the referendum funded $40 million of the project.
Passage of the referendum in 2012 allowed state officials to borrow $750 million to fund the construction and renovation of facilities at New Jersey public and private colleges. It was the first referendum dedicated to construction and renovation of higher education facilities in two decades.
The referendum also provided nearly $46 million for the $71 million, three-story, 90,500-square-foot addition to Rowan's College of Engineering. The ribbon-cutting ceremony for that building is set for Thursday, Jan. 26, at 1:30 p.m.
Lehrman says the new building gives RCB the space it needs for the college to grow. New programs that have been implemented over the past year—particularly the Center for Business Professionalism and Hatch House—now have the facility to better serve students, she notes.
The college, she adds, "is focused on being the region's center for next-generation thinking, strategic problem solving and business acumen."
RCB offers eight undergraduate programs, plus three master's programs: a nationally recognized MBA; a Master of Science in Finance; and a dual MBA/Doctor of Osteopathy degree.
Many new degree options are currently in development, according to Lehrman, who adds that the building opens the door to a range of co-curricular programs not feasible before the new facility was constructed.
In 2004, the William G. Rohrer Charitable Foundation presented the University with a $10 million gift to expand the University's business curriculum.
Joseph Jingoli & Son, Inc. of Camden was the project's construction manager, while the Gloucester County Improvement Authority was the project developer.