RCB program awards 1,000th free credit hour as college earns international acclaim
RCB program awards 1,000th free credit hour as college earns international acclaim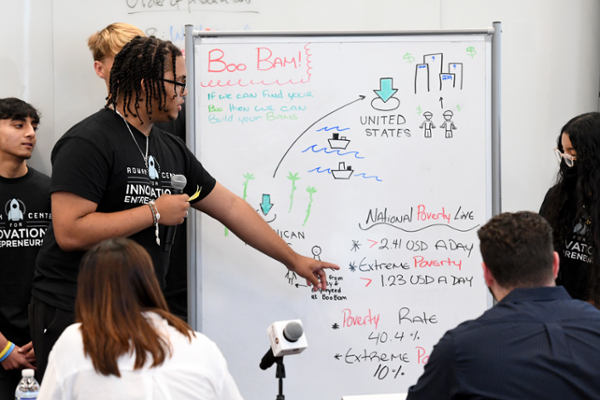 High school students explain plans during final day of TLAE 2022.
The Rohrer College of Business this summer hosted its sixth annual Think Like an Entrepreneur (TLAE) summer academy, a program that awards three transferrable college credits to every high school student who completes it.
During this year's program, 62 students not only completed the course and earned free college credits, they did so by thinking and acting in ways that could benefit humanity.
Tasked with addressing the United Nations' Sustainable Development Goals (SDGs), students collaborated on projects that could address a range of critical issues like poverty, food insecurity, water scarcity and climate change.
"The assignment was to show students that they can impact our world through entrepreneurship," said Dr. Michael Dominik, senior lecturer in the RCB's School of Innovation & Entrepreneurship (SIE).
Ahead of the program's conclusion June 30, Dominik and other SIE faculty took this year's TLAE class to the UN in Manhattan to better understand how some of the international body's key initiatives are deliberated.
And, he noted, during this year's eight-day, non-residential program the college awarded its 1,000th free credit hour.
"It's a major milestone representing the distribution of entrepreneurial knowledge into our regional ecosystem," Dominik said.
Entrepreneurs for the environment
While entrepreneurship most often relates to starting and growing a business or non-profit, the theory behind it works equally well for addressing societal and environmental issues, students and faculty said.
Participant Joseph Fiorentino, a rising senior at West Deptford High School, said he and four teammates worked on addressing UN SDG #1 – ending poverty everywhere.
Narrowing the focus, the team brainstormed ways to reduce poverty in one of the world's poorest cities – Calcutta, India. Drawing the focus tighter, he said the team envisioned starting a community center with classroom space, an indoor garden, a soup kitchen, cafeteria and recreation areas to help support residents while educating them.
"Our goal in the first year would be 10,000 participants," Fiorentino said.
International recognition
Timed for the final day of this summer's TLAE program was a ribbon cutting naming the Rowan Center for Innovation & Entrepreneurship within the SIE an official Knowledge Hub of the International Council of Small Businesses (ICSB), a ceremony that was attended by industry leaders from Germany, South Korea, Switzerland and the U.S.
ICSB Chair Dr. Winslow Sargeant said in designating the RCIE an official Knowledge Hub, the ICSB recognized the spirit of innovation that runs through the University's curricula and campuses.
"Henry Rowan had the foresight to say if I'm going to make a gift to this institution it has to be transformational," Sargeant said. "Rowan University is a magnet now around the world."
SIE Founding Head Dr. Eric Liguori, who spoke during the UN visit on the importance of entrepreneurship education on college campuses, said the University's cross-campus focus benefits students from all of its colleges, and it's getting noticed.
"As a public institution, Rowan is obligated to teaching for the greater good and that includes our entrepreneurship program," he said. "It's gratifying that the ICSB recognizes that in our program and some of its leaders came to celebrate the naming of our center a Knowledge Hub."
Liguori also recently testified before Congress on the importance of entrepreneurship education.