Making granola bars (and history): student entrepreneurs take first place in global business competition
Making granola bars (and history): student entrepreneurs take first place in global business competition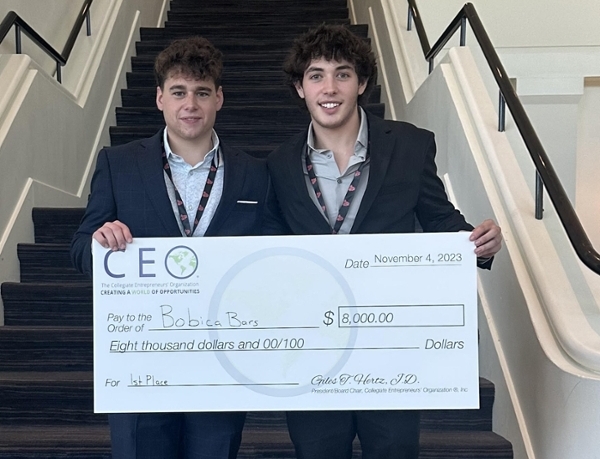 Iannelli (left) and Nastasi after cinching win in Tampa.
In a broad sense, a business competition win this month by two Rowan University student entrepreneurs was truly historic.
Sophomores Harrison Nastasi and Justin Iannelli, co-founders of the superfood granola bar company Bobica Bars, took first place in the College Entrepreneurs' Organization's 40th Global Conference & Pitch Competition.
Nastasi and Iannelli, who were among 16 Rowan students competing, bested roughly 700 student entrepreneurs from around the world Nov. 2-4 in Tampa, Fla.
The win follows a first-place finish in the same competition last year by Nastasi's brother Nicholas '23, whose company 4U Medical Designs makes colorful, kid-friendly stickers for IV bags, syringe barrels and other medical supplies for children.
"We made history four different ways," Harrison Nastasi said. "We were the first brothers to win back-to-back, the first University to win back to back, the first food and beverage industry company to win and we are the youngest to ever win."
Bobica Bars, which Nastasi and Iannelli market as the first world's first superfoods glazed granola bars, sell mostly by word of mouth, but sell they do, Nastasi said. The pair bake 500 to 800 bars per week – some in Nastasi's mother's kitchen and some in commercial kitchen space – and sell them online and at area gyms.
Both sophomore management majors in Rowan University's Rohrer College of Business, Nastasi and Iannelli are childhood friends from Sicklerville who, in addition to carrying full-time courseloads, work part time jobs while they make, market and promote their line of healthful granola bars.
Nastasi said the bars were inspired by açaí bowls, a frozen dessert made from a Brazilian superfood that's prized for its easy digestibility. For the granola bars, he and Iannelli blend açaí (ah-sai-ee), rolled oats and other grains with a mix of strawberries, bananas and blueberries topped with one of four sweet but healthful glazes.
As first place finishers for the pitch contest, they won the $8,000 top cash prize, money they are plowing back into the business.
"We've grown organically through word of mouth, going to competitions and using Instagram, LinkedIn, TikTok, all of our social media," Iannelli said.
Though, to date, the company has done no traditional advertising, the pair are planning a marketing campaign featuring a former NFL icon as pitchman.
"Mainly our orders are off Amazon and our website, bobicabars.com," Nastasi said. "Our next step is to go retail and we're working to get into some of the big box stores."
Of the 16 Rowan students who competed in this year's CEO Global Conference & Pitch Competition, three made the final eight including Nastasi, Iannelli and Siena Rampulla, who pitched a phone app she's building called PULLATracker. Rampulla won the RCB's New Venture Competition and $30,000 in prize money in April for the app, which she's designing to help women stay safe on campus and off.
In January, before his friend Iannelli left Florida International University to attend Rowan and partner in Bobica Bars, Nastasi won the New Jersey segment of Global Student Entrepreneur Awards and claimed a top prize of $7,500.
Rowan's entrepreneurship program, which includes undergraduate degrees from the RCB and the Henry M. Rowan College of Engineering, was named #40 in the U.S. – and #1 in New Jersey – this month by The Princeton Review and Entrepreneur magazine.