Business and Engineering students win national competition with pediatric healthcare startup
Business and Engineering students win national competition with pediatric healthcare startup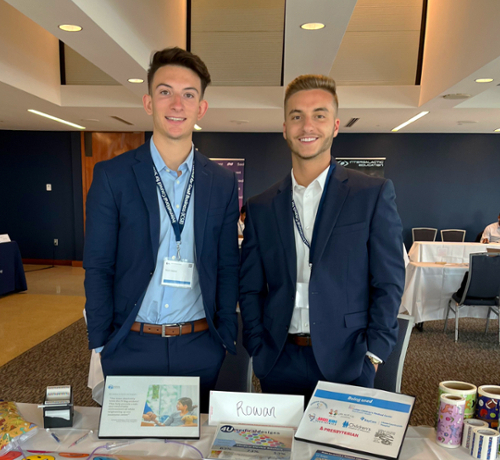 Nastasi and Perry, founders of 4U Medical Designs
Like many great business ideas, this one started with a simple premise: kids love stickers.
Building on that premise, two students in the Rohrer College of Business (RCB) and the Henry M. Rowan College of Engineering launched a company to provide sterile, medical-grade stickers in a rainbow of colors and styles to dress up syringe barrels, IV bags and other medical devices for children.
Seniors Nicholas Nastasi, a business management major with an entrepreneurship minor, and biomedical engineering major Joshua Perry, founded 4U Medical Designs after beginning studies at Rowan University and it's already generating a respectable revenue stream.
The company took first place – and an $8,000 prize – Oct. 27 at the 39th Annual CEO Global Conference and Pitch Competition in Chicago and it won $2,500 in the RCB's New Venture Competition in April.
Of even greater significance, the company is projected to generate $95,000 in sales by next August.
The stickers – all original artwork that's sealed to keep them sterile before placement on medical devices – are designed to ease young patients' anxiety in hospitals and doctors' offices.
Nastasi and Perry, childhood friends from Gloucester Township, said seven hospitals nationwide already use their stickers including Shriners for Children Medical Center in Pasadena, Calif.; Weisman Children's in Marlton; and Mease Countryside Hospital in Safety Harbor, Fla.
"We were blessed to have an idea that can impact so many patients," Nastasi said following their win in Chicago.
He said the idea for the company was inspired by a childhood illness of his own that required a brief hospital stay. Nastasi said the medical equipment needed for his care, from the syringes to the plastic IV bags, felt cold and unsettling.
4U Medical Designs produces stickers for medical equipment in a wide range of child-friendly categories intended to ease anxiety including sports, sea creatures, unicorns, happy faces, dinosaurs, dogs and cats, and jungle animals.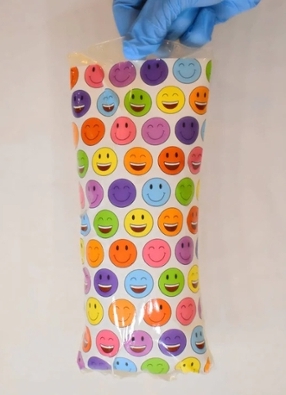 Citing a study by the University of New Mexico Health Sciences Center, Perry noted that "decorative IV bags and syringes can reduce patient aversion by 83 percent, fear by 53 percent and anxiety by 73 percent."
However, he said, "one of our early concerns was fighting cross contamination, and that led to engineering a film coating for each sticker to prevent against it."
Nastasi, CEO of 4U Medical Designs, and Perry, the company's vice president of operations, said a long-established practice of collaboration between the colleges of business and engineering directly impacted their company's formation and early success.
"I learned about the Chicago competition last year and we made the top 100 in the idea stage," said Nastasi, who also serves as president of the Rowan chapter of the Collegiate Entrepreneurship Organization. "With all of the progress we made over the last year, I knew we had a shot at winning."
Perry said the company filed for a utility patent on medical device stickers and, for the time being, is among few competitors in the marketplace.
"We're kind of creating the space, building a market," he said. "Hospitals have told us they love how customizable our products are and that their patients really like them."
Dr. Eric Liguori, who heads the RCB's School of Innovation & Entrepreneurship (SIE), said it's always exciting to see students succeed in business, even more so when they haven't yet graduated.
"Interdisciplinary student venture teams produce more well-developed and viable startup concepts," Liguori said, noting that a core focus of the SIE is to encourage entrepreneurship across campus.
Dr. Mary Staehle, interim department head of Biomedical Engineering, said the natural association between business and engineering and the experiential learning within their curricula provides a breeding ground for student ventures.
"Nick and Josh are shining examples of interdisciplinary innovation for healthcare," Staehle said.  "It is easy to imagine their collaboration leading to any number of successful ventures, and, with 4U Medical Designs, they're off to a great start."