Freshman's superfood granola bars win N.J. leg of international competition
Freshman's superfood granola bars win N.J. leg of international competition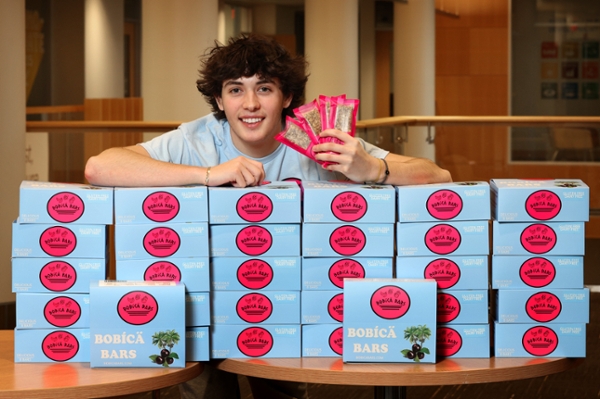 Freshman entrepreneur Harrison Nastasi
The fast-melting nature of acaí bowls, and his father's gluten allergy, may have inspired a golden idea for a Rowan University freshman – a superfood granola bar that's already flying off the shelves.
Harrison Nastasi, a freshman business major, developed and is already selling Bobica Bars, an all-natural snack that may be ideal for anyone with sensitive digestion, as well as anyone who wants to eat healthier.
While on a summer vacation with his family, Nastasi brought home an acaí bowl, a frozen dessert made from the fruit of the açaí palm, but it melted before his parents could enjoy it. Known as a Brazilian superfood, acaí is easily digested, even by people like Nastasi's dad with sensitive stomachs.
"We felt there had to be a way to have a superfood snack that anyone can have anytime," said Nastasi, a supply chain and logistics major in the Rohrer College of Business (RCB). "I saw it as an opportunity to chase my dream and be my own boss."
So he began experimenting, eventually landing on recipe formulas for what became a line of Bobica (pronounced bo-BEEKA) Bars, a whole grain snack that's gluten free, dairy free, soy free, nut free and vegetarian friendly.
"They're manufactured in our home kitchen every day," said Nastasi, of Sicklerville. "We have a food handlers' certificate and a food managers certificate which allows us to produce a food product out of our home kitchen."
Nastasi, who is also pursuing a minor in entrepreneurship through the RCB's School of Innovation and Entrepreneurship, is already selling Bobica Bars through his own website, on Amazon, and in a half dozen retail outlets and health clubs around the region.
In January, Nastasi won the New Jersey segment for this year's Global Student Entrepreneur Awards, will represent the state in the GSEA's upcoming North America contest and hopes to go on to the global competition.
Nastasi, who won $7,500 for taking first place in the GSEA's state-level contest, said he sees a clear future in making and selling Bobica Bars and is not concerned about competition from well-established brands like Nature Valley, Kind and Clif.
Now offered in four flavors – Acerola, Berry Boost Acaí, Holiday Cranberry and Pitaya – Nastasi said he's producing some 500 bars per week, marketing them through word of mouth.
 "We differ from (the competition) because we're the only superfood glazed granola bar and they're delicious," he said.
In addition to the GSEA prize money, Nastasi said sales of his bars since August have exceeded $5,500, all of which he's plowed back into his business. The bars retail for around $2 each or $15-$17 per box depending on the flavor.
Family of entrepreneurs
Nastasi's brother, senior business management major and entrepreneurship minor Nicholas, founded 4U Medical Designs with senior biomedical engineering major Joshua Perry. Their company produces colorful stickers for children's medical supplies, is also generating a solid revenue stream, and in October took first place – and an $8,000 prize – at the 39th annual CEO Global Conference and Pitch Competition in Chicago. It also won $2,500 in the RCB's annual New Venture Competition last April.
Dr. Eric Liguori, who heads Rowan's School of Innovation and Entrepreneurship, said the Nastasi brothers and Perry are motivated to produce products that find a niche in the marketplace while serving societal needs.
"I see in both of these companies something even greater than the profit motive, which is obviously important," Liguori said. "I see passion for business with an emphasis on the greater good, traits we stress in the College of Business."
Harrison Nastasi he sees in Bobica Bars a pretty sweet future.
"I hope to be in every Target, every big box store and I think I have a pretty good plan to get there," he said.
As for his father's search for a healthy, gluten-free snack he can enjoy, Nastasi said, "he loves them and eats one every day."