The Princeton Review boosts Rowan's entrepreneurship program to 44th nationally
The Princeton Review boosts Rowan's entrepreneurship program to 44th nationally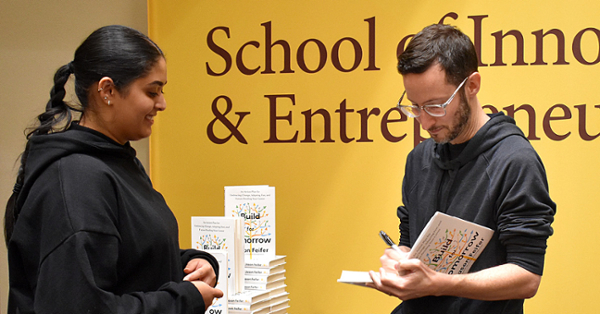 The School of Innovation & Entrepreneurship kicked off Global Entrepreneurship Week Nov. 14 with a program hosting Jason Feifer, editor in chief of Entrepreneur Magazine and author of "Build for Tomorrow," which examines the impact of innovations on humankind throughout history.
For the second consecutive year, The Princeton Review today named Rowan University's undergraduate entrepreneurship program among the 50 best in the United States.
Released in partnership with Entrepreneur magazine, the study not only included Rowan's program in its Best 50 ranking, it boosted the University's national ranking six places to #44 and named it #7 in the Northeast.
Rohrer College of Business Dean Sue Lehrman said the latest ranking by The Princeton Review, which comes amid the college's 50th anniversary celebration, is significant because it underscores a commitment to embracing entrepreneurship as a means of self-betterment and control.
"The concept of entrepreneurship is extremely powerful and empowering," Lehrman said. "Whether one thinks of a venture capital backed technology startup or a corner barber shop, the notion of taking a chance and executing one's vision is exciting. It is also, for many, within reach, especially if students take advantage of the multitude of opportunities available from Rowan's Center for Innovation and Entrepreneurship."
Under Rowan President Ali A. Houshmand, who in 2022-23 celebrates his 10th year helming the University, the institution has become more entrepreneurial across its classrooms and colleges. In 2014, it launched the Rowan Innovation Venture Fund with $5 million, a fund that, since then, has seeded 14 South Jersey-based and regional startups, many launched by University students and faculty. The fund this summer grew to $25 million.
Long instrumental in building an entrepreneurial mindset across all of Rowan's schools and colleges, the RCB offers a wide range of entrepreneurship degree and certificate programs including a B.S., a minor, two MBA concentrations, three graduate certificates and an undergraduate certificate. The second MBA concentration and a certificate launched this year with a focus on cannabis commercialization. The RCB also offers, in partnership with the Henry M. Rowan College of Engineering, a B.S. in engineering entrepreneurship.
Rowan in 2022 also launched the School of Innovation and Entrepreneurship within the RCB, a first of its kind in New Jersey and one of just a few university-based schools of its type in the country.
The college's long running "Think Like an Entrepreneur" summer academy this year awarded it's 1000th hour of free college credit to high school students and this fall the RCB began a program in Camden to assist residents interested in starting their own business. That initiative, which developed out of RCB research, aligns with a United Nations goal to eliminate poverty.
Dr. Eric Liguori, who heads the School of Innovation and Entrepreneurship, said the many ways Rowan and the RCB embrace and promote business start-ups and ownership are building critical mass, both in practice and public awareness.
And, as Rowan presses forward in its goal to achieve Carnegie-classified R1 research university status, those efforts are helping to boost the University's ever rising profile.
"All of our efforts, from high school outreach to degree and certificate programs to the Innovation Fund to community support are connected, and they're making an impact," Liguori said. "Ultimately, our goal as business educators is to help make South Jersey a better, more prosperous place to live, but it's also affirming to be recognized by respected organizations like The Princeton Review."