'Let's get you in the lab.' Biomedical engineering major earns NSF Graduate Research Fellowship
'Let's get you in the lab.' Biomedical engineering major earns NSF Graduate Research Fellowship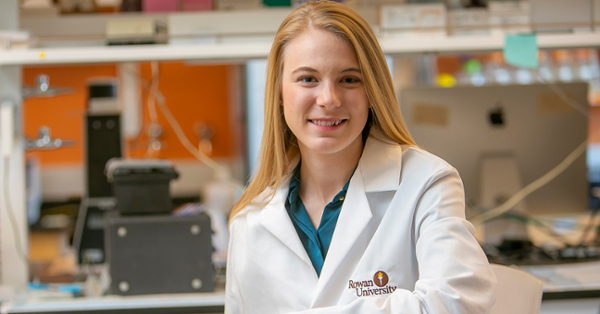 Ashleigh Jankowski is among the 2,500 recipients of the 2023 National Science Foundation Graduate Research Fellowship.
Ashleigh Jankowski always knew she wanted to help people. Although a career as a doctor didn't speak to her, she "liked the idea of being able to make the tools for doctors," Jankowski said. "That's what biomedical engineers do." 
During her four years as a biomedical engineering major at Rowan University, Jankowski put words into action, researching new ways of delivering drugs to patients without harmful side effects in Dr. Mark Byrne's Biomimetic & Biohybrid Materials, Biomedical Devices & Drug Delivery Laboratories. 
The 21-year-old honors student, who is also minoring in chemistry, will continue her research in novel drug delivery after graduating this spring. To support her studies while pursuing her Ph.D., Jankowski is among the 2,500 recipients of the 2023 National Science Foundation (NSF) Graduate Research Fellowship. 
Awarded to graduate students who have demonstrated the potential to be high-achieving scientists and engineers, the highly competitive fellowship offers three years of financial support over a five-year period, comprising a $37,000 annual stipend and a $12,000 payment to cover tuition and fees. With the award, Jankowski will pursue a Ph.D. in bioengineering as a Flagship Fellow at the University of Maryland, continuing her work in drug delivery. The prestigious university-wide Flagship Fellowship is awarded to less than the top 1 percent of UMD Ph.D. applicants.
"I have a lot more control over what research I want to do, which is very exciting," said Jankowski, who grew up in Catonsville, Maryland.
For an undergraduate student to receive the NSF award is a testament to Jankowski's drive and focus, noted Byrne, founding dean of the Rowan-Virtua School of Translational Biomedical Engineering & Sciences and professor of biomedical engineering.
"This award is the most prestigious award a graduate student can win in STEM," said Byrne, Jankowski's research mentor. "It's a lot harder for a senior to win this fellowship because they have to develop their project, look at where they potentially would want to go to graduate school and then put together an application."
"You don't win it without having demonstrated excellence in your studies and the diligence and the motivation to solve difficult research problems," Byrne added. "She's demonstrated that as an undergraduate and now she takes it to another level."
Jankowski adds the NSF Graduate Research Fellowship to her many accolades, including last year's prestigious Goldwater Scholarship, recognizing students with high potential to become leaders in their field and who intend to pursue the Ph.D. degree; the Irene Elizabeth Tracey Award for Excellence in Engineering; and the Drs. Mark and Barbara Chamberlain Honors Medallion.
From day one, Jankowski wanted to work in the lab. While still in high school, Jankowski spoke with Rowan's biomedical engineering professors. 
"They talked about how so many freshmen get involved in research right away," she said, "which is something I knew I wanted to do." 
"She selected Rowan because of the programs that we have available and she has capitalized on all of them," said Mary Staehle, Ph.D., Jankowski's academic adviser and interim department head of the Department of Biomedical Engineering in the Henry M. Rowan College of Engineering and the Rowan-Virtua School of Translational Biomedical Engineering & Sciences. "She had a vision at the very beginning. She can be a great example for students who come to Rowan from all over the world." 
Jankowski joined Byrne's lab during her first semester at Rowan. "I walked into his office and said 'I want to be involved in something cool, something cutting-edge,'" Jankowski said. "He said, 'Let's get you in the lab then.'"
"She was unique," Byrne said. "She was really motivated to get started in complex research right away and join my team. Usually, we give time for students to get used to their new environment at the university, but she thoroughly convinced me she could jump in right away. And she was right, we have been very productive in our four years working together."
While at Rowan, Jankowski presented her work twice at the Biomedical Engineering Society Annual National Meeting in 2021 and 2022. She is also co-authoring multiple peer-reviewed research articles on her work. 
Outside of the lab, Jankowski served as the president of the Rowan Student Chapter of the  Biomedical Engineering Society, the service chair of the Rowan Student Chapter of the Society of Women Engineers, was a founding member of the Honors College Food Insecurity Committee and was a student partner of Rowan Unified Sports. After returning to campus after COVID-19 emptied the campus, Jankowski was compelled to take leadership roles in these clubs in order to revive them. The Honors College Food Insecurity Committee specifically was born out of the COVID-19 crisis. 
"The semester of spring 2021, we were putting together meal kits and putting them in the Honors College fridge and saying anyone who needs them, come get them," Jankowski said. "It felt good to be giving back directly to our community."
As she completes her undergraduate career, Jankowski looks back on her tenure at Rowan with fondness. 
"Every facet of everything I've done at Rowan," Jankowski said, "whether it was required by our curriculum or something that I found myself in, has prepared me in some way for my future career."
Every spring, Rowan University highlights one graduating senior from each school and college. Read more stories about this year's featured graduates.