Two Rowan University juniors named Goldwater Scholars
Two Rowan University juniors named Goldwater Scholars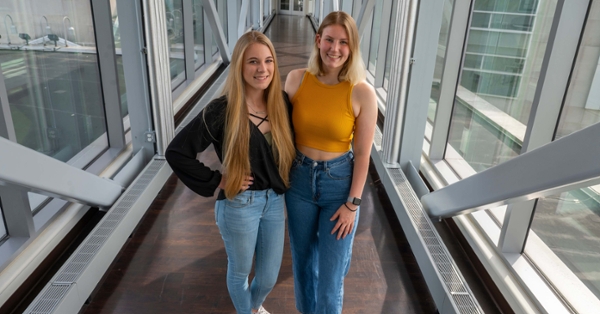 Engineering students Ashleigh Jankowski (left) of Catonsville, Maryland, and Isabella Marshall of Highland Park, Middlesex County, have earned the 2022 Goldwater Scholarship.
Two students nominated by the Henry M. Rowan College of Engineering have earned the prestigious 2022 Goldwater Scholarship.
Ashleigh Jankowski, a junior from Catonsville, Maryland, is majoring in biomedical engineering in the pharmaceutical engineering and therapeutic delivery track with a minor in chemistry. 
Isabella Marshall, a junior from Highland Park, Middlesex County, is majoring in electrical and computer engineering and mathematics, while also pursuing minors in mechanical engineering and computer science. Both students are pursuing the Thomas N. Bantivoglio Honors Concentration in the Honors College.
The federally endowed Barry M. Goldwater Scholarship and Excellence in Education Program is one of the most prestigious awards undergraduate students in the natural sciences, mathematics and engineering fields can receive. Under the scholarship program, students may be awarded up to $7,500 per year in funding for their college expenses. The award recognizes students with high potential to become leaders in their field and who intend to pursue the Ph.D. degree.
Jankowski is the fourth Goldwater Scholar in the last five years to represent both Rowan's Department of Biomedical Engineering and the Honors College.
"It's validating to see something tangible come out of putting in all this work," Jankowski said. 
Jankowski serves as president of the Rowan student chapter of the Biomedical Engineering Society and as service chair for the Rowan student chapter of the Society of Women Engineers. Since her freshman year, she has worked as an undergraduate research assistant in Dr. Mark Byrne's lab along with doctoral student Robert Mosley.
"Ashleigh is one of the top students in our major," said Byrne, founding department head and professor of biomedical engineering. "When you have students who are intelligent, diligent and curious and you give them the opportunity to work on advanced research, it is truly exciting to see them grow and mature. It has been a pleasure to work with Ashleigh, as she is one of the most talented researchers I have advised."
Both in Byrne's lab and during research internships elsewhere, including a National Science Foundation fellowship at the University of Maryland last summer, Jankowski has excelled in what Byrne called "groundbreaking, cutting-edge research." 
In Byrne's lab, Jankowski is working on "biomimetic nucleic acid drug delivery nanocarriers." These are novel DNA- and RNA-coated nanoparticles that mimic the way some cancer drugs work by binding to DNA. The mechanism is used in a new way to design and produce more effective particles with controlled release and high loading of chemotherapeutic drugs. 
Jankowski said she plans to pursue her Ph.D. and a career in academia. 
"I hope to one day run my own university lab, so I can mentor and give back to students while continuing to make breakthroughs in research," Jankowski said.
Marshall is the first Goldwater Scholarship recipient nominated by Rowan's Department of Electrical & Computer Engineering.
Through her "untraditional" high school path of three years of self-directed learning, Marshall completed 90 credits of community college courses before coming to Rowan. Outside of academics, she works with President Ali Houshmand on the West Campus farm and is a competitive circus arts athlete, coaching children in circus arts and performing for charitable organizations that primarily support children. Marshall also has been named a University Innovation Fellow.
Research has been a constant focus throughout Marshall's college career. Recently, she interned at the Princeton Plasma Physics Laboratory, developing a program to expedite the complex calculations nuclear fusion reactors use to produce clean plasma energy. This summer, she will intern at the Boyce Thompson Institute at Cornell University, using STEM to create more sustainable agriculture. 
"Not only does Isabella do so much, but she does it all so well," said Dr. Robi Polikar, head of the Department of Electrical & Computer Engineering. "Perhaps more indicative of students' true aptitude than grades are problem-solving abilities, and Isabella is capable of hands-on application typically seen only in the best students at the graduate level."
Part of why Marshall has "the makings of a great researcher," Polikar said, is because her interests in research are closely tied to an interest in doing good.
"Isabella is passionate about using her skills for social good, including causes like clean energy and sustainability," said Polikar. "For an undergraduate to have so much focus on research for the greater good paints a picture you don't see often."