Rowan historian ends 'Jeopardy!' run with more than $60K
Rowan historian ends 'Jeopardy!' run with more than $60K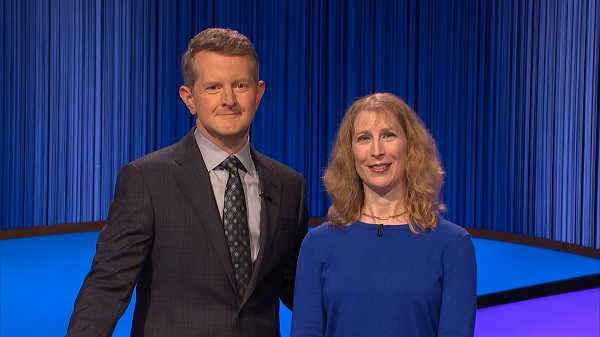 Melissa Klapper, a professor of history at Rowan University, won $60,100 while a three-day champion on "Jeopardy!" She is joined by Ken Jennings, host of the popular nationally televised game show.
The category is "Prof pride."
Here's the clue: That pesky buzzer notwithstanding, this Rowan University professor was a three-day champion on the game show, "Jeopardy!" in March of 2023.
Answer: Who is Melissa Klapper?
A historian in Rowan's College of Humanities & Social Sciences, Klapper used her vast knowledge of the arts, history, popular culture, and other topics to win $60,100 on the nationally televised quiz show March 20-23.
Klapper's reign as "Jeopardy!" champion ended on March 23 when she finished third in the game won by Alec Chao, a management and program analyst from Fort Lauderdale, Florida.
"This is the first time and the last time that some of my students think I'm cool," quips Klapper, now in her 22nd year teaching at Rowan, where she specializes in American and women's history with a focus on the late 19th and early 20th century. She also is the coordinator of women's and gender studies.
A "Jeopardy!" fan since her youth—she tried out unsuccessfully for the game show's teen tournament in the late 1980s—Klapper completed a series of increasingly difficult online tests last June and an audition to qualify to become a contestant.
She was in the contestant pool for several months before she got the call to be on "Jeopardy!" Klapper flew to California over winter break and taped her shows on Jan. 10. The production tapes five shows daily.
Cramming with kids' books
After finals ended for the fall semester, she had about two weeks to prepare for the show, cramming on topics like geography and science by scouring books for children, including a Junior World Atlas and a timeline of scientific discovery.
"I tried to learn more science and geography. The books for younger readers provided me with specific information quickly."
A voracious reader, movie buff and a music enthusiast—"I know music up to about 10 years ago," she says—Klapper was confident in her knowledge of most categories, save for sports.
"I know nothing about sports. That's a lifetime deficit that just can't be overcome in two weeks," she laughs.
Yet, much to the delight of her friends, she nailed sports questions throughout her games, albeit with clues related to books, like Tom Clancy's novel "Patriot Games."
Mastering the 'Jeopardy!' buzzer
The most daunting challenge, Klapper says, was mastering the famous "Jeopardy!" buzzer. She practiced at home using a ballpoint pen. But, she says, that's much different from being on stage, where you have milliseconds to think and lights flash before you actually are able to buzz in with an answer.
"It's very stressful. I'm not good at the buzzer, especially the last game," she laments, adding that Chao, the champion who unseated her, was a masterful player—and buzzer pusher.
Still, Klapper says, the "Jeopardy!" experience was fun. Sales of her latest book, Ballet Class: An American History (Oxford University Press, 2020), increased on Amazon after she referred to it during her first show.
'We're all trivia nerds'
Strict "Jeopardy!" rules precluded her from mentioning that she is a Rowan professor. But word spread quickly, she says.
"You're not allowed to promote anything. I mentioned I wrote a book about ballet, but I couldn't specify the title.
"It was a lot of fun, a once-in-a-lifetime experience and I appreciate all of the support I've received from the Rowan community," continues Klapper, noting that 200,000 people took the initial "Jeopardy!" online qualifying quiz last year and only 400 or so will appear on the show this season.
"I've been telling all of my colleagues to try it. I actually had a leg up when it came to the public speaking. My background as a professor was helpful."
Also helpful was her strategy. Klapper doesn't think of herself as a strategist, but she did make a conscious effort to pursue big money clues early in each of her games… with tremendous success in her first three "Jeopardy!" shows.
"I'm not a game theory person, but my strategy was to accumulate as much as I could early on. Sometimes, I bet bigger than I would normally.
"I met all kinds of interesting people and I really enjoyed getting to meet the other contestants," Klapper continues. "We're all trivia nerds, but they were a supportive group of nice, fun people."