RCB faculty honored as Entrepreneurship Educator of the Year and for Excellence in Social Entrepreneurship Scholarship
RCB faculty honored as Entrepreneurship Educator of the Year and for Excellence in Social Entrepreneurship Scholarship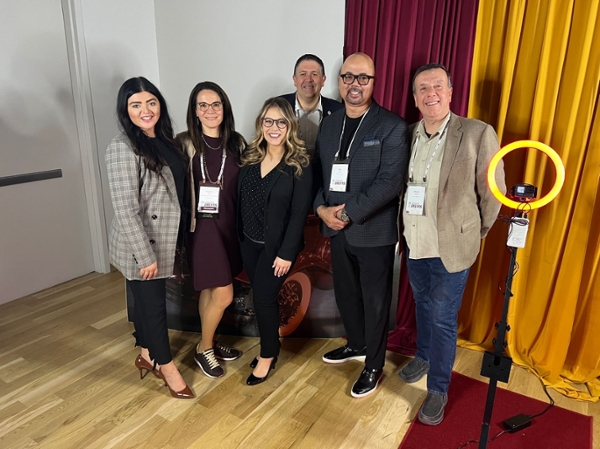 Rowan team with Santos, second from left, and Liguori, center rear, at the USASBE conference in Tallahassee.
The United States Association for Small Business and Entrepreneurship (USASBE) last week named Rowan University's Dr. Eric Liguori Entrepreneurship Educator of the Year and recognized Dr. Susana Santos with its Award for Excellence in Social Entrepreneurship Scholarship.
USASBE, which advances entrepreneurship education through teaching, scholarship and practice, honored Liguori and Santos during the group's annual conference in Tallahassee, Fla.
Liguori, who heads the School of Innovation & Entrepreneurship in the Rohrer College of Business, has helped develop an entrepreneurial culture at Rowan that spans colleges and curricula, from music and the arts to engineering, communication and, of course, business.
He said the USASBE's naming of him as Educator of the Year is especially meaningful considering the organization's national and international renown.
"It's a huge honor, and very humbling," Liguori said, "and not just because of my research on entrepreneurship education or the work I do in my own classroom. It's really a shared award that helps highlight the work of my entire team, our students and Rowan's rapidly growing entrepreneurial ecosystem."
He said the USASBE, through events, forums, an educational podcast and its journal, Entrepreneurship, Education and Pedagogy, sits at the forefront of entrepreneurship education.
"Much of the content used in entrepreneurship classrooms across the globe has some connection to the USASBE," he said. "They convene the best in the world, curate amazing resources, and help legitimize bold ideas for contemporary entrepreneurship education."
The USASBE published an interview with Liguori, which highlights the impact of his work over the years. 
Liguori noted that the popularity of entrepreneurship as a field of study has rocketed across the U.S. over the past 20-30 years, from "a few outliers" to "near ubiquity" at colleges and universities. For the second consecutive year, the Princeton Review and Entrepreneur magazine in November named Rowan's program among the top 50 in America, placing it at #44 in the U.S. for 2023 and #7 in the Northeast.
The USASBE honored Santos, an associate professor of Entrepreneurship, for her deep body of work into entrepreneurship as a means of moving from poverty to prosperity.
Some of Santos's recent publications include: "The great divides in social entrepreneurship and where they lead us," in the journal Small Business Economics; "Entrepreneurship as a pathway into and out of poverty: A configuration perspective," in the journal Entrepreneurship and Regional Development, and "Gender, poverty and entrepreneurship: A systematic literature review and future research agenda," in the Journal of Developmental Entrepreneurship, where she became co-editor this year.
Rowan's promotion of entrepreneurship is driven, in part, to align with the United Nations Sustainability Goal #1: the elimination of poverty. The RCB offers numerous tracks in the field including a Bachelor of Science in Entrepreneurship, a B.S. in Engineering Entrepreneurship, a minor in Entrepreneurship and undergraduate certificate programs.
"Like any business venture, one goal of entrepreneurship is to generate revenue," Santos said. "But the societal impact that entrepreneurship can have is equally important and often overlooked."
The college, which this year celebrates its 50th anniversary, has also begun a free, community-based initiative, "Accelerate South Jersey: Focus Camden." Through that initiative, the program this past fall began offering Rowan faculty guidance to 14 aspiring Camden-based businesswomen in a range of new ventures including fashion, food service and community agriculture.
RCB Dean Dr. Sue Lehrman said "Accelerate South Jersey" speaks directly to a key college goal.
"Our mission is to be more than a leader in business education," she said. "It includes being of the community, being a part of it, helping to drive economic prosperity across our region."