P.O.P. & Circumstance: New 'Pride of the Profs' marching band honors donor with flash mob
P.O.P. & Circumstance: New 'Pride of the Profs' marching band honors donor with flash mob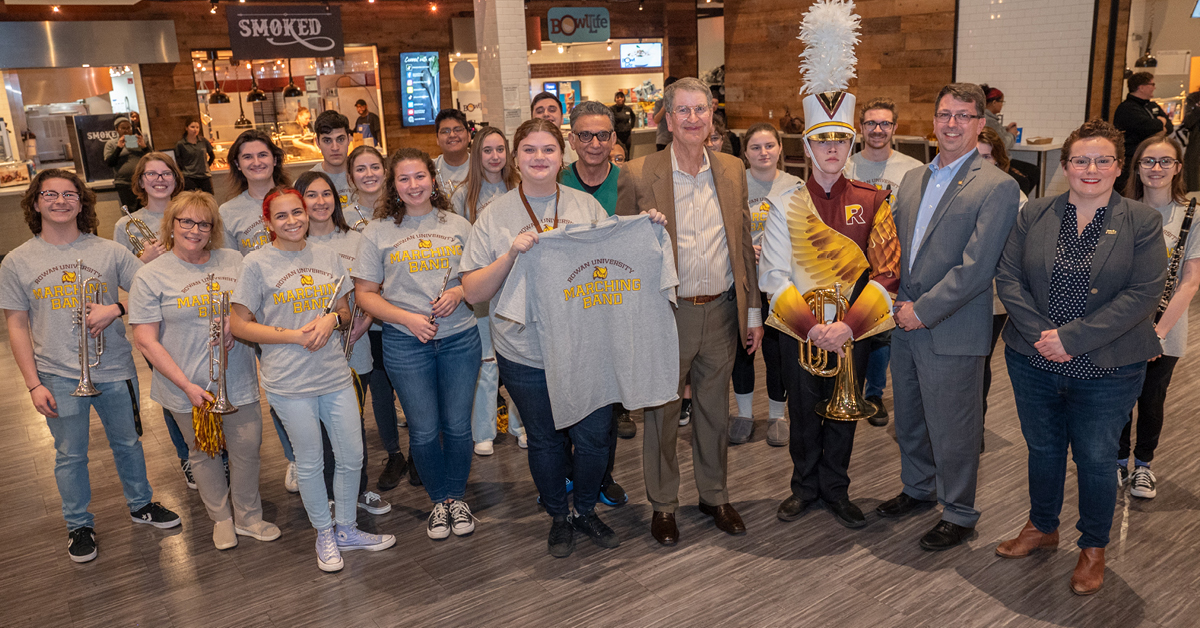 College of Performing Arts students gather around John H. Martinson, President Ali A. Houshmand, Dean Rick Dammers and Marching Band Director Megan Cooney to celebrate the new marching band.
John H. Martinson thought he was attending a student reception and dinner in the Chamberlain Student Center dining hall. And then, to the philanthropist's delight, a band rolled through.
Martinson got a surprise performance from College of Performing Arts students to celebrate and recognize the generous multi-six-figure gift he made in 2022, which will make the launch of the "Pride of the Profs" Marching Band possible. Also in 2022, Martinson made a blockbuster $5 million gift in support of Rowan's Honors College, which was renamed in his honor.
As Martinson dined with Rowan University President Ali A. Houshmand and other university leaders, the beat from a drum kit across the dining hall filled the air. Then, another group of students stood to join in, revealing "Rowan University Marching Band" t-shirts. In a matter of seconds, more than 60 students playing tubas, trombones, trumpets and more popped up and surrounded Martinson, playing "The Hey Song." Other unsuspecting diners turned to watch and Martinson clapped along to the beat.
When the song concluded, junior music education major Julia Irizarry presented Martinson with a marching band t-shirt and a heartfelt "thank you" from the entire student body.
See video of the surprise performance.
"We're so excited and grateful. This is huge to us," said Irizarry. "The addition of this ensemble really reflects how Rowan and the music department will continue to expand."
The second surprise of the evening came as the group, led by Director of Athletic Bands Megan Cooney, unveiled the new marching band uniform, a striking set complete with brown and gold Prof (owl) feathers sublimated into the vest and sleeves. With Martinson clearly pleased and genuinely surprised, Cooney cued the students again, and they broke out into Rowan's fight song to finish the evening with even more Prof pride and pizazz.
An avid supporter of the performing arts, particularly local and regional theater and performing arts colleges, Martinson has a personal interest in collegiate marching bands.
"Putting together the performance and uniform reveal for Mr. Martinson was the first of many firsts to come," said Cooney, who worked with College of Performing Arts colleague Joe Higgins to rehearse the students and pull the performance together. "At the end of the day, our job in the performing arts is to make people feel. I hope we were able to make Mr. Martinson's day."
With milestone moments like the Martinson visit and uniform reveal, Irizarry says excitement is building as things feel more real and the band comes together. Students see the band as a big opportunity. She recalls visiting campus as an incoming freshman and hearing the Music Department answer questions about a marching band with "someday." Now, as a junior, "someday" is today and playing her trombone in a collegiate marching band is a reality.
"We're excited about the launch of the Pride of the Profs this fall," said College of Performing Arts Dean, Rick Dammers. "The marching band will be an impactful and meaningful experience for hundreds (eventually thousands) of students and a point of pride for our community."
Open to students in any major, the "Pride of the Profs," Rowan University's Marching Band, officially takes flight in the fall. The band will march woodwinds, brass, drumline, front ensemble and color guard. Current students can visit go.rowan.edu/bands for information on how to register. Prospective Rowan University students interested in learning more about the marching band should fill out the interest form.