$5M gift to expand opportunities for Rowan's Honors students
$5M gift to expand opportunities for Rowan's Honors students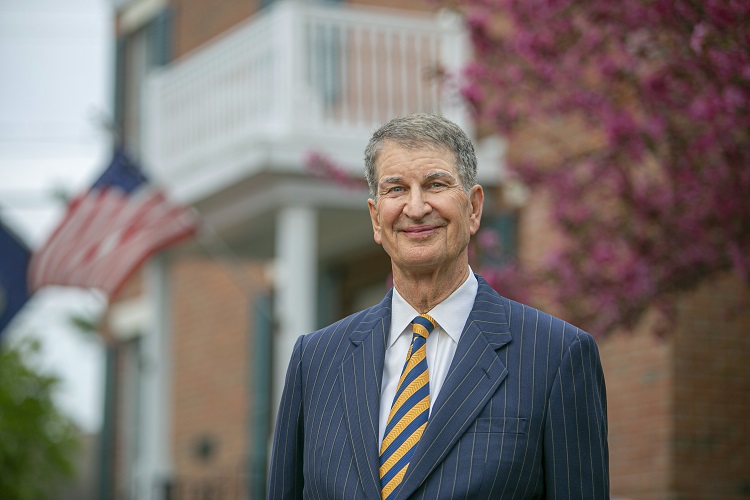 Venture capitalist John H. Martinson has given a $5 million gift to provide additional opportunities to students in Rowan University's Honors College. The college has been renamed the John H. Martinson Honors College.
John H. Martinson believes in the power of university honors colleges.
Rowan University's Honors College is a sparkling gem, he says.
"I'm certainly impressed with the leadership, faculty and students of the Honors College," says Martinson, a venture capitalist and chairman of Martinson Ventures, based in Newtown, Pa.
"I'm eager to accelerate that progress."
Martinson, who has led 80 companies to phenomenal success in the software industry, founded Edison Partners in 1986, a company that has raised 10 partnerships in the financial technology, healthcare IT and interactive marketing sectors.
Now, through a gift of $5 million, he has placed his confidence in Rowan's Honors College.
The gift to the college—which has been renamed the John H. Martinson Honors College—will greatly expand opportunities for Rowan Honors students, according to Honors Dean Lee Talley. Among them: more paid research opportunities, spring break service trips at no cost to students, and funding for study abroad.
"These are things that our students often can't even consider because of financial constraints," Talley says. "This will allow us to open up these types of experiences to a whole new group of Rowan students.
"Mr. Martinson's gift is going to broaden and deepen absolutely everything we do."
A transformational gift for Honors
The gift is transformational for Rowan University and Honors students, according to Rowan President Ali A. Houshmand. Martinson's gift is an endowment that will grow to serve Honors students for decades to come.
"Like our benefactor, Henry Rowan, John H. Martinson is not an alumnus," Houshmand says. "Yet, he has chosen to support our University and to impact the education of some of our most academically gifted students.
"In doing so, he is helping to give our Honors students the education and experiences they need to become impactful intellectual leaders, creative thinkers and doers, and public servants. We are grateful for his generous vote of confidence in our University and, most especially, our students."
With an enrollment of 555 students, the Honors College is open to academically-motivated students of every major and academic discipline.
To join and remain in Honors, students must apply and maintain a 3.5 grade point average; successfully complete eight Honors classes; attend and participate in academic, social/wellness and service events; and adhere to specific ethical standards and academic codes of conduct.
Similar to honors colleges at other institutions, the college offers unique and interdisciplinary course offerings, enhanced discipline-specific class offerings, priority registration, and Honors housing.
But the college stands out in that it fosters a diverse community of "citizen scholars" by developing a learning community dedicated to developing socially and civic-minded leaders engaged in extracurricular activities and service.
Think. Thrive. Share.
The college's motto—"Think. Thrive. Share."—bolsters that commitment, which focuses on cultivating curiosity and integrity and an understanding and appreciation of other cultures and the arts. The curriculum encourages students, faculty and staff to collaborate on frameworks for leadership and civic engagement.
That focus resonates with Martinson, a veteran of the United States Air Force and Distinguished Flying Cross recipient who flew more than 500 combat missions. Chairman of the Martinson Family Foundation in Newtown, Pa., Martinson has supported Rowan programs focusing on engineering and education since 2006. The Martinson Family Foundation provides grants to educational and charitable programs in the areas of K-12 STEM education at 15 universities.
"I'm certainly encouraged by their achievements and potential," Martinson says of Rowan Honors students. "Honors students obviously are intelligent, accomplished, and motivated to be successful in complex fields and majors. They have broad interests in other academics and disciplines.
"The Honors College has in place advanced courses, outstanding faculty and excellent facilities. Rowan encourages participation in civic projects. Students will benefit from enrichment programs and experiential learning from my endowment."
'An outstanding, competitive, nurturing environment'
Martinson has followed Rowan's growth closely. Recipient of an honorary Doctor of Science degree from Rowan in 2011, he met Henry Rowan several times and is impressed with the University's progress since 1992, when Rowan gave his transformational $100 million gift to the institution.
For the third consecutive year, the University has been named the fourth fastest-growing research university among public doctoral institutions, according to the Chronicle of Higher Education. It's one of only three institutions in the nation with medical schools granting D.O. and M.D. degrees. In 2025, a new School of Veterinary Medicine is expected to welcome its first class, pending accreditation. And, earlier this year, Rowan formed a partnership with Virtua Health, South Jersey's largest health system, to create the Virtua Health College of Medicine & Health Sciences of Rowan University.
"My business is to finance and guide innovative entrepreneurs. Henry Rowan is the epitome of a role model," Martinson says.
"Rowan stands out for the growth and expansion of the University and the vision of its leadership," continues Martinson, who is impressed by the expansion of the Henry M. Rowan College of Engineering, two medical schools, the pending veterinary school and expanded nursing degrees offered by the Virtua partnership.
"Very few universities around the country are expanding at the pace of Rowan. The University creates an outstanding, competitive, nurturing environment. Rowan is striving for excellence at scale."
Attracting top students
Students are accepted into the Honors College based on merit. Rowan students and transfers can apply to join the college even after their freshman year and still graduate in four years. Martinson expects his gift to attract "very top students in the area and across the country.
"That challenges faculty, which leads to better teaching throughout the University and prepares Honors students for graduate school and to win scholarships."
Graduates of the Honors program have gone on to fully funded master's and doctoral programs at Dartmouth, Harvard, MIT, Oxford and many others. They've also landed Fulbright, Goldwater and Boren scholarships. Others are employed at prestigious firms, such as Boeing, DuPont, Ernst & Young, and The Vanguard Group.
Martinson's donation is the second major gift to the Honors College. In 2004, the late Thomas N. Bantivoglio gave $1 million to strengthen the Honors program, which was founded at then-Glassboro State College in 1989. In 2017, the Honors College was founded. The Bantivoglio Honors Concentration will remain within the new John H. Martinson Honors College.
"Mr. Martinson's gift is one of the best endorsements our Honors program can receive," says Vice President for University Advancement Jesse Shafer, executive director of the Rowan University Foundation. "His return is in the form of impact. He is publicly saying, 'I know this is a tremendous value. I'm making an investment here.'
"He is not an alumnus and has no family tie to Rowan. His gift is a sublime affirmation of our institution and where it's heading."
Cultivating 'citizen scholars'
Martinson earned his B.S. in aeronautical engineering from the U.S. Air Force Academy, his M.S. in astronautics from Purdue University, and an M.B.A. from Southern Illinois University.
Before making his gift, Martinson visited campus and later met virtually with Honors students and faculty members. Each semester, approximately 35 faculty members teach in the Honors program.
"We are looking for incredibly well-rounded scholars who give back to the community," Talley says of Honors students. "We want to cultivate citizen scholars. He appreciated the strength of that.
"We had a rigorous conversation about Honors," she continues. "He has an unparalleled knowledge of Honors colleges and programs. His gift will allow us to enrich our applicant pool. We're going to be able to take what we're doing to the next level. We are utterly overjoyed to have his support."