Unboxing "Dread" – Rowan dean's discovery moves from "Jurassic World" to Mattel toy
Unboxing "Dread" – Rowan dean's discovery moves from "Jurassic World" to Mattel toy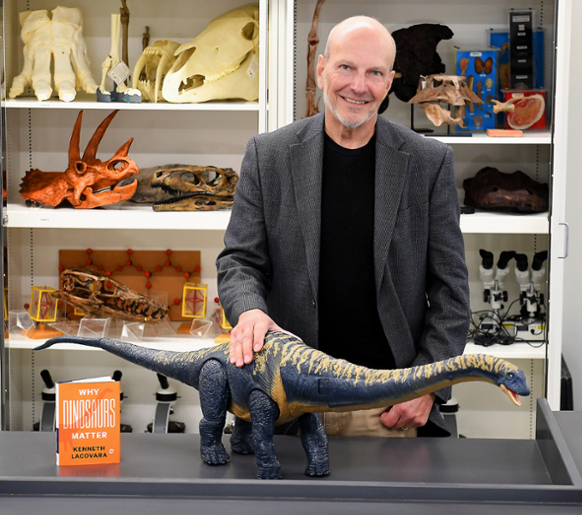 Dr. Kenneth Lacovara never imagined that his work would one day inspire a five-foot long Mattel toy.
Then again, as a child growing up in Linwood, the founding dean of Rowan University's School of Earth & Environment and executive director of the Jean & Ric Edelman Fossil Park couldn't have imagined that same work – his 2005 discovery of Dreadnoughtus schrani, one of the biggest dinosaur skeletons ever found – would one day appear on the silver screen, as it did this summer in "Jurassic World: Dominion."
In fact, the discovery itself, which Lacovara made during an expedition to the Patagonia region of Argentina, was something his younger self couldn't possibly conceive.
"I could not have imagined many of the things that have happened in my career, so many more than a carpenter's son from South Jersey might reasonably expect," said Lacovara, moving about the blue-skinned replica of his discovery in the Paleo-Geology Teaching Lab within Discovery Hall.
Now he hopes the Mattel toy, released in time for the holiday shopping season, along with the film, a best-selling book he wrote and a 2016 TED talk, "Hunting for dinosaurs showed me our place in the universe," will help inspire the next generation of learners.
"For children, fossils, and dinosaurs in particular, are the gateway drug to science," Lacovara said, noting that children often develop a love of nature and discovery after learning about the creatures. "For many, a fascination with dinosaurs becomes the first time in their young lives where they learn something that they can teach their parents."
After ruling the planet for over 165 million years, most of the dinosaurs, along with three quarters of all animal species, perished some 66 million years ago when a massive asteroid struck Earth off Mexico's Yucatan Peninsula.
Lacovara is leading the development of a uniquely innovative $73 million-plus state-of-the-art museum at the Fossil Park in Mantua Township that's expected to open in 2023 and which, Lacovara said, is designed to fascinate students of all ages.
Meanwhile, he said, he's especially pleased with Mattel's reproduction of Dreadnoughtus, a creature that would have been roughly 85 feet long, two and a half stories tall at its shoulder and weighed 65 tons, the equivalent of 57 moose or nine Tyrannosaurus rex.
The toy has tan markings, thick, wide-set legs, a muscular appearance and a mouth full of small, sharp teeth.
"I'm really happy with the anatomy, which is how it was portrayed in 'Jurassic World,'" he said. "When you're a paleontologist, you describe only a portion of the anatomy, the skeleton. We rely on artists to recreate these creatures in the flesh and I think this represents the animal really well."
Watch Lacovara unbox Dreadnoughtus:
Not to be outdone, Lacovara's friend, Adam Savage of Discovery channel's MythBusters show, made his own Dreadnoughtus unboxing video: