Why Dinosaurs Matter debuts at #1 in Paleontology on Amazon
Why Dinosaurs Matter debuts at #1 in Paleontology on Amazon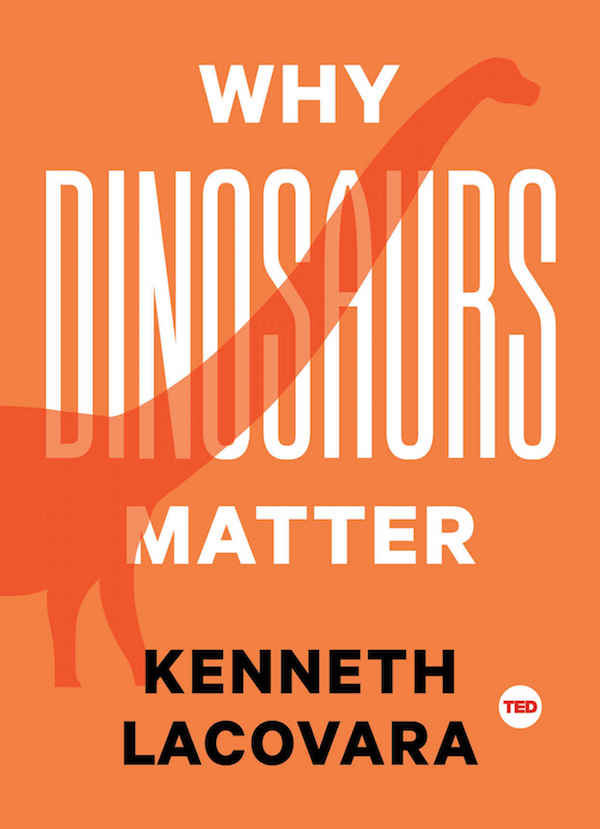 From Jurassic Park to the Jean & Ric Edelman Fossil Park, there is no question that dinosaurs matter.
A new book by Rowan's own Dr. Kenneth Lacovara tells us why.
Released Sept. 19, Why Dinosaurs Matter (Simon & Schuster/TED Books) debuted at #1 in Paleontology on Amazon.com. In it, Lacovara, Director of Rowan's Fossil Park and founding Dean of the School of Earth & Environment, examines the 165-million-year reign of the dinosaurs, their sudden demise from an asteroid strike and the lessons we can learn from them about the future of life on earth.
The book, Lacovara's first, has received critical acclaim by world-renowned figures, including Dr. Jane Goodall who writes: "This is a dinosaur book with a difference. In lyrical prose he shows how an understanding of the past helps to understand the present." Mythbuster Adam Savage opines that, "few nonfiction writers wield words with more poetic and potent affection for their subject." And Science Friday's Ira Flatow simply says, "it's a great book."
"We're facing a sixth extinction," Lacovara said during an interview on the WHYY-FM program Radio Times with Marty Moss-Coane to discuss his book.
With regard to how humankind is treating the planet, including its reliance on planet warming fossil fuels, Lacovara said, "we are the asteroid… The lesson from all of paleontology is things don't last forever. Worlds don't have to have humans, just as they don't have to have dinosaurs… to think that our hegemony is guaranteed, that's not what the fossil record tells us."
Lacovara quoted Winston Churchill to illustrate his point: "The further back you look, the further ahead you can see," he said. "We've had environmental destruction in the past, we've had radical climate changes, extinction, bursts of evolution… We can look back in the fossil record to see how biospheres responded, how ecosystems responded, and that gives us an idea of what we're about to experience.  We need to stop changing our climatic system."
A Glassboro State College graduate who holds a Ph.D. in geology from the University of Delaware, Lacovara, the discoverer of Dreadnoughtus schrani, one of the largest animals ever to walk to earth, wrote a book that speaks as much to the lay lover of dinosaurs as to the scientific community. In it, he not only addresses critical issues like global warming, human effect on it and how we can help stop it, but such curiosities as whether penguins are, in fact, dinosaurs, and how the seemingly too small arms of the T. rex were the secret to that animal's power and ferocity.
Why Dinosaurs Matter is available through all major booksellers, including Amazon and Barnes and Noble at Rowan University.
About Kenneth Lacovara:
Lacovara has unearthed some of the largest dinosaurs ever, including the super-massive Dreadnoughtus, which at 65 tons weighed more than seven T. rex. In his quest to understand these creatures, Lacovara blends exploration in remote locations across the globe with the latest imaging and modeling techniques. By using 3D imaging, 3D printing, robotics, and medical modeling techniques, his work is helping to shift our perspective of giant herbivorous dinosaurs from their historic portrayal as hapless lumbering prey to that of fearsome, hulking, hyper-efficient eating machines.
Lacovara's TED Talk, "Hunting for dinosaurs showed me our place in the Universe," was among the Top 10 TED Talks of 2016 and has been viewed by 1.5 million people. Sought around the world for his ability to bring the wonders of science and the thrill of discovery to a wide range of audiences, he's appeared in numerous television documentaries and his finds have landed him three times in Discover magazine's 100 Top Science Stories of the Year and in Time's Top Stories of 2014. Lacovara was named by Men's Journal as one of "The Next Generation of Explorers," and he is an elected fellow of the prestigious Explorers Club in New York.
Lacovara will be featured in a PBS NOVA special on October 18th.
About the Jean & Ric Edelman Fossil Park at Rowan University:
While Lacovara is clearly still writing his legacy, part of it will be his founding of the Jean & Ric Edelman Fossil Park at Rowan University in Mantua Township. Within the former marl quarry, Lacovara and his team explore a rich cache of 65 million-year-old fossils as they seek conclusive answers to the extinction of the dinosaurs.
Rowan purchased the quarry in 2015 for a dual purpose – the further study of fossils in an incredibly rich, rare and local environment, and to open up avenues of exploration for citizen scientists.
The park hosts numerous public dig events throughout the year and will have a new museum, welcome center, dinosaur-themed playground and other features starting in 2020 thanks to the generosity of Jean and Ric Edelman, Rowan alumni who in 2016 endowed the park with a $25 million gift.