Graduating with a doctorate—and a smart way to use greenhouse gas
Graduating with a doctorate—and a smart way to use greenhouse gas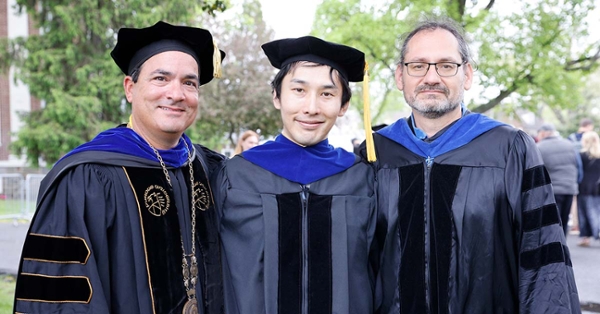 From left, Provost Tony Lowman, Dr. Naohiro Fujinuma and Dr. Samuel Lofland pause for a photo following Rowan University's Commencement ceremony Friday, May 13, 2022.
Four years after moving from Tsukuba, a research-oriented city in Japan, to study at Rowan University, Naohiro Fujinuma received his doctoral degree in materials science and engineering this week, the result of an educational investment by his multinational employer, Sekisui Chemical. He is the second to graduate from the interdisciplinary program offered through the Henry M. Rowan College of Engineering and the College of Science & Mathematics. 
As a researcher and manager at Sekisui, Fujinuma focuses on sustainable technologies. His hooding ceremony on the University Green in Glassboro formally marked the culmination of years spent tackling a difficult question: how to best convert carbon dioxide into carbon monoxide—not only to counter a significant greenhouse gas and contributor to climate change, but also to turn a profit. 
"It's a long-lasting problem in this field," said Fujinuma, whose expertise is in chemicals and materials. It's also of interest to Sekisui, named one of the world's most sustainable corporations at the 2022 World Economic Forum Annual Meeting in Davos, Switzerland. 
Others had already figured out ways to convert carbon dioxide, but those methods were too costly to be practical. To develop an economical solution, Fujinuma collaborated with his research mentor and adviser, Dr. Samuel Lofland, a condensed matter physicist in the College of Science & Mathematics, as well as another researcher at Sekisui. 
The team's first breakthrough discovery came just as the COVID-19 pandemic shut down their lab. Forced to work remotely, the researchers turned to machine learning, a technology they hadn't used before.
With guidance from one of Lofland's former students, an expert in machine learning in materials science at the University of Toronto, the Rowan team created computational algorithms to process a year's worth of data and point them toward the most intriguing possibilities. 
Published in the journal Advanced Energy Materials, the end result centered on a catalyst made from inexpensive materials with a process that could be scaled up for commercial and industrial applications. The collaborators spent the next two years refining the process to make carbon dioxide conversion more efficient and consequently profitable. 
In short, Lofland explained, they are "developing ways to monetize cleaning up the environment." 
For Fujinuma, a 37-year-old who grew up playing outside in the countryside of Japan, the urgent need for a harmonious relationship between humans and nature drives his work. 
"Sustainability is one of the central issues for humanity—because if we are not sustainable, it means we, as a species, will end up dying," said Fujinuma, who was also inspired by a 1984 Studio Ghibli film about a global environmental disaster caused by humans. "At the same time, we should be optimistic about the future, like a character in this film. I believe new technologies can give us some options to find a new sustainable way to satisfy both economic needs and environmental needs."
After graduation, Fujinuma plans to continue his collaboration with Lofland and his next doctoral student, a Rowan alumna who is being funded by Sekisui.  
"Partnerships like this one are critically important for developing new technologies and training the workforce of the future," said Rowan University Provost Tony Lowman. "This exciting sustainability research is a prime example of what's possible when industry and academia work together to solve problems."