Focused on health and safety, Rowan completes a successful—and unusual—fall semester
Focused on health and safety, Rowan completes a successful—and unusual—fall semester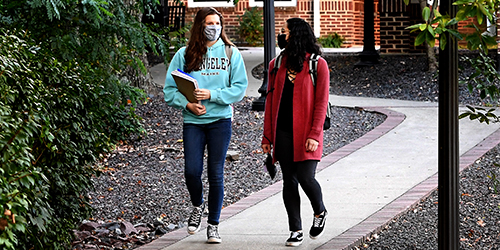 "It's impressive to see students express, 'We did this together. We made it. We did it safely.' Students stepped up. They are very proud of that. And they should be," Interim Vice President of Student Life/Dean of Students Kevin Koett says of Rowan's fall semester. "Resilience is in Rowan's value system. That is proven to me every single day."
It was a semester unlike any other.
"One of the hardest things this semester was not reminiscing about things that couldn't happen," Student Government Association President Arielle Gedeon says of the impact of COVID-19 on Rowan University's fall 2020 semester.
"But Rowan demonstrated that we can still have a quality education, that we can still have fun, that we don't have to feel alone even while we were social distancing.
"I'm super, super proud of the Rowan community," she continues. "We've all learned valuable life lessons. Most of all, students learned that there are people at Rowan who care for us, who want the best for us, and who want us to succeed."
During the fall, Rowan offered classes in a hybrid model. Most classes were online, but some had the flexibility to also transition to in-classroom learning. Most students, however, still had the option to attend class virtually all semester if they wished. Throughout the semester, approximately 30 percent of courses became in-person optional. Classes such labs and studio courses that required in-person instruction continued in classrooms with social distancing in place.
The flexible system of course delivery took an enormous amount of planning and commitment by faculty members, deans and administrators. The health and safety of the community while providing a quality education to students were tantamount to the decision-making process, notes Tony Lowman, Rowan's provost.
"Our faculty demonstrated incredible flexibility, a genuine commitment to the needs of our students, and sensitivity to challenges they've faced," Lowman says. "They understood what needed to be done and they worked tirelessly to maintain the quality education that Rowan students deserve and expect."
Over the summer, Rowan officials did what many colleges and universities nationwide did not. They opened campus, welcoming 4,100 students into residence halls—about 60 percent of residential capacity.
The traditional freshman move-in day—a celebratory rite of passage for first-year students—was held over a series of by-appointment days.  The President's Welcome & Picnic, which usually brings the entire new class together on the University Green, became smaller, socially distant outside gatherings organized by college and major. Homecoming—Rowan @ Home 2020—offered a robust schedule of celebrations virtually.
From bingo to the annual lip sync competition to axe throwing to the Last Lecture, the Student Center and Campus Activities continued events both virtually and in person, offering activities that kept students engaged with campus while adhering to CDC guidelines.
"RAH had great in-person and virtual events. The food truck festival was three days. It's usually one day," Gedeon says, noting that offices, clubs and organizations across campus hosted engaging virtual events. They included guest lectures and even performing arts performances.
"Overall, students on campus were so happy to be back. We have a president who actually wanted students on campus. And there are students who definitely needed to be on campus. They needed housing, meals, and Wi-Fi."
Gedeon says the one-year 10 percent undergraduate tuition reduction, passed by the Board of Trustees in July, was a big help for students facing multiple challenges due to the coronavirus. Additionally, CARES Act funding provided more than $7 million to students in need, according to the Office of the Bursar. That was significant, Gedeon says.
"Big kudos to the team that worked on that funding. That helped students ease a lot of burdens," Gedeon says.
A pass/no credit grading option was instituted to further assist undergraduate and graduate students struggling in the fall.
Health and wellness
To keep students and the campus community safe, Rowan instituted a massive plan that included free symptomatic and asymptomatic testing for students, a residence hall—Triad Apartments—set aside for sick students, and a support system, including meals and assistance, to students who contracted the virus. Diligent cleaning and sanitizing protocols were instituted across the institution.
According to Scott Woodside, director for the Wellness Center, more than 2,300 students had free on-campus asymptomatic testing.
The University's wellness plan included massive communication efforts—from multiple regularly scheduled virtual meetings led by University leaders with students, employees, Glassboro neighbors, and parents to educational materials and training by residential learning staff to engaging signage across campus. The plan received high marks from world renowned global health official Dr. Deborah Birx. The response coordinator for the White House Coronavirus Task Force, Birx visited campus in October.
"We've had a positivity rate of virus cases of 2 percent. That's on par with the general population," says Woodside, president of the New Jersey College Health Association. "Our students did a great job, by and large, to prevent the spread of infection. We knew there would be transmission, but we've done a good job managing it."
The University's website provides weekly statistics of all positive COVID-19 cases, both on and off campus. While on-campus cases peaked the first three weeks of the semester, the number of cases stayed relatively steady throughout the fall.
Altogether, according to Woodside, more than 200 students quarantined in Triad throughout the semester as they recovered from the virus.
'Resilience is in Rowan's value system'
For Kevin Koett, interim vice president of student life/dean of students, the collaboration campus wide this semester and at the end of last spring, when Rowan went all-virtual in March, has been remarkable.
"There are so many amazingly talented people here at Rowan," says Koett, who, with other University leaders, met virtually with borough officials and landlords of off-campus housing to work together to help limit the spread of the virus in Glassboro.
"The partnerships with our community contributed to our success. Another part of our success has been that people step up across campus and say, 'I can help with that.' Rowan is really committed to collaboration, of a feeling of 'We've got to do this together to benefit students.' We maintained—to the letter—our commitment to student success.
"Resilience is in Rowan's value system. That is proven to me every single day."
Students embrace that can-do spirit, says Koett.
"That attitude is truly part of our culture. It's impressive to see students express, 'We did this together. We made it. We did it safely.' Students stepped up. They are very proud of that. And they should be."
Looking ahead to spring
Of course, Woodside and Koett note, the spring semester again will offer challenges. Even though the virus is spreading nationally, students want to be back on campus. In fact, 400 more students have applied to live in residence halls in the spring, an indication that students and their families have confidence in Rowan's coronavirus response, Woodside and Koett say.
In the spring, any student returning to campus, whether as a residential student or as a student in a hybrid learning situation, will be required to undergo nasal swab COVID-19 testing at home. Students will receive a test kit in the mail and must have results before returning to Rowan.
The University also will begin wastewater testing in residential facilities in January to check for the presence of the virus. Asymptomatic saliva testing will continue for students and employees, as will symptomatic testing for students.  If needed, a rapid antigen test will be implemented for special populations and targeted groups.
"It's not over. Not even close," Koett says. "The challenge is that we can't get comfortable. We have to combat COVID-19 fatigue. We have to stay vigilant and focused on student success."