Global health expert Dr. Deborah Birx praises Rowan
Global health expert Dr. Deborah Birx praises Rowan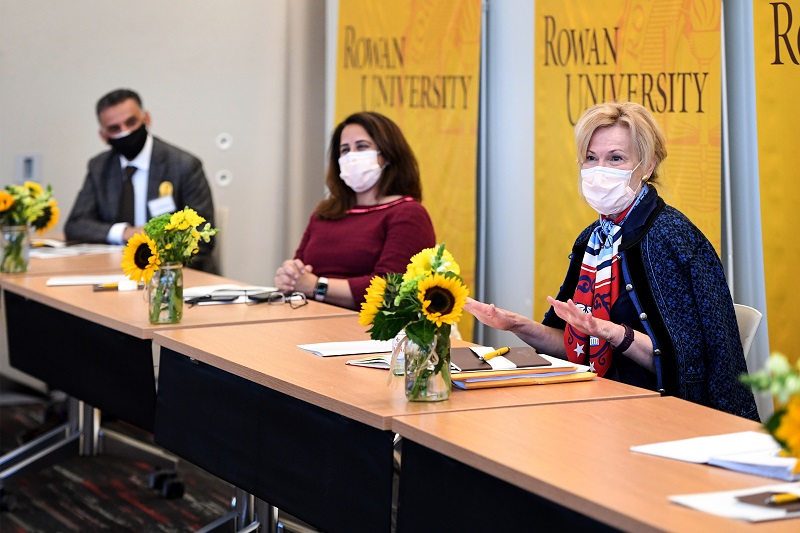 Rowan University President Ali A. Houshmand (left) and epidemiologist Irum Zaidi (center) listen as Dr. Deborah Birx addresses Rowan's Pandemic Response Team during her visits to Glassboro.
Over the past three months, Dr. Deborah Birx has traveled 15,000 miles over 30 states on a national tour to assess how colleges and universities have addressed the COVID-19 pandemic.  
"Thank you for modeling the behavior that will get America through this," Birx, the response coordinator for the White House Coronavirus Task Force, said in meetings with Rowan University's Pandemic Response Team and students and community stakeholders on Tuesday, Oct. 6.
"It's really evident that you care about your students, as well as your community and faculty,"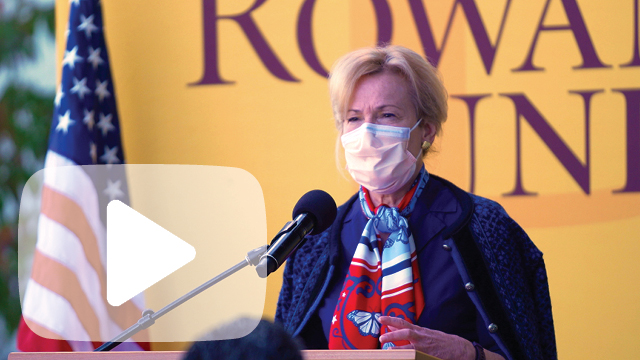 During a nearly three-hour visit to Glassboro, Birx, a world renowned global health official, also held a press briefing to share her observations about COVID-19 at the University, at other higher education institutions, and across the nation.
She praised University leaders for their thoughtful COVID-19 planning, comprehensive communication, strong community and statewide partnerships, decision-making focused both on health and wellness and student success, and innovation and creativity.
Since mid-March, Rowan has diligently researched best practices in higher education health and safety, public health and related topics to develop—and continuously refine—the institution's COVID-19 strategy.
The University's plan is based on protecting the most vulnerable, starting with physical distancing, requiring everyone to wear masks, de-densifying work areas and maximizing virtual operations where possible. The approach to protecting Rowan's campuses and surrounding communities includes extensive communication, education and fundamental public health measures.
While many institutions across the nation went to an entirely online format this semester, Rowan began the semester with a hybrid format, where most classes were virtual—with some, such as labs and studio classes meeting in person. The University welcomed 4,100 students back to residence halls, which is approximately 60 percent the normal residential population.
Last week, the number of in-person classes was increased on the main campus, athletics teams began conditioning in small groups, and student recreation facilities opened.
After experiencing highs of positive COVID-19 cases on- and off-campus the second and third weeks of the semester, the number of confirmed cases has dropped over the past two weeks.  
Unbeknownst to Rowan leadership, Birx, who also visited Rutgers University later in the day, arrived in Glassboro early to get a sense of how students and the University community were following pandemic recommendations. She took a personal tour of campus to see how social distancing and mask protocols were being followed and how cleaning and sanitizing procedures were handled, including in food service.
"We are stealthy. We got here early," Birx said, congratulating students on their mask-wearing diligence and noting the banners, lawn signs and health and safety messages throughout the University.

"Of all the universities we've been to, this university has excellent signage…the best signage that we have seen at any campus."
In speaking with University leaders, Birx called on Rowan to:
Continue asymptomatic COVID-19 testing and implement wastewater testing and antibody level testing;
Develop communication that alerts the public to family and neighborhood spread of the illness. The spread of the virus is largely between people who know each other, Birx said. "It's families and neighbors getting together," she said.
Encourage Rowan engineers to explore how ventilation changes can assist in stopping the spread of the virus;
Continue messaging to students about protecting each other and keeping the community safe. Birx said the sometimes inspirational, sometimes humorous #MaskUpProfs signs erected around campus is the best signage she's seen so far at the 18 institutions she's visited.
Rowan leaders also took the opportunity to address with Birx challenges faced by colleges and universities, including the need for standardized protocols and metrics, liability protection legislation, and additional funding for testing materials.
While college students sometimes "get a bad rap" for the spread of the virus, Birx said communal living among people of all ages helps drive the spread. Addressing remarks made to her by Student Government Association President Arielle Gedeon, Birx said, "You can tell from the president of the SGA that the focus (at Rowan) was:  Together we can empower ourselves and the community and the student body to respond to the behavior changes that we need to get control of this pandemic.
"I'm inspired at times by what students have done," she added. "I applaud the University leadership for believing in their students. You can't have health without full public engagement."
Birx said her visit to Rowan and other institutions will help the nation's leaders better understand ways to move forward.
"My job is to learn from communities and bring that back," said Birx. "Physically present dialogue is critical to understanding."
Rowan President Ali A. Houshmand appreciated the opportunity to have the leadership team and community members share their plans and experiences with Birx. New Jersey Department of Health Commissioner Judy Persichilli, State Police Superintendent Col. Patrick J. Callahan, Gloucester County Health Officer Annmarie Ruiz, Glassboro Mayor John Wallace III, and Borough Administrator Ed Malandro joined in the meeting and discussed their close working relationship with Rowan officials.
"No one is out of the woods yet, but we've been fortunate so far because everyone in the Rowan community cares enough to adjust and put health and safety first," Houshmand said. "Our employees, students, neighbors and partners share and value the success of the University, especially in how we respond to crisis.
"We committed to following the science, heeding the research. The health and safety of our community is always our priority."