COVID-19 Crusaders
COVID-19 Crusaders
Kevin McCarthy and Molly Graff lead the COVID-19 testing of asymptomatic Rowan students. Both Disaster Preparedness and Emergency Management majors, the work informs their studies and speaks to their commitment to serving others.
Their nickname—the "Spit Squad"—doesn't excite either of them.
"Personally, I wanted 'COVID Crusaders.' It sounds cooler," says senior Kevin McCarthy. "'Spit Squad' worked a little better. But the name could use some work."
"Once you have seen people spit into a vial over and over again, it's a little gross," adds Molly Graff, also a senior. "So I'm not a complete fan of the name."
Despite their misgivings about their moniker, McCarthy and Graff are extraordinarily committed to their cause. As interns with the Wellness Center, the duo leads Rowan's asymptomatic coronavirus saliva testing of students living both on and off campus.
Their work is decidedly unglamorous, but absolutely critical to Rowan's University-wide vigilance about limiting the spread of COVID-19 on campus and in the community, according to Scott Woodside, director for the Wellness Center.
"Molly and Kevin's hard work and dedication just can't be overstated," says Woodside. "By leading the effort to assess healthy students, they've allowed us to focus on broader initiatives to protect our campus community."
Testing each Tuesday and Wednesday
Every Tuesday from 2-4 p.m. and Wednesday from 4-6 p.m., McCarthy and Graff—armed with gloves, masks, sanitizer, Styrofoam coolers, test kits, clipboards and paperwork—set up the testing site outside historic Hollybush Mansion.
One takes over the pavilion next to the mansion, where residential students walk up for testing. The other leads drive-thru testing on the Whitney Avenue side of Hollybush for off-campus students.
All testing is by appointment and requires students to fill a small test tube with close to two inches of saliva…not always an easy task, McCarthy notes.
"It can take people 15-20 minutes and sometimes five or more tries," he says. "I tell people it helps if they think of their favorite food."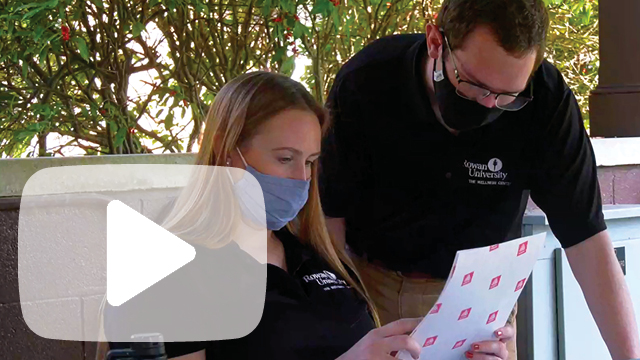 Testing appointments are scheduled five minutes apart to ensure proper social distancing. Once students complete their sample, they turn the tube's cap until it clicks, shake it up, and place it in a bag for testing. They then hand it over to McCarthy or Graff, who collect all samples in a cooler to be sent off to a professional lab.
Test results come back by Friday or Saturday of the same week. If a student tests negative, McCarthy sends an email to them immediately. If a student is positive, they are notified right away with a phone call from a Wellness Center staffer.
Thus far, thanks to the diligence of McCarthy and Graff, more than 400 asymptomatic students have been tested at Rowan over the past six weeks. Their goal is to test 100 asymptomatic students weekly.
Commitment to helping others
For McCarthy and Graff, both Disaster Preparedness and Emergency Management majors in Rowan's College of Humanities & Social Sciences, the opportunity to help keep students and the community healthy is a calling. The work both informs studies in their major--and speaks to their deep-seated commitment to helping others.
Both McCarthy and Graff serve on Rowan's nationally recognized Emergency Medical Services squad, a student-run organization. Graff, also a political science major, is first lieutenant of the squad. McCarthy, a third-year resident assistant from Cranford, is assistant vice president of governmental affairs for Rowan's Student Government Association.
He takes pride that the $30 per semester student wellness fee, passed by SGA last year, ensured that Wellness Center services, including the COVID-19 testing, remain free.
"That has kept the Wellness Center from billing students for services," says McCarthy, who personally emails 220 students each week to set up asymptomatic testing appointments.
"This work comes up a lot in my classes," he continues. "I like the planning aspect and the response aspect of emergency management. I want to go into that field, working for the government, ideally. All of my future plans will have to have pandemic or contagion plans with it."
Preparation, data collection, education
In her fourth year with EMS, Graff, of Toms River, enjoys the preparation and data collection involved in the testing program. Training officer for EMS, she also relishes the health education components.
"Our main thing is convincing people testing is important and should be done," says Graff, who shared her experiences of working with the Wellness Center and Rowan EMS with Dr. Deborah Birx, response coordinator for the White House Coronavirus Task Force, during her visit to campus earlier this month.
"It's important for all of us to protect ourselves and other people. I take education very seriously. I'm also very into planning. I love that we have an entire Google drive set up. It has all the data and statistics there so that we can report results to the University."
Students have been cooperative, Graff says.
"I've yet to see anyone super opposed to anything. For the most part, they follow the rules. I think if people are afraid of getting the virus, they're mostly afraid of spreading it to their family."
That's why sophomore law and justice studies major Abigayle Harris signed up for asymptomatic testing.
"I have a grandmom who is 98 and she lives with us," says Harris, an aspiring criminal defense lawyer from South Orange. "I also was tested in August before I came to campus."
Whether responding to an EMS call or conducting COVID-19 testing, the positive feeling of assisting others is strong, McCarthy says.
"I just get really excited to help people," he says. "The testing is a big University effort, a team effort."