As winter athletics season begins, Profs seek success
As winter athletics season begins, Profs seek success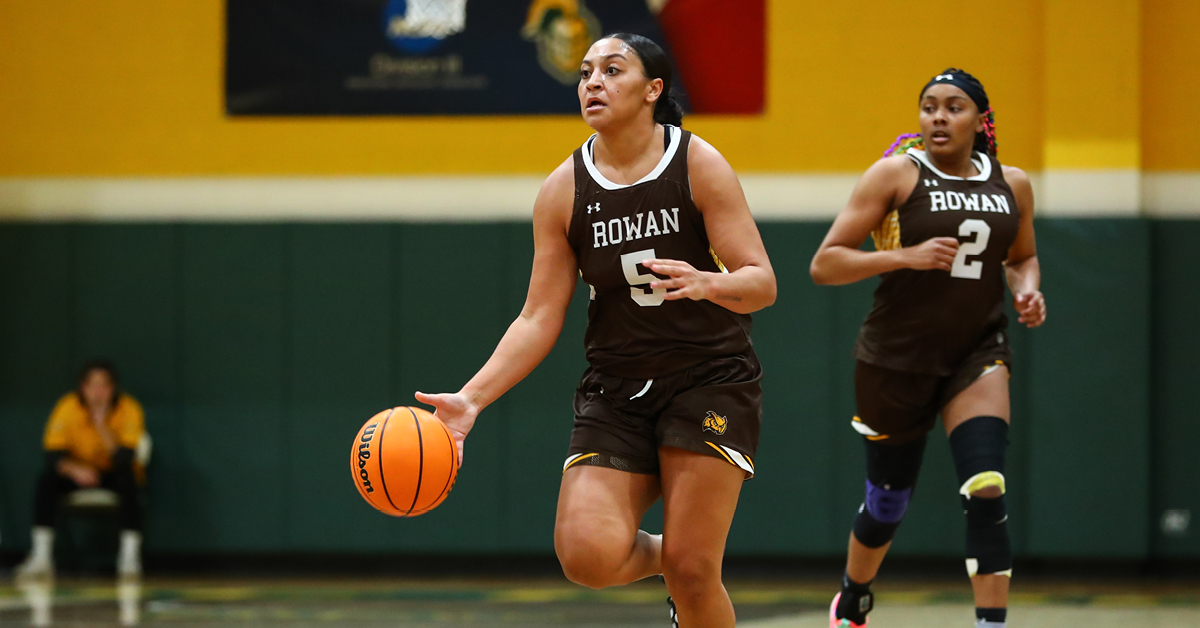 Senior guard Nicole Mallard, who was the women's basketball team's top scorer last year and also a key defender, will help lead the Profs as they look to defend their NJAC title this season. As competition begins, Rowan's winter sports teams are all looking to have strong seasons.
Athletes competing for Rowan University's winter sports teams are in search of success as they begin their new seasons. Here's a team by team look at the basketball, swimming and indoor track and field teams as they begin competition:
Interim Coach Eric Brennan's Profs will look to defend their NJAC title from a year ago and to advance in the NCAA Division III tournament again this season. Last year, Rowan went 24-6, ending the season in the Sweet 16 with a loss to Wisconsin-Oshkosh. That was the farthest the Profs had advanced since their 1996-97 campaign.
"Our group last year got back to the standard of Rowan men's basketball, making a run in the tournament with the Sweet 16 berth. We hope to get back to the tournament again this year," Brennan said.
The Profs were chosen to defend their NJAC title in the annual NJAC Preseason Coaches Poll.
Rowan returns three of its top four scorers, including last year's NJAC Co-Player of the Year Ja'Zere Noel, who led the Profs with 19.9 points and 8.0 rebounds. A 6-6 forward, Noel was named the District 4 Player of the Year by the National Association of Basketball Coaches.
Ross, a 6-3 senior guard,  was an All-NJAC honorable mention awardee a year ago. He scored his 1,000th point in the Profs' NJAC title clincher over Stockton, tallying 24 points and hitting seven three-pointers. He was Rowan's second leading scorer, averaging 14.3 points.
Josh Wright, who averaged 11.0 points per game last season, also returns for Brennan. Wright is a 6-0 junior guard.
Brennan also will rely on a pair of promising newcomers this season: Khalif Meares, a 6-3 junior guard, and Antwuan "Booty" Butler, a senior 6-0 guard.
Rowan opened the 2023-24 season on Nov. 10-11 at the Chuck Resler Tournament in Rochester. The squad's first home game is Nov. 21 versus NJAC rival Stockton.
First-year Coach Kate Pearson will rely on a quartet of returnees as the Profs seek to defend their NJAC title. Rowan went 20-9 last season, falling to Rhode Island in the first round of the NCAA tournament. Their appearance in the tournament was the first for Rowan since 2020.
The Profs, who have won eight conference titles, have been selected third in the NJAC Preseason Coaches Poll.
"We are expecting the NJAC to be highly competitive. We are playing a challenging, non-league schedule, so our players will be tested early. But the coaching staff is confident they will be up to for the test. The team is driven and will work hard to contend for another NJAC championship," Pearson said.
Leading the Profs will be 5-7 senior guard Nicole Mallard, who was the team's top scorer last year and also a key defender. A Rowan Scholar-Athlete of Distinction, Mallard has been an All-NJAC honoree her entire playing career, earning first team honors twice and second team honors once.
Pearson expects big contributions from junior guard Kate Herlihy, a 5-7 junior guard. Herlihy came off the bench last year, but Person said she will step into a larger role at both ends of the court this season.
Eliana Santana, a senior guard/forward, will be a force on both offense and defense this season, while Savanna Holt, a fifth-year guard, also is expected to make strong contributions.
Charlotte Carlies, a 6-3 sophomore forward and a transfer from Millersville, will bring energy and establish her presence in the paint, according to Pearson.
Pearson joined Rowan in July after 14 successful years leading Cabrini College in which she led the Cavaliers to five conference titles and five NCAA Tournament appearances. She was the winningest coach at Cabrini with a 240-125 record.
The squad opened the season at home on Nov. 8.
Three all-conference swimmers return for Coach Brad Bowser's Profs, who went 4-3 last year and finished third at the METS Championships.
Senior Jack Watson (sprint, freestyle, backstroke) is coming off an All-American year, which saw him  earn All-NJAC honors in two individual events and five relay events.
Junior Tobias Cahnbley, who swims mid-distance, earned All-NJAC honors in freestyle and backstroke, plus two relays, and is coming off a strong summer of training and competition, according to Bowser. Also returning for Rowan is senior mid-distance and freestyle swimmer Alex Volin, who is looking to qualify for the NCCAs both individually and as a relay swimmer.
Promising newcomers for Bowser include first-year students Gavin Danze, a distance specialist, and mid-distance swimmers Braden Sheehan and Darek Staniszewski.
"I'm really excited about the season," Bowser said. "We have an extremely young group of guys who are learning so well from experienced leaders."
The Profs opened the season on Oct. 21.
Rowan will be led by a trio of junior co-captains: Bella Stefanowicz, Emma Padros and Emmy Nelson.
Stefanowicz competes in the breaststroke, IM and relay, while Padros swims distance, backstroke and IM. Nelson competes in the backstroke.
"We are looking forward to building through the season, culminating in competing in the first NJAC meet at the end of the season," said Brad Green, assistant coach for the Profs. "We want to build off the progress made last season and take another step forward."
Green is looking for strong contributions from first-year student Kaitlyn Crouthamel and transfer Madeline Seybold.
The Profs, who were 5-3 last season, opened their season on Oct. 21.
Coach Dustin Dimit has high hopes for the Profs, who ended last indoor season tied for 20th in the final United States Track & Field and Cross Country Coaches Association Division III Poll.
"We are very excited for the upcoming indoor track season," said Dimit. "We return a large number of All-Americans and school record holders and we've brought in our best recruiting class ever."
Leading the returnees for Rowan are seven All-Americans. Among them: juniors Nana Agyemang (jumps/sprints) and Amara Conte (sprints). Both are NCAA champions who hold two NCAA Division III national records and four school records. Agyemang has been named an All-American eight times, while Conte is a six-time All-American.
Evan Corcoran, a sophomore sprinter, is a returning All-American who holds one Division III national record and three school records, while hurdler Marquise Young, a five-time All-American, also returns for his senior campaign. Young holds a Division III record and a school record.
Two-time All-American Shamar Love, a senior sprinter, and All-Americans Kwaku Nkrumah, Jason Agyemang and Jarquil Young round out the robust roster of returnees.
Dimit's recruiting class includes eight already-accomplished newcomers: Jamile Gantt, Damarion Potts, Jacob Kiyler, Teddy Wilson, Chace Pearson, Brandon Satterwhite and Chris Guerrieri.
Competition begins Dec. 1 at the FastTrack Season Opener in New York.
Women's indoor track and field
Returnees include fifth-year competitors Kat Pedersen (sprints, jumps) and Amanthy Sosa-Carceres (sprints, jumps), senior Mia Guerra (distance), juniors Molly Lodge (sprints), Nevaeh Lorjuste (sprints), and Anna Sasse (distance), and sophomore Lexi Bey (throws). Lodge is a three-time all-conference performer while Lorjuste has earned two all-league honors thus far.
Lodge, Lorjuste, Pedersen, and Jasmine Broadway comprised the 4x400 relay team that broke the school record as the team finished eighth at the 2023 NCAA Division III Indoor Track & Field Championships. The quartet became the first relay in school history to earn All-American status at the NCAA indoor championships. The 4x400 relay also garnered all-region honors along with Lodge, Sasse, and Gloria Hughes.
Interim Head Coach Liz Madden also expects newcomers Reese Gebhard and Isabelle Deal to make contributions.