AOA's 2023-24 President Ira P. Monka inspires Osteopathic community at 2023 OMED conference
AOA's 2023-24 President Ira P. Monka inspires Osteopathic community at 2023 OMED conference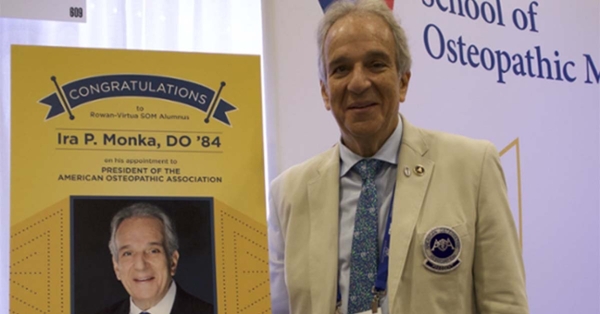 Dr. Ira P. Monka, president of the AOA and a Rowan-Virtua SOM alumnus
In October, the American Osteopathic Association (AOA) hosted the 2023 annual OMED medical conference in Orlando, Florida, bringing together thousands of osteopathic physicians, medical students and other health professionals.
Dr. Ira P. Monka, the newly appointed 127th president of the AOA and a Rowan-Virtua School of Osteopathic Medicine alumnus, was in attendance and showed a sense of pride when he reached his alma mater's booth, where Rowan-Virtua SOM displayed a congratulatory sign recognizing his presidency. He warmly greeted students and staff and spoke candidly about his excitement to be at OMED. He thanked Rowan-Virtua SOM for not only helping him get to where he is today but also for assisting the next generation, including his son, a third-year resident at Rowan-Virtua SOM.
While at the booth, Dr. Monka gave advice to future medical students, telling them to "be committed to their career goals and to become leaders by being involved in their school, as well as with their state and county." His presence provided an example of the kind of physician that Rowan-Virtua SOM has consistently produced - dedicated, caring, and deeply committed to their patients.
As the president of the AOA, Dr. Monka represents more than 178,000 osteopathic physicians (DOs) and medical students who bring a distinctive whole-person approach to caring for the body, mind and spirit of patients across the nation. He leads the organization during an era of exponential growth for the profession, which represents more than 11 percent of the overall physician population and 25 percent of all medical students in the U.S.
"We are seeing more demand than ever before from patients who are seeking the osteopathic approach to health and wellness," said Dr. Monka. "Our profession is growing to meet this demand and will play a critical role in helping to address the physician shortage expected to impact the health care workforce over the next decade."
Roots in primary care
As an osteopathic family physician, Dr. Monka has dedicated his entire career to serving patients on the frontlines of health care. After earning his medical degree from the University of Medicine and Dentistry of New Jersey School of Osteopathic Medicine (now the Rowan-Virtua School of Osteopathic Medicine), Dr. Monka completed his residency training at Overlook Medical Center in Union, New Jersey.
For Dr. Monka, serving as a primary care physician provides invaluable opportunities to help change the course, outcomes and quality of life for the patients in his care. "We are truly privileged to be able to make a positive impact in the health and minds of our patients," he said during his inaugural speech. "It's imperative that we recognize the importance of compassion and empathy in our work."
Path to leadership
In addition to serving in various leadership roles at the AOA leading up to his installment as president, Dr. Monka served as the 2006 president of the New Jersey Association of Osteopathic Physicians and Surgeons. "The leadership skills I gained in these roles helped me better understand how to guide and improve health care outcomes and accomplish goals," he said.
Dr. Monka's visit to the Rowan-Virtua SOM booth and his enthusiasm for the growth of osteopathic medicine throughout the country and the world are poignant reminders of the profound impact that a medical institution can have, shaping not only the careers of its graduates but also their outlook on life and their dedication to patient care.
The OMED conference is an annual reminder of the strength and unity of the osteopathic community that continues to thrive, and Dr. Monka's presence there was a testament to the enduring spirit of the profession.