RTF prof debuts film about anti-Communist Romanian poet at world's largest documentary film festival
RTF prof debuts film about anti-Communist Romanian poet at world's largest documentary film festival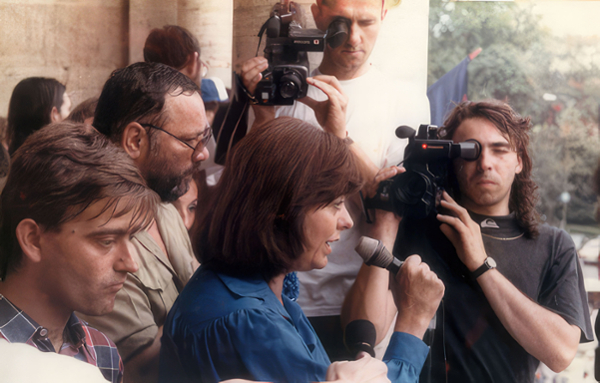 Blandiana, center, in 1990
For poet Ana Blandiana, the pen indeed proved mightier than the sword – and the rifle, the prison system and a brutal Communist regime.
"Between Silence and Sin," a new documentary by Rowan University film Professor Diana Nicolae that details the life, career and legacy of Blandiana, was featured this month at the Docs for Sale market of the prestigious IDFA documentary film festival in Amsterdam, the biggest festival and market for documentaries in the world.
Since the early 1960s, Blandiana has been a beloved Romanian poet and cultural icon whose writing inspired millions of Romanians during the darkest days of dictator Nicolae Ceaușescu's regime. Ceaușescu and his wife, Elena, were convicted and executed following the Romanian Revolution of 1989.
Nicolae, who was born and raised in Romania, said Blandiana, at 81, remains iconic today.
"Ana was one of the earliest promoters of democracy in Romania and is one of its most beloved poets," said Nicolae, whose film features colorful personal interviews with Blandiana interspersed with footage from the drab gray Cold War period in which Ceaușescu ruled.
Under Ceaușescu, Blandiana's poetry was banned multiple times in the Eastern European nation, but her countrymen and women loved her writing so much that they'd transcribe her poems by hand, carry them around and share them with others.
The poet constantly challenged Ceaușescu, from coded language that inspired readers and gave them a respite from their everyday to a children's book character, a cat named Arpagic, that parodied and mocked the dictator.
Docs for Sale
Nicolae said she sought acceptance for "Between Silence and Sin" at IDFA (the International Documentary Film Festival Amsterdam), because it's the world's largest documentary film festival and an unmissable event for the distribution of the world's best creative documentary cinema. Nicolae seeks a launching pad at the festival Nov. 13-24, including opportunities at other festivals and with distributors, theater chains and television networks to screen and air her work.
Nicolae said although Blandiana is renowned worldwide for her writing, her greatest legacy may be her commitment to democracy. She and her late husband, the writer Romulus Rusan, founded the Memorial to the Victims of Communism and to the Resistance in Romania, along with a summer school for studies on recent history.
"It's the first and only memorial of this kind," Nicolae said. "It's not just a museum, it's a living institution."
Because the threat of rising authoritarianism remains real, even in the U.S., Nicolae hopes that the story of Blandiana's continued fight for democracy inspires others, particularly younger generations who may be less aware of the history. 
"Blandiana's dissident status remains controversial even today, maybe because some of the perpetrators of the crimes in Romania are still alive and still in power," Nicolae said. "Little is known about her work to reveal the truth and build a strong civic society. A lot of the younger generations don't know much about her."