Rowan Radio named best college station in U.S. – two years running!
Rowan Radio named best college station in U.S. – two years running!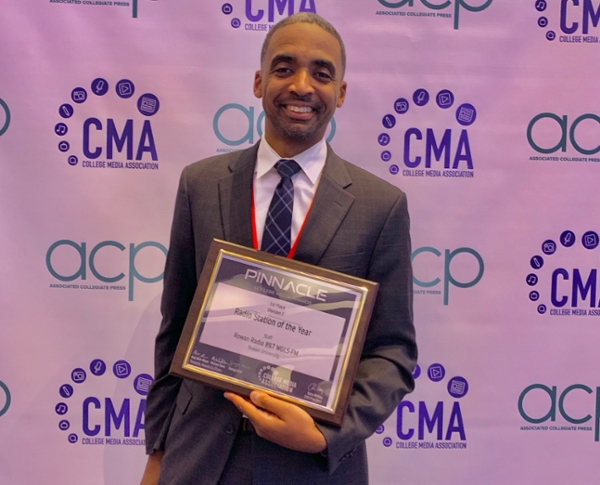 Jones displays Station of the Year Pinnacle Award
Rowan Radio 89.7 WGLS-FM was named College Radio Station of the Year for a second straight year during College Media Association's annual Pinnacle Awards Nov. 1 in Atlanta, Ga.
The win marks the third time in WGLS's 59-year history, including 1997 and 2022, that it earned honors as the nation's top college radio station. Last year, WGLS-FM grabbed the same accolade in the Pinnacle Awards. 
"We have a dedicated core of students that want to achieve success at a high level," said Rowan Radio Station Manager Derek Jones. "Winning this award for a second consecutive year is a remarkable testament of our staff's teamwork and desire to produce award-winning content. The students remain the heartbeat of Rowan Radio."
The competition featured schools with an enrollment of at least 10,000 undergraduate students. Other finalists included North Carolina State University, Oregon State University, and Michigan State University.   
Rowan Radio was previously a finalist in the Pinnacle Awards for College Radio Station of the Year in 2013 and 2017. 
Presented by College Media Association, the Pinnacle Awards salute the best in college media during the organization's yearly national convention. The competition showcases an array of colleges and universities from across the country.
The College Radio Station of the Year competition focuses on a station's news and entertainment content over the previous 12 months. Last year, several WGLS programs were nationally recognized by college media organizations. Among them, the Rowan Report (Rowan Radio's weekly news program) and Mother's Needs (a podcast on the struggles of single mothers), won several awards from College Media Association, Broadcast Education Association, and the Communicator Awards.
Rowan Radio 89.7 WGLS-FM has won over 360 regional and national awards since 1993.