A new approach to treating pain
A new approach to treating pain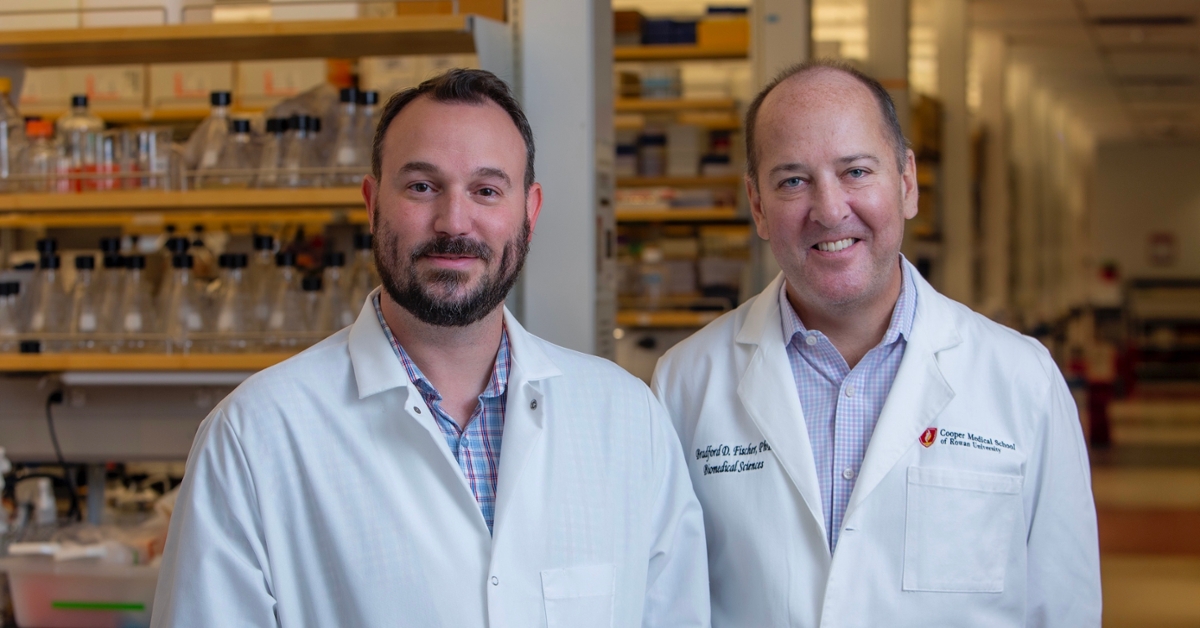 (From left to right) Thomas Keck, Ph.D., and Bradford Fischer, Ph.D., study drug combination therapies to manage pain with lower doses of opioid medications.
Opioid pain relievers, such as oxycodone and morphine, bind to specific receptors in our central and peripheral nervous systems and, in simple terms, "turn off pain." However, they also send signals to slow down or stop breathing. They can be addictive, especially when used to treat chronic pain. According to the Centers for Disease Control & Prevention, this deadly combination is responsible for more than 100,000 deaths per year in the United States.
Bradford Fischer, Ph.D., associate professor of biomedical sciences at Cooper Medical School of Rowan University (CMSRU), and fellow researcher Thomas Keck, Ph.D., associate professor of chemistry and biochemistry in the College of Science & Mathematics (CSM), are looking for ways to effectively manage pain without the dangerous and sometimes deadly side effects.
Developing safer drug combinations to treat pain may be the answer. "The gold standard of what we're looking for is an equally effective pain-relieving drug that does not have abuse potential and has fewer side effects than delivering opioids alone," said Fischer.
Fischer and Keck have received a five-year, nearly $1.9 million National Institutes of Health (NIH) R01 award to study combination drug therapies that treat pain using lower doses of opioid medications. The NIH R01 grant program supports health-related research and is among the organization's oldest and most prestigious grant mechanisms. This is the first R01 grant awarded for research originating at either CMSRU or Rowan University's colleges and schools at the main Glassboro campus.
A critical part of the research is to better understand how opioids work with the body's gamma-aminobutyric acid type (GABA) system. GABA is an amino acid that serves as the primary inhibitory neurotransmitter for the central nervous system and lessens a nerve cell's ability to communicate with other nerve cells. 
Their recent work has shown that combining a GABA type A (GABA-A) receptor modulator—related to medications in the benzodiazepine/barbiturate class—with an opioid such as morphine, increases pain-relieving effects without increasing their side effects.
The research team has focused on combining morphine with the new GABA-A modulator MP-III-024 in collaboration with a medicinal chemist team at the University of Wisconsin—Milwaukee, who synthesized the novel substance. Administering morphine with MP-III-024, an imidazodiazepine derivative of benzodiazepines, may offer the same level of pain relief at lower doses, Keck explains. 
"These are brand new compounds," Fischer says. "It's very exciting to see how they respond in vivo, or in other words, for the first time they're given to a living organism."
He believes their work could change the trajectory of pain management. In fact, according to Keck, "our very recent data suggests that MP-III-024 is probably even protective against the respiratory depression that kills people when they overdose."
New drug combinations could become a critical component of a personalized pain treatment plan.
Annette C. Reboli, MD, dean of CMSRU, underscored the transformative potential of this groundbreaking research in pain management. "As we venture into a new era of treating pain, the work of Fischer and Keck signifies a paradigm shift in how we approach this critical aspect of health care. Their dedication to developing safer drug combinations that alleviate pain without the harmful consequences of opioids is not just innovative, but also holds the promise of saving lives and enhancing the quality of patient care," she said. "This remarkable pursuit is a testament to the values and aspirations of CMSRU and Rowan University, reflecting our commitment to pioneering research that benefits the health and wellbeing of the community."
"Deaths involving prescription opioids continue to rise," said Voki Pophristic, dean of CSM and the School of Earth & Environment. "Drs. Fischer and Keck are thinking outside the box, which is exactly what we need."