Rowan University biologist investigates the effects of inflammation and exercise on brain health
Rowan University biologist investigates the effects of inflammation and exercise on brain health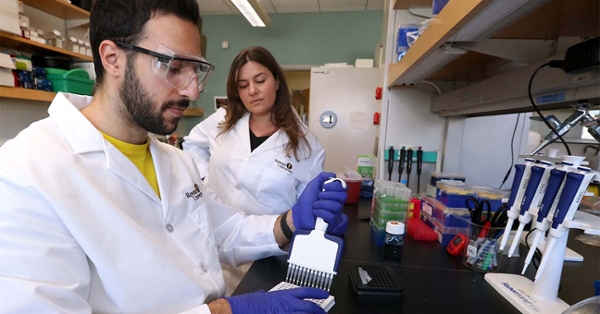 (From left to right) Elias Elias, a fourth-year doctoral student in complex biological systems, studies the effects of inflammation and exercise on the brain with his adviser, Melissa Manners, Ph.D.
Melissa Taft Manners, Ph.D., an assistant professor in Rowan University's College of Science & Mathematics, recently received a $457,983 grant from the National Institute of Mental Health (NIMH) to study resilience to chronic stress and the positive effects of physical exercise on the brain.
Chronic stress is stress that builds over time while living or working in certain environments or through experiences such as abusive relationships or chronic illness. The effects of chronic stress contribute to diseases like depression and anxiety. 
"In recent years, inflammation from chronic stress has been associated with the development of mental illness," noted Manners, who is in the Department of Biological & Biomedical Sciences. "Inflammatory factors are elevated in the brains of individuals suffering from major depressive disorder, anxiety and other psychiatric disorders, which could underlie the progression of these diseases."
Some individuals are resilient to chronic stress. Manners' team is investigating what occurs in the brain during chronic stress, which may point to better understanding how to reduce inflammation and, ultimately, how to improve mental health outcomes. 
"Exercise is known to promote mental health," Manners said. "We know that exercise is healthy from a physical perspective. Your body benefits from exercise and your brain benefits from exercise. What we are interested in knowing is, does exercise promote an anti-inflammatory environment in the brain, and is this part of developing resilience to chronic stress?"
As part of the grant, students will conduct and present much of the research under Manners' guidance.  
"I have a strong commitment to training our next generation of scientists," Manners said. "I also enjoy teaching science by doing science. The training component of this grant allows me to do things like support students working in the lab and bring students to conferences to present their work."
"Chronic stress research is relevant to everybody. When you have a topic that's so relatable, you get students who are really passionate about it and that's a really wonderful part of this process."