Rowan University's CREATES awarded $30M contract to expand Arctic region research
Rowan University's CREATES awarded $30M contract to expand Arctic region research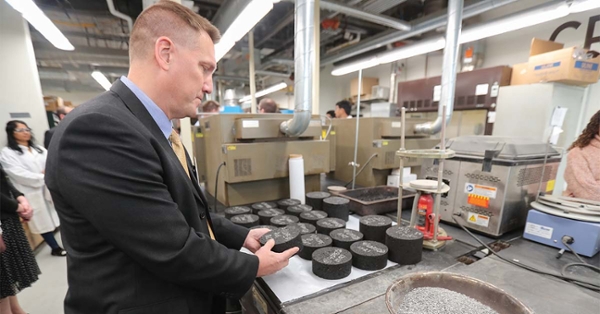 Accompanied by a team of scientists, Dr. Ivan Beckman, CRREL deputy director, spent several days recently at Rowan University visiting labs.
Rowan University's Center for Research & Education in Advanced Transportation Engineering Systems (CREATES) has been awarded a $30 million, five-year contract—with the first two years funded at $11.5 million— from the U.S. Army Corps of Engineers (USACE), Engineer Research and Development Center (ERDC), to expand Arctic region research. 
Led by Yusuf Mehta, Ph.D., and Ayman Ali, Ph.D., CREATES researchers are developing innovative construction technologies and materials to withstand fluctuating temperatures and surface conditions in cold regions impacted by climate change. The work spans a wide range of projects, including the design and evaluation of new pavement materials, as well as their production and maintenance.  
Among other projects, the additional Army Ground Advanced Technology funding will support:
full-scale testing of highly elastic asphalt binders in cold regions;

development of cold weather self-consolidating concrete infrastructure; and

testing mechanical and thermal efficiency of insulated pavement structures through full-scale, accelerated loading. 
Rising temperatures, thawing permafrost and eroding coastlines are challenging the military's transportation infrastructure in the Arctic, affecting roads, runways and bridges. Research engineers from ERDC's Cold Regions Research and Engineering Laboratory (CRREL) work closely with universities around the country, guiding studies, providing expertise and helping to develop the next generation of engineers. 
"Our collaboration with Army Corps research engineers allows us to explore creative solutions for cold regions, from pavements that can melt ice and detect frost to more resilient asphalt and concrete materials that can withstand cold conditions," Mehta said. "Even better, we're developing the next generation of engineers who will continue to advance the field of transportation engineering."   
Accompanied by a team of scientists, Dr. Ivan Beckman, CRREL deputy director, spent several days recently at Rowan University visiting labs and hearing the latest updates on the center's progress. He said he was impressed by the center's facilities, laboratories and procedures, as well as the professionalism of Rowan faculty and students.  
"The lifeblood of CRREL is academia," Beckman said. "Students, scientific research and very basic scientific understanding is very important to our mission and cold regions research. We always seek out great ideas and great partnerships with universities."  
In addition to site visits, Danielle Kennedy, CRREL program director and a research civil engineer, meets weekly with various teams from CREATES.   
"We have been working with Rowan since 2016 and the CREATES program has grown a lot since then," Kennedy noted. "It's helped us grow our technology areas at the ERDC a lot, as well. We're going to conferences with the students and presenting work together. We're publishing papers together. It's really been a beneficial relationship for both ERDC and Rowan. I think there's a lot of potential for future capabilities with all these projects that we're developing now." 
The collaboration includes workforce development. Earlier this year, CRREL hired Seth Wagner, a Rowan University doctoral student at CREATES. Wagner visited campus recently in his professional capacity. 
"I went through graduate school specifically so I could continue doing research," said Wagner, a civil engineer who received his bachelor's degree in 2016 and his master's degree in 2019, both from Rowan. "And now I'm being paid full time to do research. It's pretty much exactly what I was looking for." 
Besides driving innovation and developing new technologies, the center is fully invested in workforce development, noted Rowan University Provost Tony Lowman. 
"Ever since CREATES launched in 2016, Dr. Mehta and his team have worked with industry and government partners to meet their needs for workforce training and research goals," Lowman said. "What has been particularly successful is how well they prepare students to continue that work after graduation. This close working relationship with our partners is exactly what we hoped to accomplish and we're excited to see where our graduates go next."   
In addition to projects and internships for undergraduates, more than 40 master's and doctoral students in the Henry M. Rowan College of Engineering are pursuing CREATES-related research, contributing to the rapid growth of the college's graduate programs, said Dean Giuseppe Palmese. 
"Dr. Mehta and his colleagues are demonstrating the power of our hands-on, minds-on engineering education," Palmese said. "This award will significantly expand research opportunities for many more students. Their work will make an impact."