NSF grant supports research that could lead to new pain medications
NSF grant supports research that could lead to new pain medications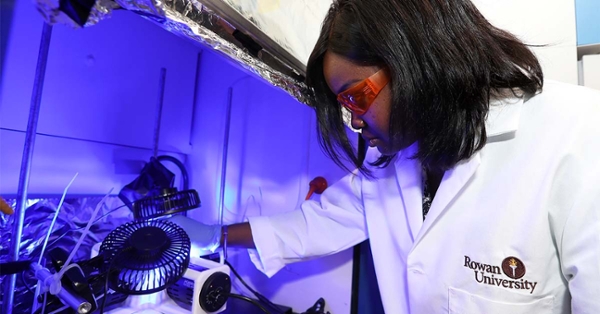 Rashanique Quarels, Ph.D., exposes material to UV light.
Rashanique Quarels, Ph.D., an assistant professor in the Department of Chemistry and Biochemistry in the College of Science & Mathematics, has received a grant for nearly $250,000 from the National Science Foundation (NSF) for research to improve a chemical process that could be used to develop new pain medications. The work is supported by a year and a half of preliminary research at Rowan.
Many painkillers, such as morphine, belong to a class of drugs known as opioids. Over time, patients who take morphine and other opioid pain medications can become tolerant to them, requiring higher doses to achieve the same effect. This process can lead to addiction. With this funding, Quarels and her lab are attempting to use less expensive, more readily accessible compounds to synthesize a chemical precursor to opioids and other medications.
"Our research is focused on opening new avenues to make new therapeutics," Quarels said. "This funding allows us to take a preliminary step toward that goal."
Many medicines, including morphine, contain a component known as benzofuran. Chemists can synthesize benzofuran using a photocatalyst, a material that accelerates a reaction when exposed to light. This process generates highly reactive compounds known as carbon-centered radicals, a key intermediate on the way to making benzofuran. However, there are limited options for photocatalysts. The most frequently used, the rare earth metals iridium and ruthenium, are prohibitively expensive. 
With funding from the NSF's Launching Early-Career Academic Pathways in the Mathematical and Physical Sciences (LEAPS-MPS) program, Quarels and her team want to develop less expensive photocatalysts as alternatives. 
Once this project is complete, Quarels hopes to use the new photocatalysts to tackle her larger goal: identifying morphine-like compounds that can relieve pain at lower doses than conventional drugs—a difference that could make them less addictive. 
Photocatalysis offers chemists an alternative to traditional organic synthesis, allowing them to access compounds' reactivity in a different way. By finding new, less expensive photocatalysts, the NSF-funded project could make this approach more widely accessible. 
Quarels' lab began working on this project in spring of 2022, collaborating with Robert Knowles at Princeton University. 
In addition to research, the funding will be used to support education and other opportunities for students, including skill-based practical exams and a seminar series on careers that Quarels is organizing. It also funds positions for undergraduate and graduate students working on the photocatalysis project. 
"The way we are interested in studying morphine may differ from the way other labs study it," Quarels said. "Giving students the opportunity to learn about different ways to tackle the same problem helps them find their own identities as scientists."