"We are nature's best hope": Centennial Lecture Series launches with N.Y. Times bestselling author Doug Tallamy
"We are nature's best hope": Centennial Lecture Series launches with N.Y. Times bestselling author Doug Tallamy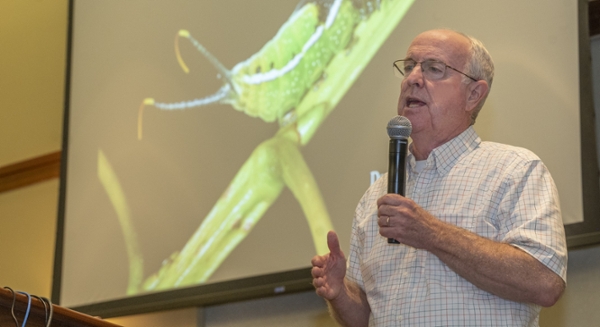 A seemingly constant beat of headlines warns of ecological doom.
From a warming planet – a result of human-caused greenhouse gas production – to a loss of plants and animals, especially birds, scientists have been clear that, unless there's drastic change, and fast, the future of life on earth may be imperiled.
On Oct. 4, Rowan University's Centennial Lecture Series launched with a different message. Speaking to hundreds of attendees in the Eynon Ballroom of the Chamberlain Student Center, New York Times bestselling author Dr. Doug Tallamy presented a more optimistic side of the ecological conversation.
Tallamy, the T. A. Baker Professor of Agriculture in the Department of Entomology & Wildlife Ecology at the University of Delaware, said by simply choosing the right plants for gardens and yards, individuals can help offset the ongoing biodiversity crisis and promote a healthier climate.
Attract caterpillars
He said homeowners, renters, even volunteers at community gardens, can make a huge impact on their local environment by planting species that attract caterpillars, a vital part of the food chain that especially supports the bird population.
"Most birds need caterpillars," Tallamy said. "If we landscape in a way that does not include caterpillars, we get insect decline."
His 90-minute talk, which was free to the Rowan community and members of the public, focused on themes from his 2020 book, "Nature's Best Hope: A New Approach to Conservation That Starts in Your Yard."
Tallamy noted that American homeowners, many of whom plant luxurious green lawns devoid of native species, often contribute to ecological decline by not including in their yards a mix of native plants that attract and feed insects, especially caterpillars.
"We habitually take more from the land than it has to offer," Tallamy said. "Not only is living with nature an option, it is the only viable option left to us."
Stressing that "plant choice matters," he said homeowners who plant non-native species like Callery pear instead of native trees like oak and elm contribute to ecological decline because trees like the Callery pear don't support native organisms.
Planting native species not only supports small organisms like caterpillars but they encourage a wide and colorful array of birds to populate one's yard and neighborhood, Tallamy said.
Keys to success
Tallamy's "four keys to success": shrink the lawn; replace a portion of it with native plants; remove invasive, non-native plants; and protect natural areas. Those four actions not only increase biodiversity on one's property but help offset the climate crisis by removing CO2 from the air, Tallamy said.
"We have to create viable habitats in places where we've destroyed it," he concluded. "One person can do a whole bunch to enhance a piece of the earth. You are nature's best hope!"
To learn more, Tallamy urged attendees to visit a website he co-founded, Homegrown National Park, which provides information on regenerating biodiversity.
Tallamy's talk was sponsored by Rowan's College of Science & Mathematics, School of Earth & Environment, Department of Biological & Biomedical Sciences, Ric Edelman College of Communication & Creative Arts and its Division of Facilities, Planning & Operations.
Following the talk, Dr. Vojislava (Voki) Pophristic, dean of the College of Science & Mathematics and the School of Earth & Environment, said Rowan is committed, in the classroom and out, to lessons that support the environment, especially in the face of ongoing threats to it.
"Sustainability and preserving our environment are an important part of our mission," she said.
Rowan this year celebrates its Centennial with a wide range of programing and special events, including its Centennial Lecture Series.
The next installment of the free series, on Oct. 19 from 7 to 8:15 p.m., will feature alumnus David Tarr '65, former lead economist of the World Bank, whose address is titled "How to Save the Planet."