Experts tackle emerging clean energy efforts during Sweeney Center conference at Rowan
Experts tackle emerging clean energy efforts during Sweeney Center conference at Rowan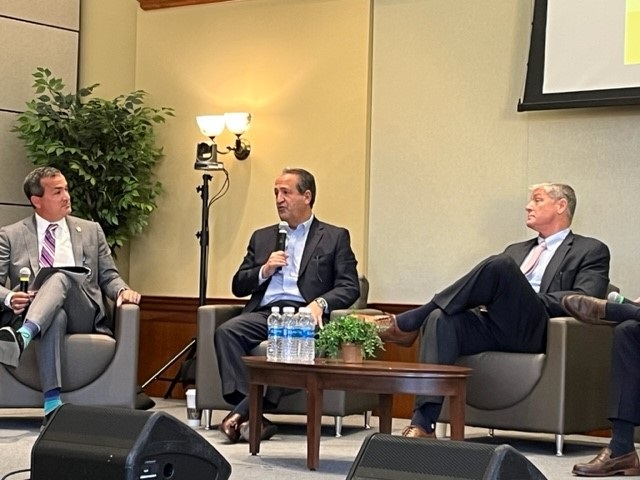 Rowan University Provost Tony Lowman (at left) leads a panel with (from left) Ralph A. LaRossa, president and CEO of PSEG, and Michael J. Renna, president and CEO of South Jersey Industries, during "The Road to Zero Emissions: The Future of Nuclear, Hydrogen and Emerging Energy Technologies in New Jersey," presented by the Sweeney Center for Public Policy.
Could hydrogen fuel cells, ammonia energy and modular reactors be the next innovations in clean energy?
Industry executives and government and nonprofit leaders explored these energy sources in the Steve Sweeney Center for Public Policy's second energy conference, "The Road to Zero Emissions: The Future of Nuclear, Hydrogen and Emerging Energy Technologies in New Jersey," at Rowan University on Oct. 23.
Gov. Phil Murphy's Executive Order No. 315 set what Christine Guhl-Sadovy, president of the New Jersey Board of Public Utilities, called an "ambitious but achievable" goal: 100 percent clean energy by 2035.
"Reducing carbon emissions is a challenge, but it's one that we know we can tackle even in the face of misinformation if we stay focused on the benefits of the clean energy economy," Guhl-Sadovy said. "What tools do we have right now, and what tools could we add to our clean energy toolbox?"
The conference kicked off with a panel of energy CEOs: Michael J. Renna, president and CEO of South Jersey Industries; Stephen D. Westhoven, president and CEO of New Jersey Resources Corporation; and Ralph A. LaRossa, president and CEO of PSEG. These companies control a collective 35,000 miles of pipeline across New Jersey.
"This state has a tremendous amount to be proud of," Renna said. "The investments we have continued to make in reinforcing and modernizing the grid are allowing us to deliver the cleaner energies and cleaner fuels of the future." 
This "robust" infrastructure has given us an advantage, Westhoven explained. "The challenge in front of all of us today is how do we best utilize the infrastructure that we have in order to decarbonize at a pace that's going to be affordable," he said.
Working together and making multipronged, incremental changes is critical, according to LaRossa. "We're going to reinvest in nuclear plants, we're going to put more megawatts on the grid, and we're going to replace cast iron pipes to make sure we don't have methane leaks," he said.  
Exploring new sources of renewable energy is key to supporting zero-emissions energy generation. Speakers Sean Moriarty, deputy commissioner of the New Jersey Department of Environmental Protection; Myron Kaczmarsky, vice president of Holtec Governmental Services; Ed Potosnak, executive director of the New Jersey League of Conservation Voters; and Janna Chernetz, senior director of global government affairs at Amogy, Inc, gave mini lessons on the science behind technologies like hydrogen energy, ammonia energy and micro modular reactors.
Nuclear energy is currently "the cleanest fuel we can possibly have," said Steve Sweeney, former president of the New Jersey Senate and current advisory board chair of the Sweeney Center, but hydrogen energy has generated interest in recent years.
"We need a very robust portfolio of energy," Sweeney said. "You can't put all your eggs in one basket. You need it all, and you need to expand and continue to develop new energy sources."
Scientific research and skilled workers are essential in the race to provide clean energy to New Jersey. Rowan University is among the institutions leading the charge through its partnerships with NJ energy companies and regional nonprofit organizations—most recently, the Mid-Atlantic Clean Hydrogen Hub (MACH2).  
MACH2 is a nonprofit network of clean hydrogen producers and local infrastructure that will serve consumers throughout South Jersey, Delaware and southeastern Pennsylvania.
"The simple goal is to make sure we have an abundant supply of clean green and pink hydrogen that's distributed primarily through existing pipelines across the region," said Collin O'Mara, chair of MACH2 and CEO of the National Wildlife Federation.
With its established nuclear plants, strong labor unions and the high levels of pollution in the Mid-Atlantic Area National Corridor, the region has both a demonstrated need for reducing emissions and a unique capability to do so. It also has partners in the form of higher education institutions. Rowan is supporting MACH2's research and workforce development.
"Rowan has been involved from the very beginning, given the university's incredible leadership and the Sweeney Center," O'Mara said. "This is a way to attract talent but also make sure the folks that graduate from here have great jobs."
"As a scientist, I think this is a wonderful project," said Dr. Anthony Lowman, provost and senior vice president for Academic Affairs at Rowan. "I'm very proud that Rowan is part of the MACH2 proposal for research and training."
Rowan's own Dr. Giuseppe R. Palmese, dean of the Henry M. Rowan College of Engineering, and Dr. Eddie Guerra, associate dean of the School of Earth and Environment, also spoke at the conference on the University's impact on clean energy research and education.  
As Westhoven put it, "Leading this innovation pathway forward is going to be so important because we don't know what the future is going to hold."