Physics major goes abroad with summer internship in Switzerland
Physics major goes abroad with summer internship in Switzerland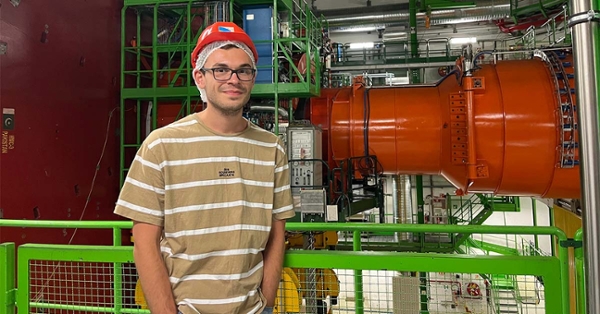 Physics major Nicholas Kurth stands in front of the Compact Muon Solenoid (CMS) at CERN in Switzerland. The experiment is used to see particles and phenomena produced in high-energy collisions.
During his undergraduate career, physics major Nicholas Kurth has sampled many subsets of the discipline: theoretical physics, materials science physics, gravitational waves, and spectroscopy. Thanks to a prestigious summer internship, Kurth can check particle and high-energy physics off the list.
This summer, the Rowan University senior, who is also enrolled in the Martinson Honors College, took part in the eight-week Summer Undergraduate Research Experience at the European Organization for Nuclear Research (CERN), in Geneva, Switzerland. 
One of just two dozen American students to be accepted into the program, Kurth worked alongside researchers from all over the world and was under the supervision of a postdoctoral student from Italy. The program was offered through a partnership with the University of Michigan and CERN with funding from the National Science Foundation. Attendees were juniors and seniors majoring in physics, engineering, or computer science at a four-year institution.
Kurth's research focus was to test the performance of new detectors that track subatomic particles, called muons, for an experiment known as Compact Muon Solenoid—a specialty outside his typical area of study. The 21-year-old was also able to present his findings to his peers. 
"I got to explain to them all the work I do and how cool the science is," the Ocean County, New Jersey native said.
Kurth began working in research labs at Rowan in his freshman year. Throughout his tenure, Kurth has studied alongside Eduardo Flores, Ph.D., and Nathaniel Nucci, Ph.D., both associate professors in the College of Science & Mathematics. These research experiences set him up for success at CERN.
"These opportunities to do research with Rowan professors is what prepared me for the skills I would need," Kurth said. "What do I have to look for? What should I test? How should I analyze?"
"What makes Nick an exceptional scientist is, he is creative and innovative, but also is capable of doing his science with exceptional attention to detail," Nucci said. "He's also fearless. He tackles content that some research students would immediately tag as too hard. That's just not in Nick's lexicon."
Aside from the research opportunity, Kurth took advantage of the cultural riches Europe offered. During his time off, he and his fellow undergraduate scientists visited more than a dozen cities in Germany, France, Ireland and Switzerland. 
After graduating in May, Kurth plans to attend graduate school to research spectroscopy—the science of utilizing light to study molecules.
"Thanks to the support of our dedicated faculty, Rowan University students have the opportunity to pursue top-notch research, not just on our campuses, but around the world," said Vojislava Pophristic, Ph.D., dean of the College of Science & Mathematics. "It's quite gratifying to see our students gain such exciting experiences and we look forward to seeing even more."