And the 'Oscars of Teaching' go to…two Rowan University alumni
And the 'Oscars of Teaching' go to…two Rowan University alumni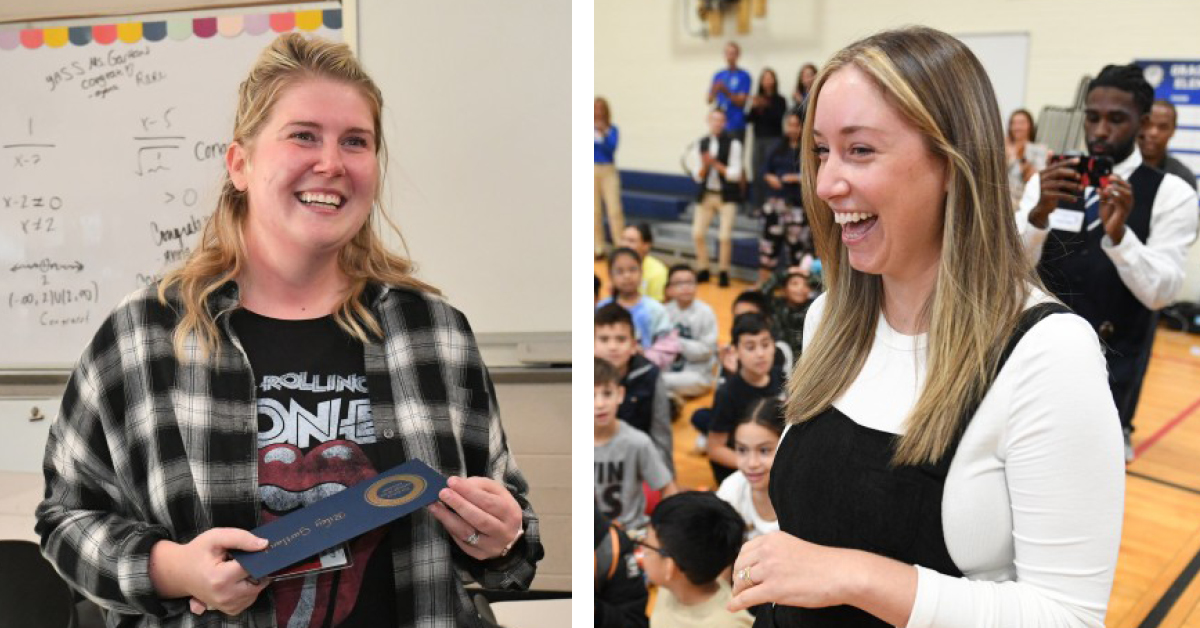 Rowan University alumni (from left) Riley Gartland and Taylor Trost each won Milken Educator Awards, which honor teachers who make a profound difference for students, colleagues and communities.
Two Rowan University alumni were recognized this week for their excellence inside and outside the classroom when they received national Milken Educator Awards, which carry a $25,000 unrestricted cash prize.
Riley Gartland '16, who teaches at Cinnaminson High School, and Taylor Trost '15, a teacher at Grace Norton Rogers Elementary School in Hightstown, were among just 75 teachers nationwide to receive the awards.
Hailed as the "Oscars of Teaching," the awards honor educators who make a profound difference for students, colleagues and communities. Gartland and Trost both were presented with the awards at surprise assemblies at their respective schools.
About Riley Gartland
A six-year math teacher, Gartland teaches ninth, 11th and 12th graders, creating a safe space while setting high standards for her students. She expanded her school's accelerated calculus program from one class of 20 to two full sections and uses real-life applications of math to bring her classroom to life.
Her students have created board games and used current math technology, such as Desmos, to create art. Moreover, she creates individualized achievement plans for each student by pre-testing to determine their level and then having one-on-one meetings to provide tailored support.
A role model outside of class, Gartland's classroom is often full of students at lunchtime. Adviser for the freshman class and the National Honor Society, Gartland also is a valued resource for her colleagues, sharing data analysis resources and helping to develop lessons for students to see strong ties to learning standards and consistency across classes.
Active in professional development and committed to a positive school environment, Gartland leads her school's Sunshine Committee, which works to improve teacher morale and reward their commitment to the school.
The first Cinnaminson educator to win the Milken Educator Award, Gartland earned her degree in mathematics and subject matter education from Rowan.
"Rowan was instrumental in my success," said Gartland, adding that Rob Weiman in the Department of Content Area Education was influential as she pursued her degrees.
"He had a huge impact on me and I am forever grateful for his instruction," said Gartland, who was hired at Cinnaminson High School after completing her student teaching there.
About Taylor Trost
The first Milken Educator Award recipient from the East Windsor Regional School District, Trost teaches fourth grade. Her classroom is a hub of innovation and inclusivity and is grounded in project-based learning. Trost sings songs and incorporates physical activity in her teaching to keep students engaged throughout the day.
Outside of the classroom, Trost is a respected leader. In her second year of teaching, she stepped into the lead teacher role, supervising student teachers, mentoring new teachers, and inviting peers to observe her classroom.
An eight-year teacher, Trost attended the school district where she teaches.
She earned her bachelor of arts degrees in elementary education and English from Rowan.
"My time at Rowan taught me the foundational aspects of education that I have been able to develop and build upon during my time in the classroom," said Trost, adding that she keeps in touch with fellow Rowan alumni who also became educators, sharing ideas and support.
John Quinesso, an instructor in the Department of Early Childhood, Elementary Education & Critical Foundations in the College of Education, was influential in her career, Trost said.
"He was very impactful during my time at Rowan," said Trost, who today serves as a cooperating teacher for current Rowan education majors. "It has been a wonderful experience continuing my ties to Rowan in this way."
Trost, who is on maternity leave after having twin boys, was called to her school for the surprise announcement.
"I chose education because I just wanted to have fun every day and to touch the minds of all of the little ones who will be big ones one day. "There is no better profession to make an impact," she said.
About the Milken Educator Awards
Along with their financial prizes, Trost and Gartland will join the national Milken Educator Network, a growing group of professionals across diverse roles and disciplines working to shape the future of education.
The first Milken Educator Awards were presented by the Milken Family Foundation in 1987. The awards provide public recognition and individual financial rewards to educators who in early to mid-career, recognizing what they have accomplished and for the promise of what they will accomplish.
The Milken Family Foundation has worked to elevate education in America and around the world for 40 years.