Helping humans—and animals—breathe easier
Helping humans—and animals—breathe easier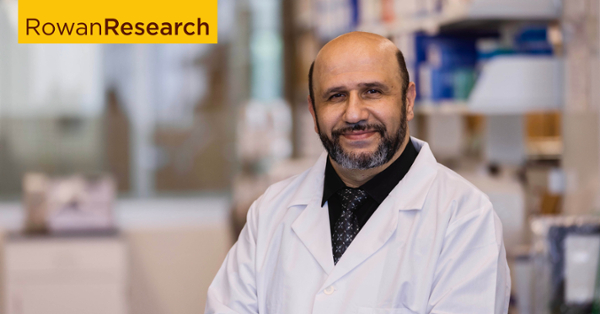 Omar Tliba researches treatment strategies for asthma at his lab in the Joint Health Sciences Center in Camden.
Asthma, a serious respiratory disease, affects nearly eight percent of the human population. Importantly, it can also affect animals.
omar tliba, Ph.D.
Pharmacologist
Areas of expertise:
Airway diseases, asthma therapeutics, steroid insensitivity
More information
According to Dr. Omar Tliba, Associate Dean for Research and Graduate Studies at the Shreiber School of Veterinary Medicine of Rowan University, the treatment approaches for humans and pets with asthma are very similar. Treatments include a combination of bronchodilators that relax airway muscles, corticosteroids that alleviate airway inflammation, and mucolytics that aid in mucus breakdown. These therapeutic strategies may involve oral dosing, inhalation therapy, or injections as determined by the severity of the condition.
Using a variety of models, Tliba conducts critical research in airway diseases, primarily to benefit humans, but with application for animals, too. His work aims to understand the mechanisms underlying airway hyperresponsiveness, airway remodeling, and the gradual decline in lung function observed in chronic obstructive pulmonary diseases.
Collaborating with experts in basic science and clinical research within the veterinary field, Tliba leads investigations that study feline and equine asthma, as well as canine chronic bronchitis. His research ultimately may generate better treatment alternatives by creating more efficient therapies and/or by boosting the effectiveness of existing medications for asthma patients who do not respond to conventional steroids.
"Ultimately, this work could significantly enhance the quality of life for both human and animal patients with asthma by reducing their symptoms and the frequency of their hospitalizations. Additionally, this work might unveil biomarkers that identify individuals less responsive to conventional corticosteroid treatments, paving the way for more personalized asthma care in the future," Tliba says.
Rowan University researchers are passionate about what they do. Find more at Meet Our Researchers.