Applied neuroscience in music therapy
Applied neuroscience in music therapy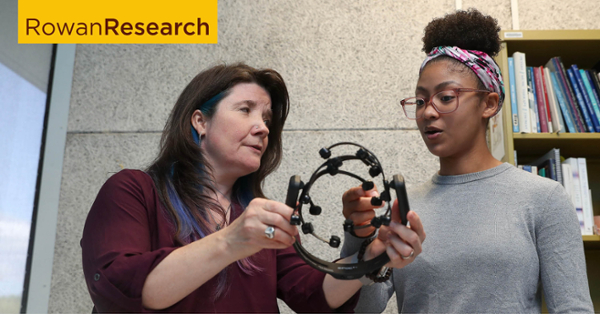 Andrea Hunt and student Felicity Sims discuss using an EEG headset to monitor the brain's response to music.
In the music therapy field, there aren't many labs or researchers studying how the body responds to musical experiences. Andrea Hunt, Ph.D., is changing that. Hunt, an assistant professor and director of the College of Performing Arts' music therapy program, studies the interface of neuroscience and music therapy.
Andrea hunt, Ph.D.
Music therapist
Areas of expertise:
Neurophenomenology, music therapy
More information
She uses electroencephalogram (EEG) testing to map brain activity and responses, and other physical data to monitor the impact of music therapy experiences. And she's getting her students excited about this novel research approach.
Hunt developed a course-based undergraduate research experience (CURE) project in which students pose a research question and formulate a plan around it. For example, students participating in the project were interested in guided relaxation to music--specifically, if an expressive voice (vocal prosody) giving relaxation instructions with music was more effective in promoting relaxation. Students took turns using a portable EEG headset while their classmates and Hunt monitored the data, along with heart rate variability (HRV) and galvanic skin response (GSR) data. 
Measuring these data allowed Hunt and her students to understand the sympathetic nervous system (fight or flight) and parasympathetic nervous system (rest and digest) responses, which correlate to feelings of relaxation. Outcomes showed that the subjects' response to their music selection probably impacted their relaxation more than the voiceover. 
According to Hunt, it's important to understand both nervous systems when working in music therapy. Therapists can work with clients and empower them to observe and manage stress levels, similar to using smartwatches or fitness trackers to monitor physical activity.
Bringing EEG testing into the undergraduate classroom is something Hunt believes no other music therapy educator in the world is doing. Through these types of research experiences, students gain a significant understanding of both the research process and the effects of music on the body. 
"We can be more knowledgeable about how we incorporate this into our clinical work," she says.
Informed by clinical research, Hunt and her students can work towards developing new therapeutic strategies to address mental health needs like stress, anxiety, and depression.
Hunt has presented her research both nationally and internationally, including presenting CURE project work at the World Congress of Music Therapy in Vancouver, Canada.
Rowan University researchers are passionate about what they do. Find more at Meet Our Researchers.