Rowan alumnus named New Jersey State Teacher of the Year
Rowan alumnus named New Jersey State Teacher of the Year
Joseph Nappi, a social studies teacher in Tinton Falls and a Rowan University alumnus, has been named the New Jersey State Teacher of the Year.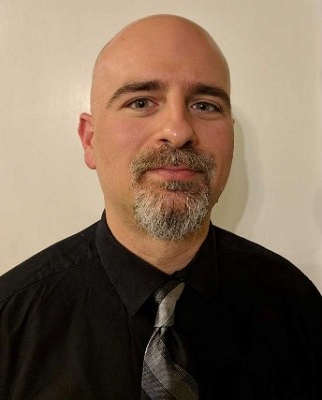 Nappi (at right), who earned his bachelor's degrees in history and secondary education from Rowan in 2005, was announced as the state's top teacher for 2023-24 on Tuesday, Sept. 19, by Gov. Phil Murphy and Acting Commissioner of Education Angelica Allen-McMillan.
At Monmouth Regional High School, Nappi teaches courses in U.S. history and Holocaust, Genocide and Modern Humanity. He's in his 18th year of teaching.
"Educators like Joe are the heart and soul of our state's education system, inspiring our youth and shaping the leaders of tomorrow," Murphy said in a news release issued by the Department of Education.
"His innovative teaching methods, unwavering commitment and passion for education have not only transformed classrooms but have also ignited a lifelong love for learning in countless students."
As part of his work at Monmouth Regional, Nappi has taken more than 600 students to the United States Holocaust Memorial Museum in Washington, D.C., where he has served as a Museum Teacher Fellow since 2019.
Last year, Nappi collaborated with a national group of educators assembled by PBS to develop lessons for "The U.S. and the Holocaust," a six-hour series by documentary filmmaker Ken Burns. His blog post, "10 Tips for Teaching About the Holocaust," was published to coincide with the film's debut and was highlighted by PBS Learning Media.
Challenged by their teacher to "be the change" they wish to see in the world, Nappi's students have engaged in campaigns to stop human trafficking, incorporate Holocaust and genocide education into curricula across the country, and raise money for refugee resettlement.
Twice named the Teacher of the Year at Monmouth Regional, Nappi is a highly decorated educator, recognized for his innovation in the classroom and his empathy and dedication to his students, according to Allen-McMillan and Kathy Goldenberg, president of the State Board of Education.
"He is a shining example of the transformative power that teachers possess, shaping the minds of our future leaders," Allen-McMillan said.
Recipient of the Dr. Frank Kaplowitz Outstanding Human Rights Educator of the Year Award from the Human Rights Institute at Kean University in 2017, Nappi is a member of Phi Alpha Theta (the national history honor society), the New Jersey Council of Historical Educators, and The Center for Human Rights Holocaust and Genocide Education at Brookdale College.
In 2010, he was named a distinguished educator by the U.S. Navy, and, in 2015, he was selected by The Jewish Foundation of the Righteous as an Alfred Lerner Fellow at Columbia University.
At Monmouth Regional, Nappi is adviser to the Key Club and co-adviser of the Student Council. After he learned one of his students was facing food insecurity, Nappi founded Monmouth Helping Its Own, a faculty-run charitable organization that helps students facing financial hardships. Thus far, the group has given more than $20,000 in direct aid and scholarships to students in the school district.
At Rowan, Nappi was the 2005 recipient of the Ida and Jeff Margolis Medallion for Excellence in Multicultural Education. The award honors a secondary education student who demonstrates excellence in teaching social studies while exemplifying a commitment to multicultural education.
As the State Teacher of the Year, Nappi will work with the New Jersey Department of Education, giving presentations to colleagues and stakeholders around the state, speaking with aspiring teachers, and visiting classrooms to advance the teaching profession. He also will take part in national conferences with Teachers of the Year from other states.