Announcing MAVRC, Rowan University's new Machine & Artificial Intelligence Virtual Reality Center
Announcing MAVRC, Rowan University's new Machine & Artificial Intelligence Virtual Reality Center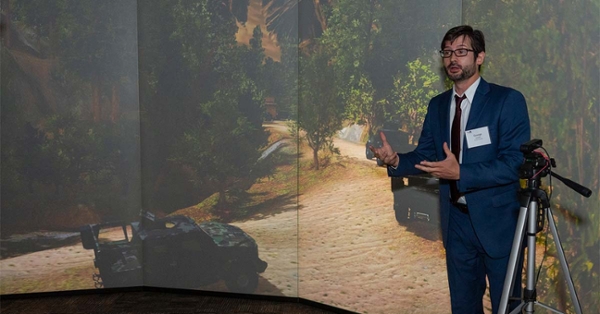 George Lecakes Jr., Ph.D., associate director of virtual reality, explains the center's work in the 10-sided CAVE system at the Innovation Center in Mantua Twp. Below, Nidhal Bouaynaya, Ph.D., the center's director.
Rowan University has launched a newly expanded virtual reality research center—now augmented by machine learning and artificial intelligence. 
Directed by Nidhal C. Bouaynaya, Ph.D., Rowan's Machine & Artificial Intelligence Virtual Reality Center (MAVRC) aims to create realistic and immersive VR environments that seamlessly adapt and respond to user interactions in real time. The center's multimillion-dollar project with the U.S. Army Picatinny Arsenal already incorporates machine learning to speed the development of a combat simulation system, which uses AI to sense the environment and recommend responses to its users. 
That's just one example of an endless number of possible uses for the center's technology, Bouaynaya noted.  
"We're pushing the boundaries of what's possible at the intersection of artificial intelligence and mixed reality," Bouaynaya said. "This is a powerful tool with great potential for many industries, from manufacturing and transportation to health care and marketing." 
The center's capabilities were on full display during a Sept. 22 demonstration at the Samuel H. Jones Innovation Center in Mantua Twp. attended by more than 100 guests with representatives from more than 25 prominent organizations, such as Deloitte, Lockheed Martin, Siemens, iWorks Corporation, Airborne Tactical Advantage Company, Parts Life, Inc., and IBIS Corporation. 
Federal and state agencies were also well-represented, with attendees from the U.S. Army Picatinny Arsenal, Naval Surface Warfare Center, the Federal Aviation Administration, Transportation Security Laboratory with the Department of Homeland Security, and the New Jersey Commission on Science, Innovation and Technology. The event fostered collaborations with other N.J. universities and nonprofit organizations like Bancroft and Edge Inc., highlighting the center's extensive network and potential for impactful partnerships. 
Attendees entered the center's 10-sided Cave Automatic Virtual Environment (CAVE) system, where they were surrounded by a futuristic combat scene depicting military vehicles. In this scenario, an AI system actively monitored and responded to emerging threats in real time, providing an engaging and immersive experience.
George Lecakes, Ph.D., the center's director of virtual reality, showed viewers how the system immerses its users in a mixed-reality environment, reacting fluidly to their decisions and physical responses in real time, while also detecting incoming threats.     
Developed as a simulation environment to enhance the operational evaluation of military designs in a secure, immersive, smart and robust arena, such simulated environments also serve as invaluable training grounds for AI models, speeding their learning processes and refining their capabilities, said Bouaynaya, associate dean for research and graduate studies, and professor of electrical and computer engineering in the Henry M. Rowan College of Engineering.
MAVRC is capable of much more, Bouaynaya noted, since machine-driven algorithms and models can generate their own virtual environments, greatly speeding the production of unlimited amounts of data. 
Merging machine learning and artificial intelligence with virtual reality is "a very good way to generate data to train AI," Bouaynaya said. 
"AI is data hungry," Bouaynaya said. "The more examples you show it, the better it learns."
With facilities at the South Jersey Technology Park in Mantua Twp. and the Joint Health Sciences Center in Camden, the research center features virtual reality systems designed to immerse multiple users in virtual and mixed-reality environments.
The Camden site features a four-sided CAVE system with room for up to four people wearing stereoscopic glasses to explore data projected onto its walls and floor. An infrared tracking system pinpoints users' locations within the system, so the information projected on the screens also moves in response to users' actions. 
The Mantua system can accommodate up to 15 users for exploring simulated environments, data, live feeds and video conferencing.