Happy Centennial, Profs! Class of 2027 helps kick off 100th anniversary celebration
Happy Centennial, Profs! Class of 2027 helps kick off 100th anniversary celebration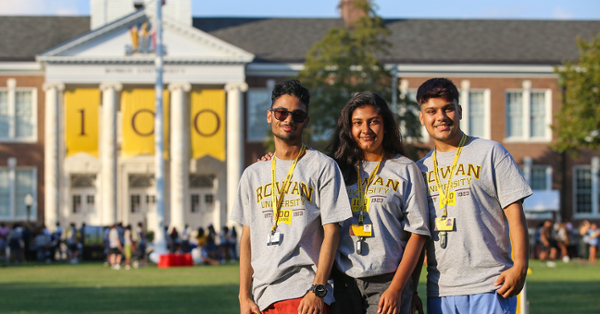 Students celebrate move-in and Rowan's centennial at President's Welcome & Picnic.
Rowan University's Centennial celebration began in earnest over Labor Day weekend as first-year and returning students arrived on campus and Dr. Ali Houshmand hosted the annual President's Welcome & Picnic.
The University, which opened as the Glassboro Normal School in 1923 with just 236 students, celebrates its Centennial throughout 2023-24 with a range of special programming and events.
At Holly Pointe Commons on Sept. 1, first-year students filled shopping carts with clothes, linens, school supplies and other necessities and, assisted by returning students, faculty, staff and administrators, settled into their new home.
Moments after moving in, Kailee Perna of Runnemede said she's thrilled to be starting her undergraduate degree in psychology.
"Psychology is something I've always been interested in. I'm looking forward to making friends, meeting teachers, the whole college experience," she said.
The fourth fastest-growing public research university in America, Rowan this semester received more than 21,000 applications and, with roughly 22,000 in-person and online students, has its largest enrollment ever. The University welcomes first-year students from 26 states, including two from Hawaii, and from  31 countries, the farthest from Vietnam.
Now a resident of Tampa, Fla., alumnus John Montsko '90 returned to campus to help his son, Nicholas, settle in.
"What can I say, he loves New Jersey!" Montsko said. "We'll see about that after his first winter, but the campus is beautiful. It's changed so much since I was here."
Provost Tony Lowman and Vice President for Student Life/Dean of Students Kevin Koett were among the faculty, staff and administrators helping students move in.
"It's a special day every year, seeing all of these excited students and parents," Lowman said. "I was here as a parent four years ago and saw my daughter graduate, so I know how they feel."
First celebration on University Green
After settling into residence halls, members of the Class of 2027 helped the University kick off its Centennial year with the annual President's Welcome & Picnic.
The celebration took place Monday, Sept. 4 – the University's official birthday – on the University Green.
The new Pride of the Profs marching band debuted as first-year students left residence halls to parade through campus and up Whitney Avenue to the Green. The spirited march was led by Student Government Association President Brianna Reagan, Koett, and first-year class representative Ali Ishage. Reagan carried the University's Torch of Knowledge along the parade route.
Students were joined on the Green by President Ali A. Houshmand and gaggles of spirited upperclassmen.
During a brief ceremony, Koett noted that many of the University's first students also walked from the Green to Bunce Hall, taking the same steps that the Class of 2027 did.
"Today you are part of something truly special," Koett said. "Today, you, the 2,700 members of the Class of 2027, stand on the shoulders of the first class. We are proud to welcome all of you as we begin an exciting and fun-filled Centennial year."
As the Pride of the Profs played the alma mater, Reagan passed the Torch of Knowledge to Ishage. The torch passing signified the induction of the new class into Rowan's community of scholars.
"Your presence here enriches our community, and we can't wait to witness the incredible impact you'll make," Reagan told the class. "We couldn't be more excited to have you as part of the Rowan family."