Edelmans meet needs, reward merit and motivate six students with $17K bonus
Edelmans meet needs, reward merit and motivate six students with $17K bonus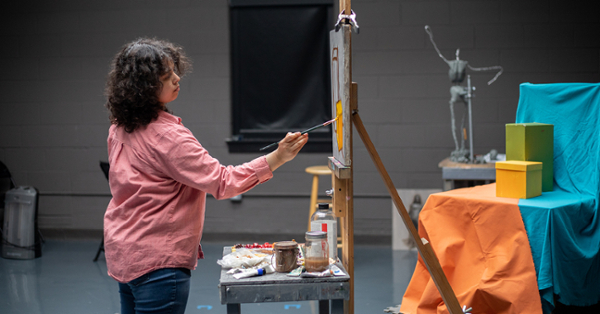 Six first-year Rowan University students have 100 percent of their college education paid for – and will receive a $17,000 bonus at graduation if they earn their degrees in four years – through a new annual program funded by alumni Ric and Jean Edelman.
The Edelmans, who attended then-Glassboro State College, said the "launch into life" graduation bonus is believed to be the first of its size in the nation. The program is offered exclusively through the Ric Edelman College of Communication & Creative Arts (Edelman CCCA) at Rowan.
"Our goal is to ensure that students not only leave college debt-free, but that they're financially ready to start successful lives," said Ric Edelman, who graduated in 1980 from what was then the college's Department of Communications. His wife, Jean, graduated in 1981.
The Edelman Scholars Program covers all student expenses – including room and board – after state and federal grants are applied for qualifying students.
The program supports high-achieving high school graduates with a minimum 3.5 GPA and a family income of $65,000 or less. Edelman Scholars will receive free tuition, room and board, and other expenses for four years. Students will receive a $17,000 bonus if they graduate within four years but may apply the bonus to a fifth year of studies if they don't graduate within four.
Once accepted into Edelman CCCA for their first year, students who meet the GPA and family income threshold may apply to be selected for the Edelman Scholars program. Six students will be accepted each year through a competitive interview process but, to continue to receive the scholarship and support, they must remain in good academic standing.
Beyond financial support, the program provides academic and professional development through internship and work study opportunities, peer mentoring and financial literacy education. Edelman Scholars will also be required to support the Rowan and surrounding communities through service.
Rowan President Ali A. Houshmand said the latest gift from the Edelmans will boost the likelihood for success for many high achieving, low-income students.
"The Edelman Scholars Program is distinct from virtually any other scholarship program in America in that it also provides a significant monetary award to incentivize timely graduation and to position students for a successful launch into post-graduate life," Houshmand said.
Radio, Television & Film major Christian DeSandre of Columbus said after applying to Rowan and getting accepted to Edelman CCCA, he was notified ahead of the start of classes in September that he qualified for the scholars program. His application to the program included a short essay and the interview.
Describing how it feels to know his college will be fully paid for without loans, the aspiring filmmaker said it's "life changing."
"I'm honored and grateful to be in the position I'm in," he said.
Ric and Jean Edelman founded a financial services company that became Edelman Financial Engines, today the largest independent financial advisory firm in the U.S.
The couple donated $10 million to support Rowan student scholarships in 2019, and the University renamed its College of Communication & Creative Arts to honor Ric. The Edelmans have supported many Rowan initiatives, including a $25 million gift to develop a museum and visitors center at the Rowan University Fossil Park in Mantua Township, and gifts totaling more than $1 million for the Rowan Planetarium, both of which now bear their names. Jean Edelman, the first woman elected president of the institution's Student Government Association, is also a University trustee.