Rowan University brings power of cinematic storytelling and advanced virtual reality to higher education
Rowan University brings power of cinematic storytelling and advanced virtual reality to higher education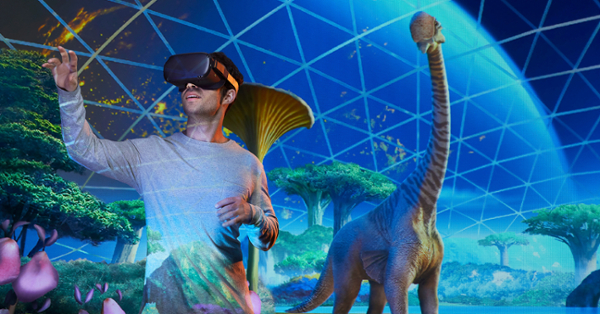 Alireza Bahremand, a graduate student working with the Dreamscape Learn team and Meteor Studio, explores the "Alien Zoo." Photo composite provided courtesy of Arizona State University.
In another giant step toward reimagining higher education, Rowan University is collaborating with Dreamscape Learn and Arizona State University to launch a new approach to learning using virtual reality (VR)-enabled experiences that combine "education through exploration" pedagogy and cinematic storytelling techniques to achieve extraordinary outcomes. 
Rowan leads the first group of universities in the nation to license the new technology and curriculum developed by Dreamscape Learn, in collaboration with ASU, recognized as the No. 1 innovator in higher education by U.S. News & World Report. The concept was conceived by film producer Walter Parkes, formerly the founding head of the motion picture division at DreamWorks Studios, and ASU president Michael Crow. Rowan's implementation of the Dreamscape Learn VR-enabled courseware and instructor platform will enable faculty to send students on "academic missions" in immersive classrooms, where they collaborate with peers to develop the quantitative skills needed to solve scientific problems. 
"We are fully committed to becoming the University of the Future in every way imaginable," said Rowan University President Ali A. Houshmand. "Our own research has shown the tremendous value of virtual reality and gaming as educational tools, whether we're preparing future chemical engineers, physicians, or elementary school teachers. Our investment now means we can extend this innovative educational experience to many more students, both on our campuses and beyond."  
Improved grades across demographics
Since 2022, more than 12,000 students at ASU have completed introductory biology courses incorporating Dreamscape Learn's "Immersive Biology in the Alien Zoo" lab curriculum. For its first immersive courseware, Dreamscape Learn and ASU chose to embed scientific concepts within a rich fictional world that operates on the same biochemical principles as Earth but with slightly different specifics. The extraordinary flora and fauna of the fantastical ecosystem are intended to better engage students and to ensure all students must understand fundamental concepts in order to succeed, regardless of their previous educational experiences.   
According to a study conducted by ASU, students who conducted virtual field research in the Alien Zoo labs were nearly twice as likely to earn an "A" lab grade when compared with their peers in traditional "wet labs." The findings held true across all demographics, except for honors students whose scores remained the same for either course.  
"We aimed to completely rethink the way we educate students. Our pilot program proved so overwhelmingly successful that we've decided to make this technology widely available to other future-minded institutions," said Michael Crow, president of ASU. "Rowan University is perfectly positioned to take this leap with us. They have visionary leadership in Dr. Houshmand and forward-thinking faculty who will, no doubt, take this even to the next level." 
"This isn't just about the technology — for every 15 minutes of VR, the students participate in three hours of work outside of VR.  We've found through our research and development at ASU, that by combining highly cinematic storytelling with innovative curriculum and technology, we can create classroom experiences that motivate students to do the work necessary to master a subject," said Dreamscape Learn CEO Josh Reibel. "We are thrilled to be partnering with Rowan University as part of our mission to bring this approach to bear on endemic student learning gaps."
Immersive Learning Center 
As part of the university's investment in new ways of teaching and learning, an immersive learning center will be built as part of the Campbell Library renovation project, beginning summer 2024. A six-person demonstration space will be ready by January 2024 for faculty development and training at the South Jersey Technology Park of Rowan University. 
The immersive learning center will feature multiple "pods," each built to accommodate 30 students and two instructors. The pods will be outfitted with virtual reality headsets and sensors for each user; motion-capture cameras to convert each user into an avatar; and haptic technology including fans, mist and shaking mechanisms to mimic real-world sensations.  
The center will include two "pod" versions: free-roam and classroom. The free-roam pod will allow users to safely move around the space while wearing headsets and sensors during their virtual sessions. The classroom pod will allow users to sit at real desks while their avatars are rendered from the waist up. Both pod versions will offer haptic technology to enhance the experience. 
"We have many similarities to ASU," Houshmand said. "Under President Crow's leadership, Arizona State University has evolved to become the most innovative school in the nation. This collaboration really propels us ahead and puts us on the forefront along with them. We expect there will be a lot of institutions that follow. As soon as I personally experienced the technology, it was clear to me that this is the future of education." 
Once the Dreamscape Learn technology has been launched, Rowan will work to build new, interdisciplinary immersive courses across all of its colleges and schools. Where appropriate, Rowan anticipates licensing their original immersive courseware to other institutions using the Dreamscape Learn platform.