In Rowan's James Hall, a plaque honors the legacy of longtime educators and proud alumni
In Rowan's James Hall, a plaque honors the legacy of longtime educators and proud alumni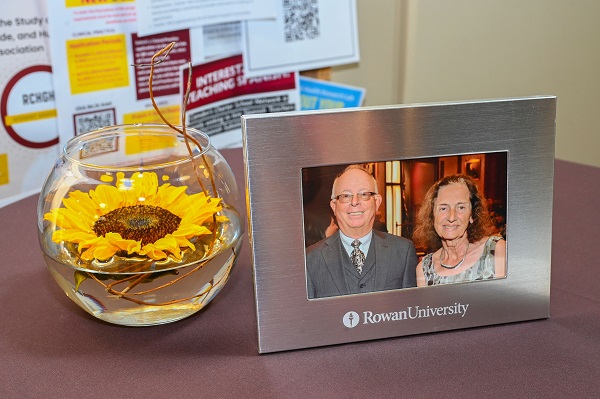 Gus and Janice Bader, both 1968 alumni and longtime teachers in South Jersey, were honored posthumously for their support of students in the College of Education. The Baders dedicated their lives to teaching and were generous supporters of the College and University.
A new plaque in Rowan University's James Hall honors two active alumni who dedicated their lives to education—and to assisting future educators.
The late Janice and Gus Bader, who each earned their bachelor's degrees in elementary education in 1968, were honored for their legacy in education and their service to Rowan students during a plaque unveiling ceremony on Sept. 7 in the atrium of James Hall.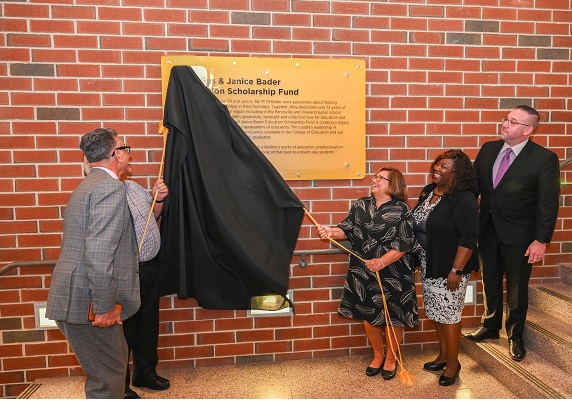 President Ali A. Houshmand, Dean Gaëtane Jean-Marie and Chief of Staff R.J. Tallarida Jr. joined family members and friends of the Baders, as well as faculty and staff of the college, during the ceremony to honor the couple.
The Baders collectively amassed 72 years of service as educators and demonstrated their passion for helping students who aspire to follow in their footsteps through the establishment of the Gus & Janice Bader Education Scholarship Fund. Since 2010, the Baders contributed more than $150,000 to the fund and, in 2013, they established a bequest to benefit the College of Education.
Thus far, nine elementary or early childhood education majors have received scholarships through their generosity.
Pitman residents and supportive and active Rowan alumni who met at then-Glassboro State College, the Baders passed away within a year of each other in 2019 and 2020.
Janice, who also earned her master's degree in school administration in 1979, was principal at Dr. William Mennies School in Vineland, where she also was a curriculum supervisor and classroom teacher. A former Air Force instructor, Gus taught fourth grade in the Pennsville school district for nearly three decades.
"For over 10 years, their generosity has enabled students to fulfill their dreams to become a teacher," Jean-Marie said during the ceremony. "The plaque displayed in the heart of the College of Education serves as a reminder of their commitment to ensure that our students are equipped with the tools they need as future educators.
"We will continue to build on their legacy and others' to prepare high quality teachers."
Tallarida, who met the couple through his work for University Advancement, said the Baders exuded Rowan pride.
"They came to every one of our events and they were always wearing their Rowan swag," Tallarida said. "These are folks who really held Rowan in the highest regard."
Houshmand noted that the University is fortunate to have supporters such as the Baders—great teachers who have had a massive impact on so many young lives.
"We're enormously grateful for their generosity," Houshmand said.
John and Diane Mazzei, both 1969 alumni and friends of the Baders for 50 years, joined with Houshmand, Jean-Marie and Tallarida to unveil the plaque honoring the couple. The plaque has a place of honor in the grand staircase of James Hall.
"They just loved being involved and loved giving back," Diane said. "This is just so heartwarming and so special for them."