NIH grant supports search to simplify the production of benzodiazepines
NIH grant supports search to simplify the production of benzodiazepines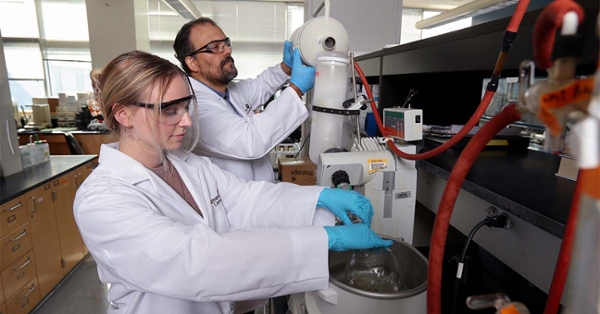 Gustavo Moura-Letts, Ph.D., works in his organic chemistry lab with Erin Doran, a graduate student in the pharmaceutical sciences program.
Gustavo Moura-Letts, Ph.D., a professor in the Department of Chemistry and Biochemistry in the College of Science & Mathematics, has received a grant for $449,777 from the National Institutes for Health (NIH) for a study on new methods for the preparation of benzodiazepines. The work is supported by six years of preliminary data and research conducted at Rowan. 
Benzodiazepines are widely used in the treatment of neurodegenerative diseases like dementia, Alzheimer's and Parkinson's disease, as well as for mood disorders like depression and anxiety.
Moura-Letts and his lab aspire to provide a new way of creating benzodiazepines while addressing the costs and availability of these important medicines through efficiency and selectivity. The research focuses on efficiently making benzodiazepines and by doing so, achieving target selectivity, or more simply, the drug's ability to focus on the intended target. 
"The state-of-the-art approach to make these molecules right now takes 10 to 12 steps," Moura-Letts said. "With what I am proposing to do, we can reduce it to three to five steps. So, I created a new reaction that would allow us to make the molecules in a much more efficient way, but also would allow us to access different types of molecular architecture."
Essentially, the easier it is to make the drug and the more effective the drug is at lower doses equals a less expensive medication for the patient. Additionally, unlocking the chemical makeup of the current drug can lead to new information about other potentially effective molecules already present in biology, but not yet harnessed for the treatment of disease.
The project is focused on the basic chemistry behind the drug's production, but it has the potential to provide molecules to scientists who could pursue future clinical trials, Moura-Letts said. 
A key aspect of the grant, Moura-Letts said, is a "well-defined commitment to training students to acquire research skills. It is always about training students to become better scientists."
Moura-Letts calls students "Rowan's most powerful resource." 
"Rowan's students are the muscle," he said. "They are the only way this can actually happen."