Let's hear it for the Profs: Teams gear up for fall campaigns
Let's hear it for the Profs: Teams gear up for fall campaigns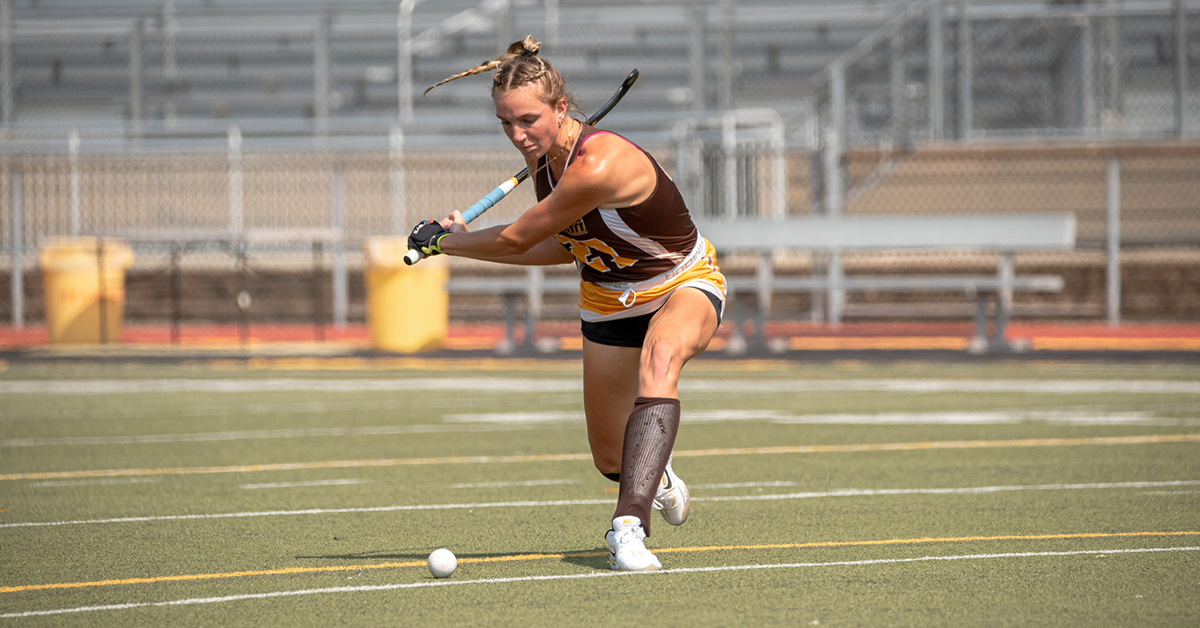 Junior Julia Cavicchio is one of the defensive anchors for Rowan's field hockey squad, which went to the Final Four last season. From field hockey to football to soccer to volleyball to cross country, all athletic teams are gearing up for new seasons this fall.
Rowan University's athletic teams are looking to accomplish big goals as they head into the fall season.
Here's a team-by-team look at the Profs: 
Coach Michele Andre's team went 21-2 last year and finished ranked third in the nation. The Profs advanced to the NCAA Division III Final Four and won the New Jersey Athletic Conference title, both for the second straight year.
Despite losing seven starters from 2022, including national Player of the Year Kristiina Castagnola and her fellow All-American Bridget Guinan, the Profs are the favorites to repeat as conference champions in the NJAC Preseason Coaches Poll.
Andre, whose coaching record 115-30 as she enters her eighth year at the helm, will rely on a group of key returnees, including junior Julia Cavicchio, sophomore Tess Herman and junior Vanessa DiDonato. An anchor on the Profs' stingy defense last season, Cavicchio had 23 points and was named to the first team for both All-Region IV and All-NJAC. Herman was the NJAC's Rookie of the Year, while DiDonato is the team's leading returning scorer. She tallied 16 goals and four assists in 2022.
The Profs opened their season on Sept. 1.
The defending NJAC champions, the Profs are ranked second in the 2023 NJAC Preseason Coaches Poll.
Coach Scott Baker, who is entering his ninth season, is hoping for an exciting season for a team that includes key returnees and talented first-year and transfer students.
"Our coaching staff is confident in our team's talent level," said Baker, whose squad went 12-5-6 last year and advanced to the second round of the NCAA Championship. "Although we lost some talented seniors, we return a great group of players who can make a big impact on the 2023 season."
Rowan welcomes back captains Turlough Gartlan, a junior, and Luke Yates, a senior, as well as offensive players Johnny Troiano, Gil Ferreira and Davide Caputo and defensive players Ryan Cleary and Aiden McGuigan.
Goalie Dylan Aportela also returns, while first-year forward Carill Asanji and transfers Sergio Sola, Jason Barragan and Tyler Guadagno are expected to make contributions.
Yates, Aportela, Cleary and Ferreira were All-NJAC selections last fall.
Rowan opened its season at Salisbury on Sept. 1. The home opener is Sept. 6 against Johns Hopkins.
In 2022, Coach Deana Jespersen's squad won its second straight NJAC title, going a perfect 8-0 in the conference and 24-7 overall. In the 2023 NJAC Preseason Coaches Poll, the Profs are the favorites to win the NJAC again this fall.
Despite losing All-American Natalie Ogden to graduation, a number of key performers return, including All-Region and All-NJAC First Team honoree Brooke Adams and All-NJAC Second Team selection Isabel Kirchner.
A sophomore setter, Adams topped the Profs in assists with 1,045, while Kirchner, a junior middle hitter, connected for 191 kills last season.
The Profs opened their season at the Cortland Red Dragon Classic on Sept. 1. They open at home on Sept. 9 as they host a tri-match with Widener and Catholic.
Ranked third in the 2023 NJAC Football Preseason Coaches Poll, Coach Jay Accorsi's team is coming off a 7-3 overall season, including a 4-2 record in conference play.
According to Accorsi, a key to the Profs' offensive success will be two-time NJAC First Team honoree James Fara, a running back, who returns on offense along with offensive linemen Robert Stashek and Pryce Bouchard and wide receiver Terry Carlstrom.
Rowan's experienced and deep defense is solid at the linebacker and defensive back positions, led by Vincent Guarino and Jason Blanks, while key defensive returners also include Eric Hill, Miles Cook and Joshua Ortiz.
James Plasteras is a key returnee on special teams. Accorsi is looking for contributions from newcomers Marlon Boston and Tyshawn Bookman on offense and Brody Colbert and Giaini Derameaux on defense.
Entering his 22nd season leading the Profs, Accorsi is the program's all-time leader in victories with 138.
Rowan opened its season on August 31. The team's first home game is Saturday, Sept. 16, against Ursinus.
Two All-Americans—Emma DeMaise and goalie Calista Burke—are key returnees for the defending NJAC Champion Profs, who went 14-1-4 and 7-0-2 in conference play last year.
In the 2023 NJAC Women's Soccer Preseason Poll, Rowan is the favorite to successfully defend its conference title. The Profs, who advanced to the second round of the NCAA Tournament last fall, won their fourth NJAC title in 2022 for Coach Scott Leacott.
Rowan also received votes in the United Soccer Coaches Division III Preseason Top 25 Poll.
Last fall, DeMaise and Burke shored up a defense that posted 13 shutouts. Burke was ranked in the top 10 in Division III in goals against average and save percentage.
Rowan opened its season Sept. 2 at home.
Now entering his 25th season, Leacott is the winningest and longest-tenured coach in the history of the women's soccer program.
Coach Derick "Ringo" Adamson's expectations—and his enthusiasm—are high as the Profs prepare for their fall campaign.
"This is a completely rebuilt program," says Adamson, noting that his squad had a strong summer training season. "The team is energized, and their enthusiasm is at a very high level. They set high goals for themselves, and they are completely capable of accomplishing them."
Returnees for the Profs include: Anna Sasse, Mia Guerra, Cameron Wright, Amanda McNally, Abigail Churchill, Ellie Pagano, and Olivia Shafer. Sasse, Guerra, Wright, McNally and Shafer all set personal bests in outdoor track and field competitions in the spring. Churchill and Pagano did not compete in the spring due to injuries, but both are poised for the fall cross country season, according to Adamson.
A junior, Sasse was named to the NJAC All-Conference First Team last season, while Pagano, a sophomore, made the Second Team. Sasse finished fourth in the NJAC. Pagano was eighth.
Newcomers to the team, all of whom are expected by Adamson to make substantive contributions, include: Maggie Michelet, Allyson Wernik, Emily Zannie, Gianna Spadaro, Shannon Stackelbeck, Mackenzie Saber and Gina Burgio.
Rowan opened its season Sept. 1 at the Stockton Invitational.
The Profs have four key returnees and a trio of juniors poised to make an impact for Coach Dustin Dimit, who is entering his ninth season of coaching.
In 2022, Rowan won its 24th NJAC title as Dimit was named the NJAC Coach of the Year.
"We expect to contend for our second consecutive NJAC title and a berth in the NCAA Championships," Dimit says.
Top returnees this season include Jake Riley and Dario Epifania, both of whom were First Team All-NJAC honorees last year, and Shane Vostenak and Cole Kolodziej, who were Second Team All-NJAC honorees.  Riley and Vostenak were All-Region as well. Vostenak was the 2022 NJAC Rookie of the Year.
Dimit is looking to juniors Matt Conway, Caleb Clevenger and Giancarlo Vega to make an impact along with transfers Joshua Cason, Scott Hubbard, and Anthony Faust. A strong group of first-year students will be led by Colin Patterson.
The Profs opened the fall season Sept. 1 at Stockton.