Cultures Converge with Performing Arts fall season
Cultures Converge with Performing Arts fall season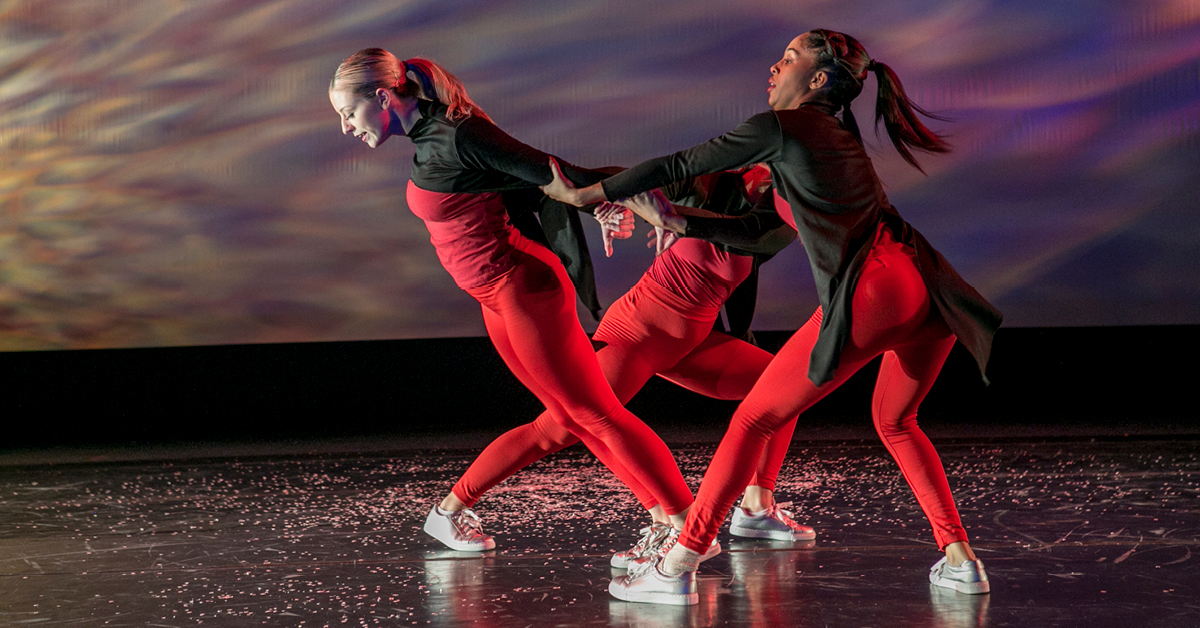 The College of Performing Arts returns this fall with a riveting line-up of academic performances, celebrated guest artists and engagements that recognize and honor a range of voices across time and culture. Together, the Departments of Music and Theatre & Dance, guest artists and faculty, and the Marie Rader Series will bring audiences more of what they love from the performing arts, while inspiring audiences to discover through new perspectives and interpretations. 
Here's what to look forward to…
The MainStage Season 
In celebration of Rowan University's Centennial, the College of Performing Arts is bringing a diverse cast of students, faculty, alumni and more together for an epic collaboration between music, theatre and dance. A re-imagined take on a historic musical work, Rowan's Appalachian Spring digs deeper into the landscape of American History, sharing the story of the Melungeon people who may have been America's very first settlers. 
The Department of Theatre & Dance will also honor history and cultures with its fall MainStage productions, Five Survivors Tell the World and Convergence. A documentary style play, Five Survivors, incorporates the words of five Holocaust Survivors, presenting their own experiences and paying homage to victims while educating audiences and raising important moral questions for discussion and reflection. Then, culturally informed dance genres come together with Brazilian percussion for Convergence, an explosive dance performance with hip-hop, tap and capoeira. 
The Marie Rader Presenting Series 
The cultural celebration continues with the return of the Marie Rader Presenting Series, bringing award-winning artists to South Jersey for transformative engagements. In September, Rising Tide: The Crossroads Project pairs original music, stunning visuals, environmental photography and scientific prose to confront a planet under siege and a future in peril. The collaborative presentation from the Fry Street Quartet and physicist Dr. Robert Davies invites audiences to consider global sustainability and the path forward. Then in November, tap, percussive dance, samba, house and live music come together in Music From The Sole's I Didn't Come to Stay. Brazilian tap dancer/choreographer Leonardo Sandoval and bassist/composer Gregory Richardson leadc, eight dancers and a five-piece band in a performance that explores tap's lineage and connections to other Afro-Diasporic forms. 
The Department of Music 
The Department of Music student ensembles, bands, choirs, orchestras and opera company will present their fall concerts. The Wind Ensemble will host a guest conductor and with a repertoire including a Spanish march and new music inspired by dinosaurs while the Concert Choir will perform a Gospel celebration.  Rounding out the Fall calendar is the Spotlight Series, which features award-winning faculty and stand-out guest artists from all corners of the music world for intimate engagements. Fall spotlights include Luigi Mazzochi on violin, Noa Even on saxophone and Christopher Thomas, voice with Denny DiBlasio on baritone sax. 
For a full list of performances and events, and to reserve tickets, visit cpa.rowan.edu/boxoffice. 
Programs are made possible by funds from the New Jersey State Council on the Arts, a partner agency of the National Endowment for the Arts. The Marie Rader Presenting Series is made possible in part through generous support from the Henry M. Rowan Foundation via the Marie Rader Memorial Fund. 
The presentation of I Didn't Come to Stay was made possible by New England Foundation for the Arts' National Dance Project, with lead funding from the Doris Duke Foundation and the Mellon Foundation.