Field School: Historic battlefield as their summer classroom, students learn about archaeology, public history
Field School: Historic battlefield as their summer classroom, students learn about archaeology, public history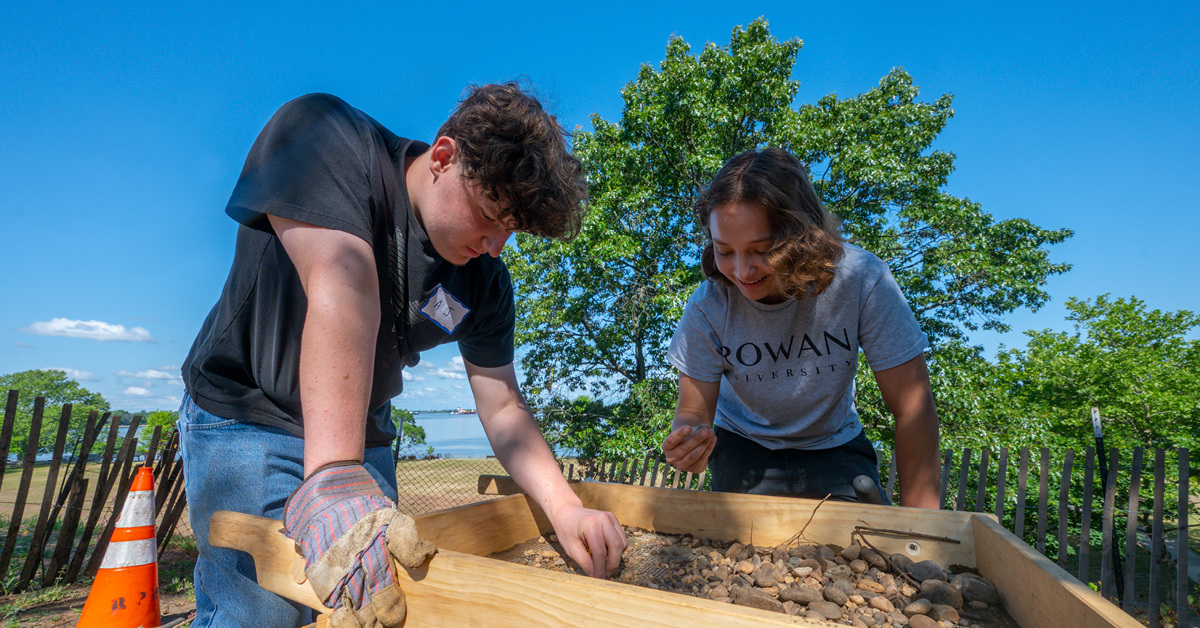 Rowan anthropology major Julie Foy (right), a student in the Field School at Red Bank Battlefield Park, examines some finds with A.J. Kelley, a Gateway High School student. They worked together at a public dig at the park, site of the biggest upset victory by Patriots in the Revolutionary War.
A few inches from the base of the monument honoring Col. Christopher Greene, Brooke Rattay and Quiyana Goodman worked together on their hands and knees—patiently, painstakingly—scraping dirt with pointed trowels. They gathered each small pile of soil with a dustpan and placed it into a five-gallon bucket.
A few feet away, Colin Kinsella and Nathan Wishnick were dumping buckets of soil and moving a wooden screen back and forth at an inspired pace as they sifted for artifacts, learning, inch by inch, how to identify gems from junk.
It was exhausting, dirty work.
But, oh, what fun, they all agreed.
Welcome to the inaugural Field School at Red Bank Battlefield Park, an intensive, six-week summer course where Rowan University students earned three credits to complete a class focused on archaeology and public history.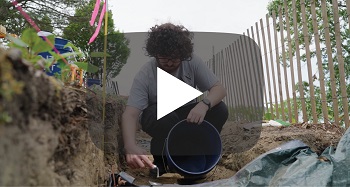 Officially titled "Battle Lab: Archaeology and Public History at Red Bank Battlefield Park," the course brought together 15 students from various majors intent on learning about history, archaeology, material culture and forensic anthropology as they explored the historic battlefield, located in Gloucester County's National Park.
Hands dirty with history
"Our students literally got to get their hands dirty with history," said Rowan history professor Jen Janofsky, who co-taught the course with Rowan adjunct Wade Catts, a professional archaeologist trained in culture resource management. The Megan Giordano Fellow in Public History in Rowan's College of Humanities & Social Sciences, Janofsky is the director of Red Bank Battlefield Park.
The objectives of the course included: understanding archaeological field operations, learning and understanding principles of archaeology and public history, and communicating with the public.
Attending class under a tent on site, students enjoyed guest lectures from heavy hitters in the fields of archaeology and history, kept field journals of their work for each class, completed readings, and wrote research papers.
In the future, they will curate their own exhibits that will be on display at the historic Whitall House, the Quaker homestead at Red Bank.
Each student also was required to volunteer at one of four public archaeology digs at the battlefield this summer. Working side by side members of the public to search for artifacts, they demonstrated their archaeology skills. But they also worked to educate visitors about the battlefield's rich history…and about the artifacts that were found.
Artifacts discovered during the class included Native American stone projectile points and tools, jasper flakes, and fire crack rocks; pieces of historical ceramics and bottles; musket balls; buttons; buckles; modern pottery; tobacco pipe fragments; and even a toy metal airplane.
'An incredible space'
Red Bank was the site of the biggest upset victory of the Revolutionary War. On Oct. 22, 1777, Patriot troops, led by Greene, successfully defended the battlefield's Fort Mercer against Hessian soldiers fighting for the British Crown.
In a battle lasting approximately 45 minutes, the outnumbered but emboldened Continental forces, regiments that included both white and Black soldiers, defeated the Hessians, who suffered heavy casualties.
Last summer, a public archeology dig at the battlefield led by Janofsky and Catts, uncovered human remains believed to belong to at least 15 Hessian soldiers. The remains were taken to the New Jersey State Police Forensic Unit for analysis. In the months to come, forensic and historical researchers are hopeful they can begin to identify at least some of the remains to help put some names to the men who lost their lives fighting on foreign soil.
During the Field School, students worked just as archaeologists did last summer, identifying five-foot by five-foot squares of land as they dug to uncover material history from the site. Part of their work included digging at the Fort Mercer trench on a bluff along the Delaware River, as well as analyzing historical maps,  photos, and historical documents.
"This is an active excavation site," Catts told the students, who also tried their hands at ground penetrating radar and metal detection to identify anomalies underground. "It's a fragile landscape and a cultural landscape."
"It's an incredible space," Janofsky added.
Good stewards
As they dug, students measured and marked quadrants with string, using long nails as stakes, and filling out detailed level reports. Any item found was bagged and catalogued.
"You have to be nimble and limber in the field of public history," Janofsky said.
Goodman learned that quickly, noting that the work required a genuine esprit de corps she enjoyed, even while the group dodged spiders, ticks…and the occasional garter snake.
"It's a great deal of teamwork," she said. "It's really cool to be exposed to that type of camaraderie."
Janofsky emphasized that the students had a responsibility to be good stewards of the battlefield and its story. That's why interaction with the public was an important part of the course, she said. The class was challenged to consider the battle by those who fought in it, as well as the legacy of the conflict in the present day, Janofsky noted.
Last month, some students also worked at a dig at the park with veterans involved with the group Eternal Soldier. Red Bank hosts 200,000 visitors each year, according to Janofsky.
"It's imperative that we speak with the public," Janofsky told the students. "When you do, you are representing both Rowan University and Red Bank Battlefield Park. We have very high standards."
The responsibility to tell the park's story with honesty and reverence wasn't lost on Wishnick. A rising sophomore history major, he volunteered at two public dig days, even donning vintage colonial garb that belonged to his great grandfather, a historical reenactor. The clothing fit perfectly.
"I'm trying to keep his legacy alive and to keep a love and passion for history in our family," said Wishnick. "I feel like there's a responsibility in education. I've learned how to interact with the public and how to talk about unfortunate parts of history.
"There's been a lot of whitewashing of history, a lot of erasing of Native American and Black culture. Bringing their culture back to the public is what we do here."
A lot more than facts
At a public dig, senior anthropology major Julie Foy, a student in the John H. Martinson Honors College, dug with precision along the trench while A.J. Kelley, a student at Gateway High School, sifted the soil she uncovered.
"It's an honor to be out here," Kelley said. "It's tough work, but it's fun. I love it."
The course demonstrated that history is about a lot more than facts. Bailey Figueroa, who transferred to the University from Rowan College of South Jersey this summer, got that message loud and clear.
An intern at Red Bank, Figueroa initially thought the course would be heavy on theory and lecture.
"But here I am…digging in a battlefield," he said with a grin.