Engineers behind innovative teaching tool receive national award
Engineers behind innovative teaching tool receive national award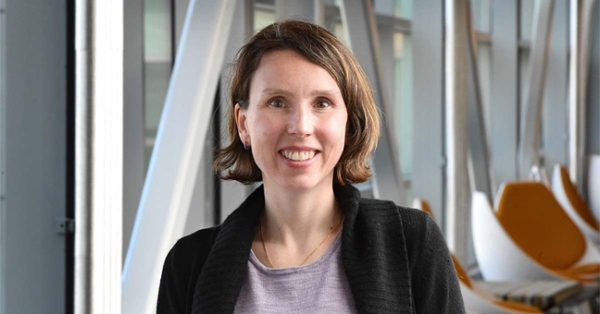 Cheryl Bodnar, Ph.D., has received a prestigious national award for her contributions toward "Contents Under Pressure," a digital game developed for use as an educational and training tool for chemical engineers.  
An associate professor in the Experiential Engineering Education Department in the Henry M. Rowan College of Engineering, Bodnar is part of a team that has earned the 2023 David Himmelblau Award for Innovations in Computer-Based Chemical Engineering Education, given by the American Institute of Chemical Engineers (AIChE) Computing and Systems Technology Division. 
The immersive game allows students and practitioners to play the role of a chemical plant supervisor. The game asks players to make decisions based on factors like time, financial costs, relationships, leadership, production and safety. Ultimately, its developers hope the tool improves safety outcomes in the chemical industry. 
The award-winning team includes Daniel Anastasio, Ph.D., associate professor of chemical engineering at the Rose-Hulman Institute of Technology; Daniel Burkey, Ph.D., associate professor of chemical engineering at the University of Connecticut; and Matthew Cooper, Ph.D., associate professor of chemical engineering at North Carolina State University. With support from a National Science Foundation grant, the researchers partnered with Filament Games to design the simulation.  
Their award will be presented during the AIChE Annual Meeting in Orlando, Florida, this fall. 
"We are very excited about this recognition and the positive impact that ​Contents Under Pressure will have on process safety education," said Stephanie Farrell, Ph.D., head of the Experiential Engineering Education Department. "The David Himmelblau is the most recent of numerous prestigious awards recognizing Dr. Bodnar's contributions to engineering education, which also include the 2020 KEEN Rising Star Award for early career leadership in engineering entrepreneurship education, the 2017 ASEE Raymond Fahien Award for outstanding teaching effectiveness and educational scholarship, and the 2021 AIChE Award for Excellence in Chemical Engineering Education."
Bodnar was also recently named a 2022 Journal of Engineering Education Star Reviewer by the journal's associate editors. The award recognizes her thoughtful contributions and scholarly feedback, placing her among the top 1 percent of the journal's more than 300 reviewers last year. The award will be announced in the journal's July 2023 issue.