Virtua Health and Rowan Medicine formalize affiliation
Virtua Health and Rowan Medicine formalize affiliation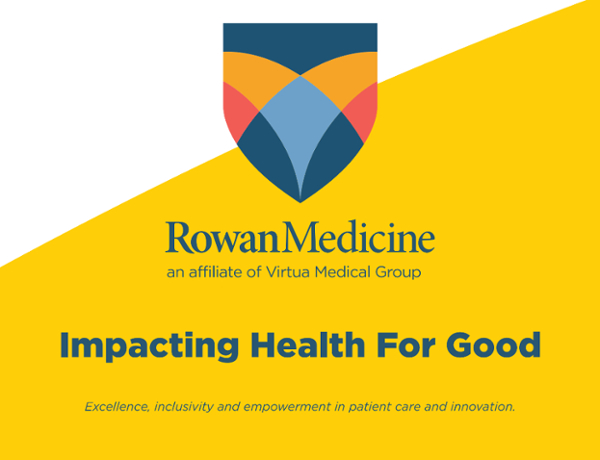 100+ Rowan clinicians join Virtua Medical Group
Virtua Health and Rowan University have reached another milestone in their impactful academic affiliation. Effective June 5, the 130 Rowan Medicine clinicians officially become affiliates of Virtua Medical Group, providing greater access and continuity of care for the people of South Jersey.
"Virtua and Rowan offer distinct and complementary services to the community," said Rebecca Lynch, president of Virtua Medical Group and a senior vice president for Virtua Health. "By working more closely together, we will help ensure our respective and shared patients can easily access the services they need to be their healthiest selves."
"The agreement builds on Rowan and Virtua's unique shared clinical, academic and research mission by expanding access to quality medical care, focusing on patient outcomes and new opportunities for graduate and undergraduate medical education, while enhancing the operations of the Rowan Medicine practices," said Joshua Coren, D.O., MBA, FACOFP, senior associate dean of clinical affairs and professor, department of family medicine, at the Rowan-Virtua School of Osteopathic Medicine. Dr. Coren is also a member of Rowan Medicine.
The practices will continue under an aligned name: Rowan Medicine, an Affiliate of Virtua Medical Group.
As part of the affiliation, Rowan Medicine medical practices have adopted Virtua's electronic medical records system. In many cases, this will provide clinicians with expanded insight into a patient's health history; it will also make it easier for Rowan and Virtua teams to collaborate on a patient's plan of care. Similarly, patients will enjoy a streamlined, single portal for scheduling appointments and tracking their health journey.
"This is another major step in fulfilling the promise of the Rowan-Virtua partnership," said Dr. Anthony Lowman, provost and senior vice president for Academic Affairs at Rowan University. "The combined expertise of an elite medical school faculty and South Jersey's largest provider of health care will greatly expand and enhance access to clinical care throughout the region."
Virtua Medical Group (VMG) is a network of over 1,200 Virtua-employed clinicians representing primary care, urgent care, and a variety of specialties such as cardiology and gastroenterology. In April, VMG announced its intention to acquire Reconstructive Orthopedics, increasing its presence in Burlington, Camden, Cumberland, and Gloucester counties.
Rowan Medicine has delivered multidisciplinary health care services in South Jersey for more than three decades. Its practices include 14 specialty areas, such as pulmonology, endocrinology, and pain management. Rowan Medicine also oversees integrated centers that work with distinct populations, including the New Jersey Institute for Successful Aging and the NeuroMusculoskeletal Institute. Collectively, Rowan Medicine averages 210,000 patient encounters each year.
"Rowan and Virtua are working together to reshape health care in the region and further establish South Jersey as a hub for innovation, research, and medical care," said Reg Blaber, MD, MBA, FACC, executive vice president and chief clinical officer for Virtua Health. "By extending the affiliation to our ambulatory practices, we are lifting up the strengths of both entities and improving the patient experience for all."